News > Spokane
Gunman unleashes deadly hail of bullets at Fairchild
Officer's bullet ends shooting spree
Tue., June 21, 1994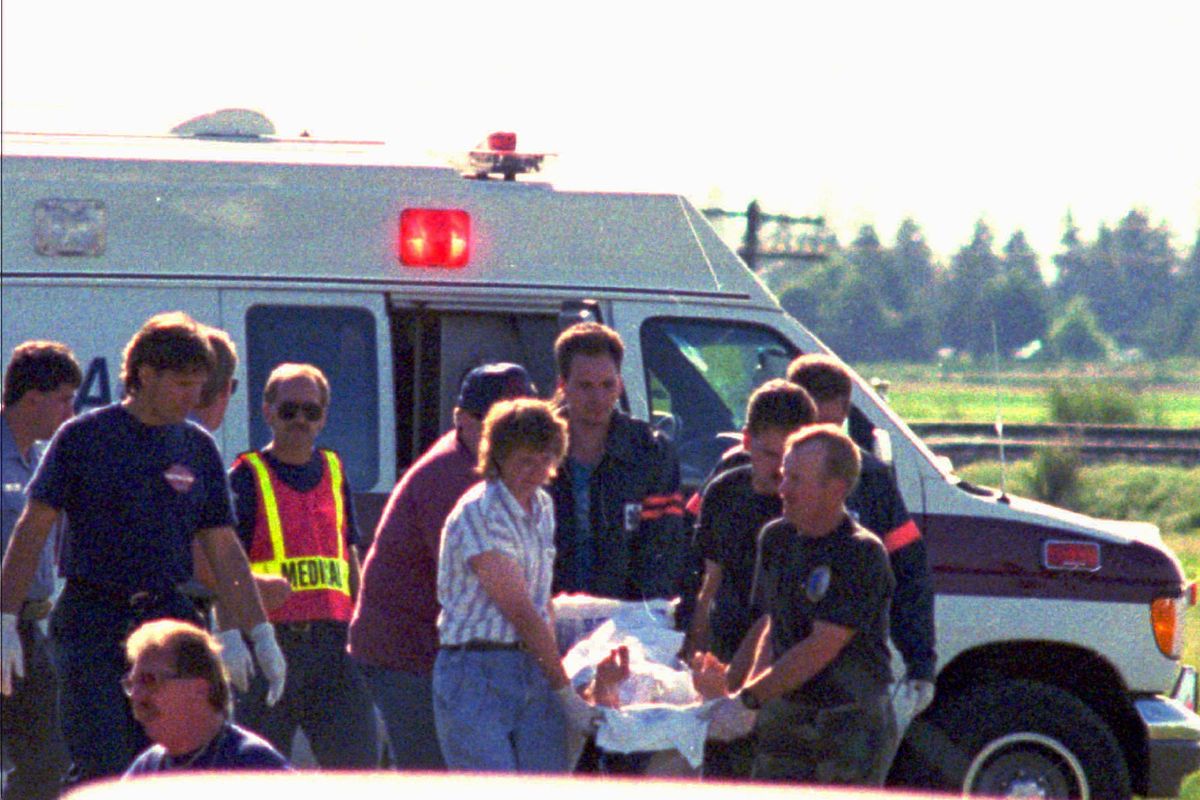 Medical crews move a shooting victim from an ambulance to a helicopter Monday, June 20, 1994, after a gunman opened fire at Fairchild Air Force Base outside of Spokane. Dean Mellberg killed four people before being fatally shot. Twenty three others were wounded by the gunman, who was an airman at the base. (FILE / Associated Press)
Spokane's most secure, controlled community turned into a war zone Monday afternoon when a man armed with an assault weapon opened fire in the Fairchild Air Force Base hospital. After five or six minutes of terror, four people lay dead and at least 21 were wounded. The gunman was then shot dead by a military policeman. The unidentified policeman apparently heard the emergency call and rode to the hospital on his bicycle. As the gunman left the three-story hospital – firing his AK-47 and killing a woman and wounding her male companion – the policeman drew his sidearm. He shot the gunman between the eyes. "I can't believe this kind of stuff is happening here in Spokane," said State Patrol Sgt. Lee Boling, who arrived at the hospital seconds after the gunman was killed. The gunman was identified as Dean Mellberg of Lansing, Mich., a 20-year-old former airman stationed at Fairchild from 1993 through last February. Spokane County Undersheriff John Goldman said the first person killed in the shooting spree was the psychologist who recommended Mellberg be discharged. On Monday, Mellberg's duffel bag and gun case were found in the restroom of the hospital annex, next to the psychologist's office where the first two victims died. Mellberg on June 15 checked into Arnold's Motel, N6217 Division, where the manager described him as "cleancut and very polite." But when a maid cleaned his room Thursday, she found a large, double-edged knife under his pillow. Military officials were not confirming the identity of victims Monday night. Those killed in the shooting spree included two military personnel, a retired military person and a civilian, according to Major Candace Ballmer, a base spokeswoman. She declined to give the ages or sex of any victim, although civilian law enforcement officials said the person shot and killed outside the hospital was a woman. One victim died on the operating table at Fairchild. At sundown Mellberg's blanket-covered body lay where it fell outside the base hospital. Federal, state and local law enforcement agencies began a massive investigation and the emergency rooms of four Spokane-area hospitals were filled with wounded men, women and children. Among the wounded were a 12-year-old boy on his way to get his mother a soda from a machine at the base hospital and a 4-year-old boy who suffered "several disfiguring injuries," said Dr. Gregory Jones of the Deaconess Medical Center emergency room. "These were high-velocity bullets that caused ugly wounds," Jones said. "I've never seen anything like this." The air base is preparing for its annual open house and air show. It is the home to a fleet of the nation's aerial refueling tankers, a community where families live in houses protected by high fences and gates manned by armed guards. The hospital and administrative annex where the shootings occurred sit just outside those fences. There are no guard stations to stop the military personnel, their families or retirees who use the medical buildings. Anyone can enter the hospital through its unlocked doors, but a patient would need a military identification card to get treatment, Ballmer said. The gunman apparently arrived by cab. Cab driver Pete Bode reported he picked up a passenger matching Mellberg's description at Arnold's Motel at 2:04 p.m. The passenger mumbled when he described where he wanted to go; he carried a duffel bag and a plastic-foam gun case that may have hidden the assault rifle. Bode described the passenger as a young man dressed in civilian clothes, but with a military demeanor and appearance, including a crew cut. He asked to be dropped directly at the base hospital, which Bode did, at 2:45 p.m. Police and ambulance crews converged on the base hospital shortly after 3 p.m., when a 911 call alerted the emergency crews to the deadly gunfire. Carol Juillerat was on the third floor of the nearby annex when she heard the first shots. "At first it sounded like a car backfiring, or maybe somebody beating an empty garbage can with a two-by-four," said Juillerat, 44. "But it just kept going and going and I knew something was wrong." Military police, including a sharp shooter, rushed to the hospital complex. Some arrived in an armored personnel carrier, which provided protection as they approached. "It could have been many times worse," said Undersheriff Goldman. "That airman who was close by and took rapid decisive action saved it all." After Mellberg was killed, law enforcement agents searched the hospital room by room, floor by floor for a second gunman that some witnesses reported seeing. That report proved untrue. But officers found many frightened patients or hospital staff who had taken cover when the gunfire started. "They found a furnace room where there were 20 to 25 people huddled there together," Goldman said. Residents who witnessed the shootings from the nearby Capehart Housing area were evacuated to a grassy field and kept from the gathering news media. Ambulances from as far away as Deer Park and Lincoln County converged on the hospital grounds and began ferrying the wounded to helicopters that waited in a field just northwest of the hospital. In the field, firefighters, ambulance crews and military medical technicians formed triage teams that rushed bleeding victims to helicopters. Wayne Cumpton, division commander for the Valley Fire Department, said the treatment and evacuation process went smoothly. Reports of the number of dead and wounded fluctuated throughout the evening, and grew as investigators checked different floors of the hospital and annex, which houses administrators and a psychiatric care unit. Three hours after the shooting, Col. William Brooks, Fairchild wing commander, and Spokane Sheriff Larry Erickson declared the area secure and crisis over, except for what they described as an endless investigation. "We have an individual who, for whatever reason, randomly opened fire in our hospital," said Brooks. "We have more than 100 witnesses that will have to be interviewed." State Patrol Sgt. Chris Powell said detectives would use computerized measuring devices, the kind routinely used in investigating fatal traffic accidents, to re-create the crime scene. Goldman said the investigation will be handled by teams of investigators that include a sheriff's detective, an FBI agent and an Air Force investigator. Jurisdictional conflicts arose almost immediately, when sheriff's officers agreed to allow a pool of news reporters and photographers to approach the base hospital. The group was turned back from the crime scene blockade by angry military officials. Military and civilian officials said later they would not allow anyone into the building until this morning. The hospital remains open, but was not taking new patients, Ballmer said.
Local journalism is essential.
Give directly to The Spokesman-Review's Northwest Passages community forums series -- which helps to offset the costs of several reporter and editor positions at the newspaper -- by using the easy options below. Gifts processed in this system are not tax deductible, but are predominately used to help meet the local financial requirements needed to receive national matching-grant funds.
Subscribe now to get breaking news alerts in your email inbox
Get breaking news delivered to your inbox as it happens.
---