Sports
Hook 'em Cougs!: Washington State upsets No. 5 Texas in Holiday Bowl
Wed., Dec. 31, 2003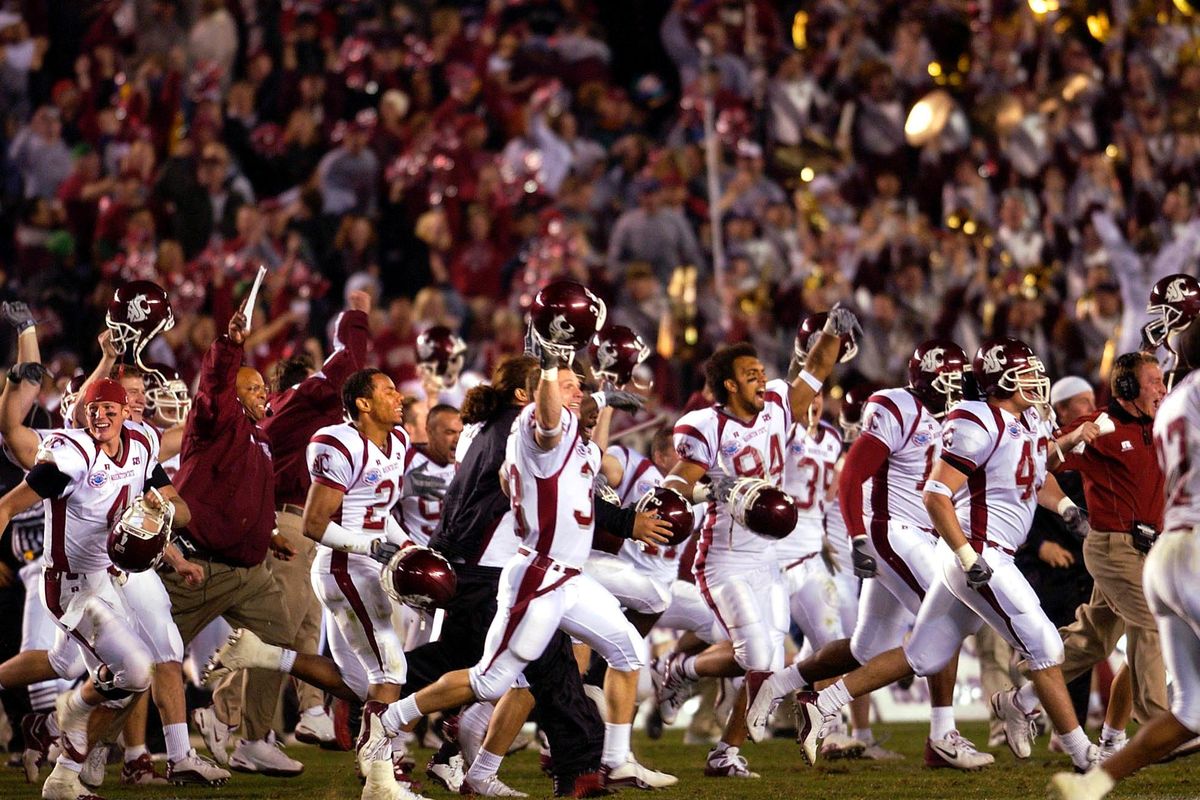 The Washington State Cougars celebrate winning the Holiday Bowl NCAA football game on Tuesday, Dec. 30, 2003 in San Diego. (Christopher Anderson / The Spokesman-Review)
SAN DIEGO – Washington State's football program, short on history, made some Tuesday night.
For the first time in Cougar history WSU won 10 games for a third consecutive season. They did it by beating No. 5 Texas, 28-20 in front of 61,102 at the Holiday Bowl, beating the Longhorns for the first time in school history.
"You can't ask for anything more," senior defensive tackle Jeremey Williams said. "We had so much turmoil at the beginning when we were younger and then to end it this way, it just makes it that much more special to know that we have something in the record books that we can look at and show our kids."
Nobody around the Washington State program, not even 63-year-old coach Bill Doba, was a kid the last time a Pac-10 team had three consecutive 10-win seasons. Southern Cal did it in the early 1930s.
"We made history and we did it playing Cougar football," Doba said. Washington State played typical Cougar football right up to the end. Washington State staked itself to a 28-13 lead in the fourth quarter and then held on and also held every fan's attention.
"They just kept coming back," Doba said.
First Texas came back with a 30-yard touchdown pass to Roy Williams to cut the lead to 28-20. The Longhorns followed that by getting a first-and-goal at the 10 with less than 2 minutes on the clock.
But Washington State's defense stepped up and stopped Texas. Defensive end D.D. Acholonu got pressure on quarterback Chance Mock. Mock lost the ball while he was cocking it. Linebacker Will Derting fell on the ball to snuff the rally.
"Nobody thought we could do it," defensive tackle Tai Tupai said. "We knew what we were capable of. We came out here and showed everybody."
The No. 15 Cougars (10-3) did it by controlling the line of scrimmage on both sides of the ball, chewing up yards on the ground, going up top a time or two, pinning the Longhorns five times inside the 15 (four times inside the 6) on punts, and, of course, by scoring a defensive touchdown. In all, the Cougars gained 360 yards against a defense that had allowed an average of 327 yards per game this season.
Washington State got 157 of those yards on the ground. Jonathan Smith and Chris Bruhn combined to average 4.7 yards per carry.
But it was through the air where the Cougars made Texas suffer the most. Quarterback Matt Kegel, playing with a tender throwing shoulder, was 18 of 32 for 203 yards with two touchdowns and two interceptions.
Those two touchdown passes were caught by Sammy Moore. Moore grabbed the first from 12 yards out in the second quarter to tie the game at 7. That touchdown catch was his first in seven games.
The senior had to wait only one more quarter to grab another touchdown. With Washington State trailing 10-7 in the third, Kegel went up top to Moore for a 54-yard touchdown. Washington State would never trail again. And again it was Moore who made sure of that.
Later in the third quarter Moore fielded a Richmond McGee punt at the WSU 23. He proceeded to bob and weave 51 yards to the Texas 26. The Cougar ground game took over from that point. A few plays later Smith took a direct snap and went 12 yards into the end zone to put the Cougars on top 20-10 midway through the third quarter.
While the Cougars were moving the ball with ease, the Longhorns' offense could not find any rhythm against the blitzes that were thrown at them. Texas didn't take a shot down the field until the third quarter. That pass was dropped by B.J. Johnson. Starter Vince Young only had 14 yards passing midway through the third quarter.
He was eventually pulled in favor of Chance Mock. That allowed the Cougars to breathe a sigh of relief because Young was an effective running threat. He rushed for 50 yards.
"The Young kid is awesome," Doba said. "I'm glad they took him out."
"When they brought (Mock) in there we didn't feel like he was the mobile threat (Young) was," defensive coordinator Robb Akey added.
When the Texas receivers did catch a pass, the Cougars were there waiting. That was never more evident than late in the third quarter. The Longhorns, who were stuck inside their own 10, threw to tight end David Thomas. Thomas was nailed by Erik Coleman and fumbled. Cougar cornerback Jason David scooped and scored from 18 yards out and Washington State led 26-10.
The Cougars protected that lead by continuing to play the style of defense that got them there.
"Honestly, we didn't think we would be able (to blitz) as much as we did," Akey said. "But we were getting home with it and I really thought playing aggressive like that was beneficial to us.
"While it still made us vulnerable we covered some real good receivers pretty well and that's why we stuck with it."
They also stuck with it because that is the style that got Washington State to this plateau in the first place.
"Coach Akey was calling the right plays," Tupai said. "The defensive backs were holding their own. And we did it. Nobody thought we could, but we did."
Local journalism is essential.
Give directly to The Spokesman-Review's Northwest Passages community forums series -- which helps to offset the costs of several reporter and editor positions at the newspaper -- by using the easy options below. Gifts processed in this system are not tax deductible, but are predominately used to help meet the local financial requirements needed to receive national matching-grant funds.
Subscribe to the sports newsletter
Get the day's top sports headlines and breaking news delivered to your inbox by subscribing here.
---