Sports > Outdoors
Peak of desire
John and Jess Roskelley looked death in the eye on their ascent of Everest but never wavered in their common goal
Sun., June 8, 2003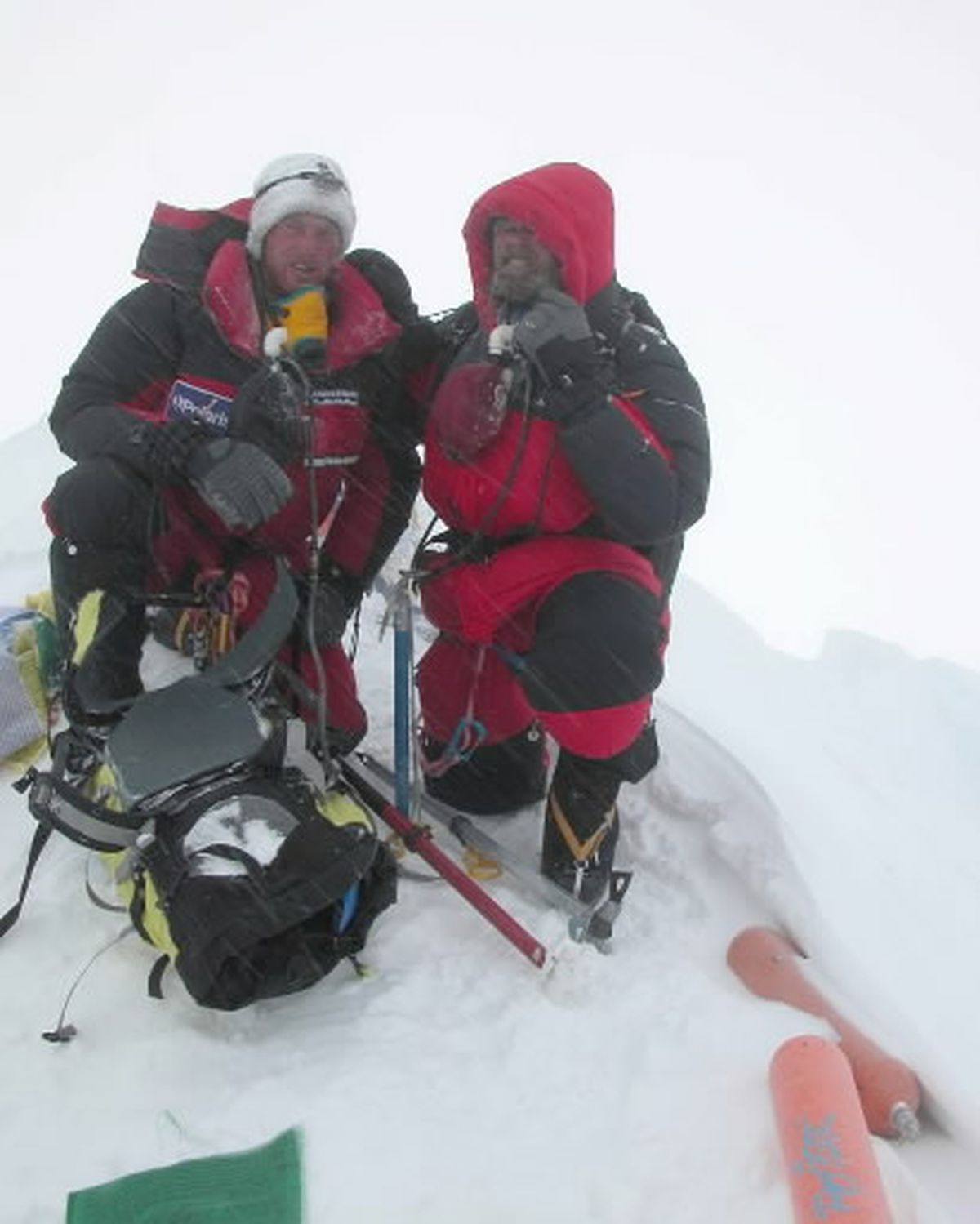 Father-and-son mountaineers John, right, and Jess Roskelley, of Spokane, Wash. are shown on the summit of Mt. Everest, in Nepal, Wednesday, May 21, 2003, in this photo provided by the expedition. Thursday, May 29, 2003, will be the 50th anniversary of the day Sir Edmund Hillary and Tenzing Norgay were the first to reach the summit of the world's tallest mountain. (Courtesy Roskelley family)
Only as an afterthought did John and Jess Roskelley talk about the corpses in their route through the Death Zone of Mount Everest. On May 30, their first morning back in Spokane and 10 days after standing on top of the world's highest peak, the father-son team woke to other concerns in a strange land they call home. "I've never seen the lawn so tall," said Jess, 20, a University of Montana student and part-time climbing guide. "I've never seen so much broken down machinery," added John, 54, a Spokane County commissioner and world-class mountaineer who lives in the foothills of Mount Spokane. They were dealing with phone messages and chores that had mounted in their 10-week absence. Jess was heading into town to seek medical treatment for the gastrointestinal upheaval inflicted by a culture with little regard for hygiene. "We're both suffering some effects," said John, who had dropped 12 pounds from a 154-pound frame that was already hard and lean when he started the expedition. "But we have all of our fingers and toes." Jess was anxious to get past the hype of becoming the youngest American to climb 29,035-foot Everest — a milestone he expects to be surpassed soon — to talk about his crash course in climbing the world's biggest mountains. Both climbers detailed dozens of mountaineering decisions and strategic moves, sicknesses and tent-shredding storms. Their dramas ranged from negotiating an international traffic jam on a precarious cliff near the summit to encountering a rare white Tibetan wolf on the drive in to base camp. But the frozen bodies weren't mentioned without some prodding. "You can't dwell on that while you're on the mountain," John said late in the interview. "You have to stay focused." He should know. Everest is an elusive but relatively trite notch in the ice ax of a man who became America's premier high-altitude mountaineer from the 1970s through the early 1990s. While he was considered blunt and uncompromising and even the John McEnroe of mountaineering, his competency was never questioned. He had climbed new or difficult routes in the Canadian Rockies, the Alaska Range, the Alps, the Pamirs and the Himalayas, and, while he saw climbers die in pursuit of their highest ambitions, Roskelley always came back alive. John jumped at this rare opportunity to climb Everest with his son so he could main-line a career's worth of high-altitude experience into the kid's strong, eager body. "I hope I can teach him to acclimate properly and help him learn not to run up too fast," John said before the expedition. "That's what happens to all young, strong climbers. That's usually when they get in trouble," he added, noting that Jess had already climbed to 20,000 feet in the Himalayas and had surpassed his father's crevasse skills after bagging Mount Rainier 35 times as a guide. On Everest, however, all of this cumulative mountaineering experience would have been moot if Jess had not had the key ingredient of desire. When an infection that flared from a previous wisdom tooth extraction caused painful and potentially debilitating inflammation in his neck, Jess descended from 23,000 feet on Everest and made a week-long hitchhiking marathon to Katmandu for antibiotics. "A million things could have gone wrong," John said. "He even had to pay a bribe to get back through the Tibet border." By the time Jess returned to base camp, his dad was sick. But high winds that demolished camps high on the mountain had forced all the climbers to hunker and wait. "The Sherpas said they'd never seen such continuous high winds on the mountain," John said. "We climbed back up anyway. The six days we were pinned down at the North Col were awful, but it gave us both time to heal." The rest of their Generations on Everest team had left the mountain by then. Dallas businessmen Dick Bass, 73, and Seattle attorney Jim Wickwire, 62, abandoned the climb because of ailments. The expedition had boiled down to the Roskelleys and their two Sherpa climbing partners: Pemba Sherpa, who had reached the top of Everest four times prior to this year, and Pasang Gelu Sherpa, who had one Everest summit under this hipbelt. "They were invaluable, especially Pemba," John said. "The route isn't too difficult to follow now that it's become commercialized and there's ropes or whatever on all the hard spots. But the Sherpas have it wired. They know how much oxygen it takes to get from one spot to the next and they help you all the way." Much of the crowd on the mountain for the 50th anniversary of the first ascent had descended to base camp to wait out the latest storm, "but I convinced Jess to tough it out and be in position to be ahead of them when the weather broke," John said. Slightly better weather allowed them to ascend to 25,700 feet on the Northeast Ridge, where the Sherpas had put a tent. The four of them spent a tense night and woke to winds that had increased to around 50 mph on the ridge. "The wind was just rockin' our tent," Jess said. "Then we'd hear a gust roaring up at us and it would crash into the tent with a big blast. "I said, `Dad, do you think we should put on our down suits?' thinking I'd get some reassurance that everything was OK. But to my surprise, he said, `Yep.' "When dad says get ready to bail, he means it, but I'm not sure what we'd have done if we'd have had to go out in that wind." Undeterred, they began using bottled oxygen and carried loads up to their highest camp at 27,200 feet. "It was windy as all get out," John said. "We used a bottle of oxygen apiece just making that carry." In the prime of his climbing career, Roskelley made his ascents without oxygen or Sherpa climbing partners. That required making twice as many shuttles up and down the mountains to establish camps and cache gear. "You acclimatize much better that way," he said. But that's a strategy that works better when a climber is young, has more time for the mountain and less competition for the narrow routes leading to the summit, he said. The weather was calmer at 27,200 feet, and the four climbers crawled into an unused Japanese tent. They had no choice. A big Chinese group was already there, leaving virtually no other safe place to camp. From around 3 p.m. to 11 p.m., the four of them paired up and shared two sleeping bags, sipping soup and dozing as they prepared their bodies for the trudge to the high point in their climbing dreams. "The Sherpas could sleep, but Jess and I couldn't," John said. "Especially when the winds started to pick up again around 8 p.m." Said Jess, "The Sherpas wanted to get up and start for the summit at 1 a.m., but dad insisted that we get up two hours earlier. You know dad, he can be very forceful when he knows he's right." "If the Chinese got ahead of us, we'd be dead meat," John said. "By the time we got hot drinks, our crampons on and oxygen set up, the Chinese were just about lined up and ready to go. We got on the ropes first and that saved us because we could move a lot faster." They climbed in the dark for two hours to reach the ridge crest and skirt around the near vertical Kangshung Face, avoiding any serious rock climbing. "There's a mishmash of ropes there and it's really dangerous to rely on any one of them," John said. "I'd grab the newest one or sometimes several," Jess said. "It's your choice. Better make a good one." Later they learned that an old piton anchoring one rope broke as a British group was ascending. Two climbers fell. They were not seriously injured, but one of them landed on a climber below and caused a compound fracture of his leg. "There was bone sticking out and everything and he was at 28,000 feet," Jess said. "I thought he was toast." Incredibly, the New Zealander was able to crab his way down the steep part of the mountain to where he could be helped to base camp and helicoptered out. "The little thin ridges are so narrow, there's no way anybody could rescue him up high," John said. "He had to do it himself or die." Others have not been so fortunate or able to muster that will to survive. While more than 1,200 people have reached the summit of Everest, about 175 have died trying, including at least one Sherpa climber this season. Around 120 of the bodies are still on the mountain. "It was in the dark when I saw the first one," Jess said. "I had prepared myself for this, but at that point I was so pumped about heading for the summit. I was feeling so good, I was caught off guard. He was curled up like he was taking a nap, but he never woke up." Jess described the scene as "normal on Everest." The deceptively beautiful mountain that straddles the border of Nepal and Tibet has been deadly from the beginning of human exploration. For every eight climbers who reach the summit, one climber has died. Eight died in one storm on May 11, 1996. More than 30 have died since Jon Krakauer detailed that tragedy and the potential for more in his best-selling book "Into Thin Air." Some of the dead remain frozen by the side of the higher routes, mute evidence to passing climbers that the mountain they so desperately want to climb can suddenly become their final resting place. Helicopters cannot reach that high, giving climbers as much chance of being rescued as they would being plucked off the surface of the moon. In recent years, climbers have mustered the strength to drag at least a few bodies to crevasses for the nearest thing to a proper burial in the Death Zone, the term for elevations above 25,000 feet. The air holds only a third as much oxygen as at sea level, heightening the chances of hypothermia, frostbite, high-altitude pulmonary edema (when the lungs fill with fluid) and high-altitude cerebral edema (when the oxygen-starved brain swells). At 5-1/2 miles above sea level, jet-stream winds can howl up to 200 mph, bodies break down, lungs are starved for air, and minds are addled by a lack of oxygen. Even when breathing bottled oxygen, climbers can experience extreme fatigue, impaired judgment and coordination, headaches, nausea, double vision, and sometimes hallucinations. The Roskelleys, however stressed, remained focused as they slogged through an icy graveyard littered with remnants of old tents and equipment, empty oxygen bottles and a few frozen corpses. "We noticed at least two bodies still along the North Ridge," John said. "The one that shocked Jess is known as Cave Man. He's an Indian climber who crawled under an overhang on the ridge in 1998 or 1999 and froze. "You literally step over his feet to get past," John added, noting that the body is between two significant steep rocky pitches or "steps," toward the summit. "Then above the second step, another body that's been frozen there longer is laying off to the side." Above the second cliff, with the steep stuff behind them, they trudged along an undulating ridge. "That part of the route is not difficult, although you can't goof up or you'd have a long slide, possibly to your death," John said. "Huge cornices sweep off near the top over the Kangshung Face. Prayer flags that have been laid down on the summit for years can be seen off to the side where they're emerging after being buried in snow bulging 20 to 30 feet deep off the edge of the peak." At 7:30 a.m., the Roskelleys and their Sherpa partners were the first to reach the summit on May 21, almost exactly two months after they had left Spokane. "I tried to make a phone call, but it was so windy and cold, I had to wait until I went back down the ridge a ways," John said. "It wasn't exactly a good summit day," he said. Dozens of climbers had abandoned their summit bid from the south side that day. "I took my oxygen mask off on the summit," Jess said. "Since I was just sitting there, it didn't seem to bother me. I think I was so excited I didn't care, but come to think about it, I don't remember that much." John snapped some photos and gave the camera to Pemba to record the rare father-son on Everest achievement. The Sherpas are more savvy to Western ways than in 1953, when Sir Edmund Hillary made the first ascent with Tenzing Norgay. Hillary recorded their pioneering ascent with a summit photo of Norgay showing their nation's flags whipping in the wind from his ice ax. Tenzing had never used a camera, though, and Hillary said he didn't have time to teach him in their 15-minute summit visit. For the Roskelleys, wind and fog allowed them only 10 minutes at the top of the world. Soon John's insistence on an earlier-than-normal start would be vindicated. "We passed 10 or 15 Chinese who had made it up over the second step," John said. "But as we got to the top of the step, a couple of Chinese women were having trouble getting up. There was a backlog of 30 or 40 climbers below them. "The two Chinese women had no ability to jumar whatsoever," he said, referring to the technique of climbing up a rope using stirrups attached to metal clamps a climber can slide up a rope. "One woman was crying while a big Chinese guy yelled at her. I tried to help her out and show her where to put her feet. She finally made it, but she was pretty much pushed and pulled up." The Roskelleys hand-lined down around the crowd. "We were using the bad-looking ropes, so I grabbed several at a time," Jess said. "We used those chemical handwarmers in our gloves and that really save my fingers." They were down to 27,200 feet at 12:30 p.m., more than 12 hours after they had started their summit day. "We grabbed our stuff, turned off the oxygen to conserve it, and descended to 7,800 meters (25,700 feet) and spent the night," John said. "I'd say I was pretty exhausted. "There was no celebration. We drank as much as we could and slept. I found a tent with nobody in it and flopped in and crashed. Jess slept in a tent with an Irish guy." Just below them, tatters of tent material snapped in the wind around yet another corpse. "Like I said, there's not much room there," John said. "You make do. "More than anything, the people who heard about our climb at base camp were impressed that we were able to beat the Chinese crowd and make the climb without trouble or frostbite," John said. "People all over base camp had blue fingers and black toes after getting caught behind the Chinese or the next day behind the Koreans and they got burned." That was just one of many lessons Jess learned during an expedition that will earn him six college credits when he makes his presentation back at Missoula. "I'm doing it on the trash on Everest," he said. "It's getting much cleaner at low elevations. Dad and I even picked up cans. But there's tons of junk up high." The New York Times reported 760 people and 900 tents on the south side of Everest alone this spring. The Roskelleys said the scene was nearly as bad on the north, where the Chinese expedition alone had more than 100 members. The countries aren't likely to limit Everest climbers, because the expeditions are a cash cow. In a two-month climbing season, a skilled Sherpa can earn $2,000, about eight times the average per capita income in Nepal. For each group of seven climbers, Nepal charges $70,000 in royalty fees. For John, his fourth attempt at climbing Everest was a success that could cap a sterling climbing career. For Jess, who knows? One of his friends penetrated the mob of well-wishers that greeted the Roskelleys during a reception rally in Riverpark Square last week. "Just one question," he asked. "Was it harder or easier than you expected?" "Easier. `' Jess said, with only a little hesitation. "I really geared myself for the biggest thing in my life," he later explained. "When you're on a mountain like that you always have to put up with a little misery. You have a headache or you're sick to your stomach or something's always going on. But technically, it wasn't that hard. "That's the scary thing, I guess. One minute it seems easy, but make a mistake in a storm or something and you're dead." He said he hadn't totally put the Everest expedition into perspective: "You realize that we left Spokane just before the war in Iraq had begun and it had been over for weeks when we returned. But he's ready for more climbing. "Everest is the coolest thing that ever happened to me," he said. "Next time, though, I want something harder and with a lot fewer people."
Withering away
Everest is no vacation, Jess Roskelley said. Even the food was an endurance test. "I'm a little tired of curry and rice, and I need some real meat," said Jess as he launched into passionate descriptions that left his climbing talk pale. "You buy yak meat, one big dried leg and rib," he said. "They leave it outside with flies all over and it becomes like a big piece of hard jerky. You could throw it and kill people. They saw off pieces for dinner. "And I'll tell you what, I could eat Spam all day long, but they had some generic canned meat and it was nasty." Jess lost 15 pounds off his 170-pound frame. "I'm a little guy now," he said. "I was running and lifting hard before I left and all the muscle I'd built up is gone. "My arms look alien. My legs are tiny and my pants don't fit. It's ridiculous."

Local journalism is essential.

Give directly to The Spokesman-Review's Northwest Passages community forums series -- which helps to offset the costs of several reporter and editor positions at the newspaper -- by using the easy options below. Gifts processed in this system are not tax deductible, but are predominately used to help meet the local financial requirements needed to receive national matching-grant funds.
Subscribe to the sports newsletter
Get the day's top sports headlines and breaking news delivered to your inbox by subscribing here.
---