Did a divided 'Bill' kill Uma's Oscar chances?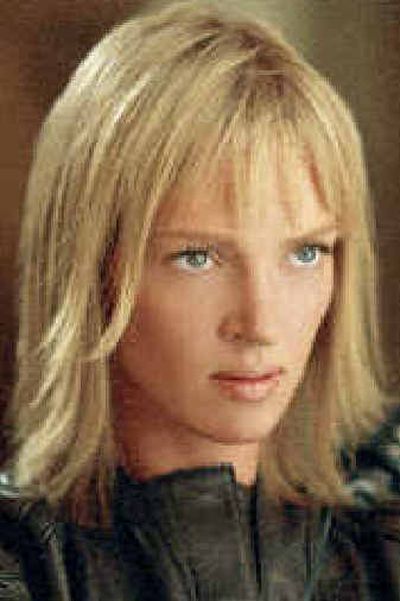 Quentin Tarantino has just one regret about splitting his "Kill Bill" vengeance saga into two movies: The move may have undermined its Academy Awards prospects, particularly for star Uma Thurman.
"I think the only thing that might have been lost in that decision is we could have gotten considerably more awards play if the film had been one big, giant epic," Tarantino says. "As one big movie, Uma would have gotten a best-actress nomination, for sure."
Tarantino says he still hopes "Kill Bill – Vol. 2," which was released on home video Tuesday, will get some Academy Awards attention this year. "Vol. 1" was shut out in the last Oscar nominations.
As a lead-in to Oscar season, Tarantino hopes to have both installments playing as one long film in limited release at theaters.
Splitting it up still made sense for a mass audience, he insists.
"If I tried to turn it into a three-hour or two-and-a-half-hour movie, all the scenes that would go would be scenes I think give the movie its weight, its resonance," Tarantino said. "If I truly, truly believed the film would have had more impact shorter, I would have done it that way."
She laughed so hard, she busted a button
Janet Jackson will guest-star as herself in an upcoming episode of the NBC sitcom "Will & Grace."
The episode will air on Sept. 23, Jackson told "Access Hollywood" in an interview that aired Monday. She said it involves Sean Hayes' character, Jack McFarland, "trying out as a dancer."
"I have to catch myself because I'm cracking up in rehearsals," she said. "It's just funny to watch them."
There'll be no more Fox in her penthouse
Pro basketball player Rick Fox has filed for divorce from singer-actress Vanessa Williams. The couple have been married for five years and have a 4-year-old daughter, Sasha.
Williams won the Miss America pageant in 1984 but was forced to resign after nude pictures of her appeared in Penthouse magazine.
Checking up on the birds and the boys
William Lee Golden of The Oak Ridge Boys is expected to make a full recovery from a mild heart attack, the group's publicist said.
Golden, 65, widely recognized for his long gray beard, was traveling with the country group Saturday in Wisconsin when he fell ill and checked into an area hospital. The band is continuing to perform with Golden's son, Chris, filling in.
Meanwhile, Randy Meisner, 58, an original member of the classic rock greats The Eagles, has been hospitalized in California with chest paints. A hospital representative would not release any details about his condition.
Yes, the driver really was full of it
The bus driver for rock star Dave Matthews denies that he was responsible for dousing passengers on a Chicago River tour boat with foul-smelling muck.
Passengers seated on the upper deck of Chicago's Little Lady were soaked with the substance Sunday afternoon. Witnesses said it was dumped by a long black tour bus and gave police a license plate number belonging to Matthews' driver, Jerry Fitzpatrick.
Fitzpatrick insisted he was blocks away and had not emptied his tank for days — and called in a police sergeant to check it out, handing the officer a cell phone so he could confirm the results for a reporter.
"One of the strangest requests I've ever had, that's for sure," Sgt. Paul Gardner said.
The birthday bunch
Former TV talk-show host Mike Douglas is 79. Actress-TV personality Arlene Dahl is 76. Wrestler-actor Hulk Hogan is 51. Singer Joe Jackson is 50. Actor Joe Rogan ("Fear Factor," "NewsRadio") is 37. Actor Will Friedle ("Boy Meets World") is 28. Rapper Chris Kelly (Kris Kross) is 26.
---