News > Travel
Pride of Aloha
Sun., Aug. 15, 2004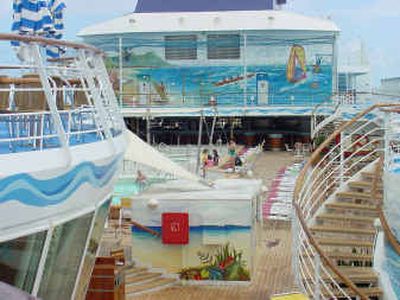 ABOARD THE PRIDE OF ALOHA, Hawaii – The view was irresistible: a panorama of palm trees, beaches and mountains stretching into the morning clouds. From the upper deck of our cruise ship, several passengers had already gathered along the railing by the time I found a spot to soak up the brilliant Hawaiian landscape.
It was too inspiring to let pass quietly. I turned toward the woman beside me, said something about the beautiful scene and listened as she agreed. But when I asked if she was enjoying herself, she frowned.
The service, she said, was far below the standard she had experienced on other cruises. Waiters were rude; other crew members didn't seem to care. We were barely halfway into our seven-day cruise of the Hawaiian Islands, but Mary Pupo of New York was already disappointed.
She knew this was no ordinary sailing. Like almost everyone else on board, she had planned her trip for months to join family and friends for the inaugural cruise of the Pride of Aloha. This ship is the first under Norwegian Cruise Line's newly branded NCL America name to cruise the Hawaiian Islands under a U.S. flag. That meant no detoured stop at a foreign port (such as the tiny Micronesian nation of Kiribati), as all foreign-flagged ships are required to do.
When I wondered if this cruise was vastly different from others she had taken, Pupo, 71, asked if this was my first time on a cruise ship. No, I answered, but I clearly wasn't the cruising expert she was.
"Well," she said, "if you've ever cruised before, you'd know the difference."
Other passengers expressed similar dissatisfaction about poor service, cold food, long lines and room-service snafus. For every picture-postcard beach or wondrous sunset, it seemed there were an equal number of bad experiences.
A miserable week in paradise? For some, maybe. But given the circumstances of the inaugural sailing of the Pride of Aloha, missteps weren't unexpected.
"I always tell people, 'If you want a seamless cruise, go on one that's older than one year and younger than 10,' " said James Deering, the ship's hotel director. Best to sail on a ship, he said, "that's worked out the kinks."
Eventually, this one did. Although my wife and I witnessed only rare lapses in service, we noted that things ran more smoothly every day. When coffee arrived long after she had eaten her dessert on our last night, it was a forgivable lapse. At least our waiter was still smiling and eager to please.
And any memories we're likely to keep will have less to do with mistakes and more to do with unforgettable sights we witnessed: a glowing nighttime lava flow as we sailed past Kilauea, or spotting reef sharks on a snorkeling adventure to Molokini crater off the Maui coast.
Even if you're the sort who prefers sprawling on a beach towel for a week, there's a lot to like about cruising to Oahu, Kauai, the Big Island and Maui. The Pride of Aloha — the first of three U.S.-flagged NCL America ships that will cruise Hawaiian waters by 2006 — is like a floating, all-inclusive hotel. Passengers visit four islands in seven days without having to pack and unpack their bags or rush to the airport.
The ship, in fact, never sails more than a few miles from shore and does most of its cruising at night, leaving daytime for shore excursions.
At each port, cruisers can disembark and try any number of day trips — scuba diving in Maui, touring the 13,796-foot Mauna Kea summit on the Big Island, surfing in Kauai, playing golf — or stay on board and spend a lazy day poolside or in the spa, as many did.
The Pride of Aloha is a 2,000-passenger vessel that was originally scheduled to be the second ship in NCL America's Hawaiian fleet. But it was pushed into early service when the first scheduled liner, the Pride of America, sank up to its third deck in January while under construction in Germany. The Pride of Aloha (formerly Norwegian Sky) was pulled from its Alaska itinerary and underwent extensive renovations at the Port of San Francisco in time to make the July 4 sailing.
For many cruisers, being on board an inaugural sailing is an event in itself. There's a pristine feel to everything from silverware to deck chairs, and many passengers revel in the newness of the ship. The Pride of Aloha was refurbished almost top to bottom, with colorful new carpets and furniture, Hawaiian artwork on the hull and pool-deck walls and a large lobby atrium with glass-enclosed elevators at either end. The Kumu Cultural Center, a large walk-through display of Hawaiian art and artifacts, was a popular spot for visitors.
But as a U.S.-flagged ship, it also meant a new crew of U.S. workers with little or no experience on cruise ships who had to be trained as waiters, room stewards or desk personnel. (Foreign-flagged ships typically hire foreign-born workers.) The result was often slow service in restaurants or in-room service delivery and a lack of response to complaints. I heard of one passenger who ordered a meal at 10 p.m. only to have it delivered at 2 a.m.
Another problem: NCL America uses freestyle cruising, which has no required seat assignments or dining times. But that frequently meant long lines in the early evening, when many passengers opted to eat. When my wife and I arrived at 8 one night for dinner, our server told us that we had narrowly avoided a hectic rush of diners.
Deering acknowledged that about 10 crew members quit during the trip, a result of long hours and seven-day work weeks. More workers will be hired to fill in gaps.
"Three months from now, there won't be any long lines in restaurants," he said. "Ninety days from now, 80 to 90 percent of our passengers will say they had a blast and can't wait to do it again."
He could be right. The Pride of Aloha is 75 percent booked through the end of the year. Norwegian expects to have almost 500,000 passengers cruising the islands every year by 2007.
Mary Pupo probably won't be one of them, but when my wife and I encountered her in the ship's lobby on our final morning, she seemed reasonably content.
Any concerns she had — a small cabin, a disagreeable roommate and less-than-adequate service — disappeared as the week went along. As we exchanged goodbyes, she was smiling.
So were we. We had surfed in Kauai, stood above the clouds at Mauna Kea, shopped in Lahaina and snorkeled in Kona and Molokini. We made new friends, got plenty of time in the sun, shopped and ate some exceptional meals.
We had no complaints.
Local journalism is essential.
Give directly to The Spokesman-Review's Northwest Passages community forums series -- which helps to offset the costs of several reporter and editor positions at the newspaper -- by using the easy options below. Gifts processed in this system are not tax deductible, but are predominately used to help meet the local financial requirements needed to receive national matching-grant funds.
Subscribe to the Coronavirus newsletter
Get the day's latest Coronavirus news delivered to your inbox by subscribing to our newsletter.
---