News > Spokane
Hancock leaves Spokane Symphony
Thu., Aug. 19, 2004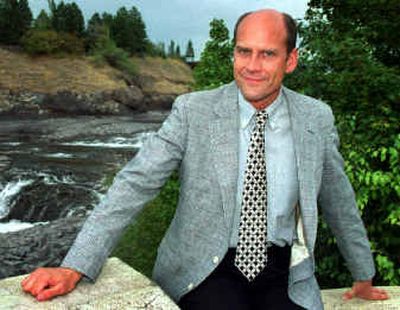 John Hancock, executive director of the Spokane Symphony, has resigned to become vice president and chief operating officer of the Milwaukee Symphony Orchestra.
William A. Simer, president of the Spokane Symphony's board of trustees, made the announcement to the symphony's staff Wednesday morning. Hancock will leave his Spokane position Sept. 3 and assume his duties in Milwaukee on Sept. 13.
It's the second major leadership change for the symphony since last season. Fabio Mechetti left the orchestra in May after 11 years as music director and has been replaced by Eckart Preu.
Hancock came to Spokane at the beginning of the 1999-2000 season after having served as executive director of the Toledo (Ohio) Symphony.
He described his new job in Milwaukee as "being in charge of artistic and production parts of the organization – those parts not having to do with fund-raising, ticket selling and finance functions."
The Milwaukee Symphony has a budget of $16 million, gives 150 concerts a season, records on the Telarc and Koss Classics labels and broadcasts its concerts to more than 200 markets. By comparison, the Spokane Symphony has a budget of $3.2 million and gives 50 concerts a year.
Simer said that Hancock's Spokane duties will be assumed temporarily by members of the symphony staff working with officers of the orchestra's board.
"But we want to move immediately to assemble a search committee so we can hire a new executive director very soon," he said.
Simer had praise for Hancock's role in the symphony's purchase of the Fox Theater and the plans to renovate it as a performance hall.
"We have raised $11.6 million toward that project, and John has been a key part of that effort," Simer said. "We are committed to the Fox because we know that it is crucial to the continued growth of the symphony."
Asked to evaluate his own accomplishments, Hancock said: "I see the greatest accomplishment the orchestra has made during my time here is the way the orchestra has become better understood and better appreciated by a broader public, not only in the city but in the region as a result of new kinds of activities in new places – playing in churches and community centers, at the (Interstate) Fair and in places like Wellpinit and Chewelah."
Hancock's tenure also has seen three consecutive years of balanced budgets and the hiring of both Preu and associate conductor Morihiko Nakahara.
Regarding the still-incomplete Fox project, Hancock said: "We wanted the Fox to get done fast. But the intervening episodes of 9/11, the stock market fall, the Iraq war and other economic trouble just made this a hard time to do a hard thing.
"But raising $11.6 million for an artistic project has never been done here in Spokane before," he added. "Another $10 million should get the construction to begin, and that's a big milestone. I am confident it will get done and it will be a great place."
Local journalism is essential.
Give directly to The Spokesman-Review's Northwest Passages community forums series -- which helps to offset the costs of several reporter and editor positions at the newspaper -- by using the easy options below. Gifts processed in this system are not tax deductible, but are predominately used to help meet the local financial requirements needed to receive national matching-grant funds.
Subscribe now to get breaking news alerts in your email inbox
Get breaking news delivered to your inbox as it happens.
---