Man gets 178 years for HIV assaults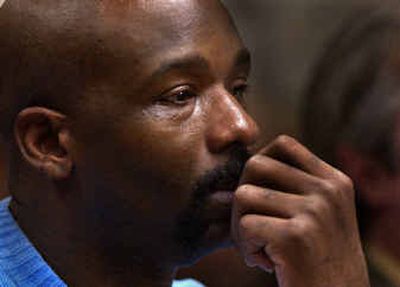 OLYMPIA – A man convicted of deliberately exposing 17 women to HIV, infecting his wife and four others, has been sentenced to more than 178 years in prison.
Anthony E. Whitfield, 32, of Lacey, said he believed a higher power had forgiven him and was rebuked by a judge in a 2½-hour sentencing proceeding Tuesday in Thurston County Superior Court.
Whitfield, who has a history of methamphetamine abuse, was infected with HIV in 1992 when he was assaulted while serving a prison term in Oklahoma, investigators found.
Judge William Thomas McPhee, who heard the case without a jury, convicted Whitfield last month on 17 counts of first-degree assault with sexual motivation, two counts of witness tampering and three counts of violating a court protection order.
His lawyer has promised an appeal of the convictions.
Whitfield sobbed into his hands as McPhee sentenced him to 178 years and one month in prison, nine years less than the maximum under state guidelines that prosecutors were seeking in one of the nation's biggest serial HIV assault cases.
Five women, some of whom had children by Whitfield, have tested positive for HIV, the virus that causes AIDS, and a sixth has developed the fatal ailment. Whitfield had children with three of the women and long relationships with four.
Health officials said as many as 170 people may have been exposed to the virus because of his actions, including subsequent partners of women with whom he had sex. Most tested negative for the virus, but 45 refused to be tested or couldn't be found.
One of the women choked on tears while talking of the stigma she and her son face.
The case spawned racist leafletting in April and October in Olympia, the state capital, both times involving 100 or more homes. Fliers, some proclaiming, "Don't Have Sex With Blacks; Avoid AIDS," were hurled into residential yards. Whitfield is black.
In Whitfield's first discussion of the case in court, he apologized for what he had done to the victims, his children and his wife but denied that he had infected one of the women, who is developmentally disabled and was a virgin when she met him, according to testimony.
That woman developed AIDS as public health officials were focusing their investigation on Whitfield as the apparent source of HIV cases in several local women.
"I don't know what I could do to make them understand that I'm really sorry," Whitfield said, "but I'm at peace with myself. I've been forgiven.
"This court, these people, don't have to forgive me. I've been forgiven by the person that matters most."
"You may believe that, and that may be a private matter between you and your god," McPhee said, "but to stand before these victims after the trial they went through, after putting them through their own private hells … and then to come before them and say that you have been forgiven, is an affront.
"They have not forgiven you, and it is not for this court to forgive you, either."
The judge granted requests from his wife and another woman who had a son by Whitfield to nullify court orders barring him from contact with them so they can visit him in prison.
The woman with the child said she wants to bring him to visit Whitfield, whom she said she still loves.
---