News > Spokane
The resurrection of Harrison
Tue., June 1, 2004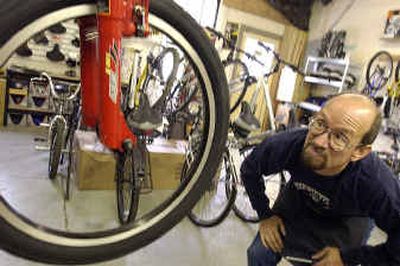 HARRISON, Idaho – Economic salvation has begun rolling quietly into this tiny town on the tail of Lake Coeur d'Alene.
Locals began noticing the changes last year shortly after the last stretch of asphalt had been steamed onto the new bike trail.
"Every car coming to town started sprouting bicycles," said longtime resident John Kolbe.
Before the cyclists arrived, Harrison (population 267) seemed to be tucked into a perpetual nap. Not a whole lot was happening. For a while, all three restaurants were closed. Sometimes, it seemed, the only action on the main street was the town's unofficial mascot, a slow-moving dog named Dog, rising from the sidewalk to scratch an ear.
Like the town, Kolbe seemed stuck in a rut. There wasn't much work for an airplane mechanic. Kolbe and his wife loved Harrison, but they were considering moving before they heard about the plan for the old railroad tracks running along the town's lakefront.
Tons of ore concentrate once had traveled down the tracks from the Silver Valley. Some of the concentrate and rock had spilled along the way, creating a stable bed for the tracks but also threatening the water supply with lead and heavy metal pollution.
The Union Pacific Railroad hauled away some of the waste in the 1990s and capped the rail bed with asphalt, creating a 72-mile path for cyclists and hikers.
Much of the contamination remains, however, and trail users are greeted with warning signs reminding them, "Wash hands and face before eating" and "Remove dirt from clothes, toys, pets, shoes and equipment before leaving the area."
Many people were skeptical of initial plans for the trail. Kolbe, though, had heard about the popularity of other rails-to-trails projects around the country, including the Route of the Hiawatha on the Montana-Idaho border. The trails have brought sustainable, pollution-free economic development to other areas.
Kolbe thought Harrison's scenery would be popular with cyclists. He decided to put his mechanic's skills to work repairing bikes, and he and his wife opened Pedal Pushers bike shop three years ago, hoping the trail would be more than just hype.
The trail's grand opening will be Saturday, but much of the route was ready for riding last summer.
It didn't take long for the trail and Harrison to be discovered, Kolbe said. For Kolbe, the best indication of growth came from his espresso machine. Last summer, he sold double the number of drinks after the cyclists started arriving.
Now that the Chatcolet Bridge over Lake Coeur d'Alene has been completed – the last link in the cross-Panhandle trail – cyclists will be able to reach the trail from Plummer, Idaho, which is a short drive from both Moscow and Spokane. Kolbe and others in town say they are already seeing a surge of new cyclists.
"It's a fortune of geography. There is nothing like this in the country," Kolbe said.
Three restaurants have been reopened under new ownership. There's an ice cream shop and a new fudge factory. A new bed and breakfast is opening. The town's marina has expanded. The main street has been paved.
"The turnaround is happening. We are going to see exponential, almost explosive growth," Kolbe said.
Kolbe offered the prediction while working on a new shipment of bikes in the back room of his shop. The new bikes were destined to be rentals at Heyburn State Park, on the other side of the lake. Even though it was a rainy, overcast weekday, a steady stream of tourists ventured into the shop.
One woman, who said she was from the Tri-Cities, had heard promising rumors about Harrison. "We always go to Coeur d'Alene, but we thought we'd stop here this time," she said.
Another woman, Mary Rose Amendola from Helena, said she typically gave no thought to the Harrison exit sign on Interstate 90 as she drove to the coast each summer. But Amendola heard about the new bike trail while on a brief visit to North Idaho and decided to drive the 30 winding miles from I-90 to Harrison.
"This is really great," she said, while studying a trail map.
Amendola said she plans to return later in summer with her family. Harrison is quiet, quaint and close enough not to require a second-mortgage to pay for gas. "I'm on a reconnaissance mission to find a place that's user-friendly, especially with children."
Two weeks ago, a new gift shop opened next to the Pedal Pushers bike shop. The store, Crows Feet, is a place where soft piano background music plays and the shelves are stocked with everything from high-end gardening tools to scented candles and gourmet sauces.
"The town's been a sleeper for a long time," said store co-owner Vicki Hedlund. "I'm surprised it hasn't taken off sooner."
Harrison's charms are starting to be known outside of Kootenai County. In early May, guests from Hawaii, California and Texas were staying at the Osprey Inn, a five-room bed and breakfast. Since the snow melted off the new trail, business is up about 60 percent, said Arleen Woodside, co-owner of the inn. Usually, the inn doesn't get much business until after Memorial Day. It already had one fully booked weekend in early May.
"That's very unusual for this time of the year," Woodside said. "We're getting more and more drop-ins. Those are almost always bicyclists."
Not long ago, Woodside experienced every western innkeeper's fantasy when she hosted a writer and photographer from Sunset Magazine. They were working on a story about Harrison for an upcoming issue, Woodside said.
One indicator of the change is real estate prices. Through much of the 1990s, lakeview homes could be purchased for less than $50,000. Harrison resident and real estate agent Valerie Harris said home prices are now comparable to Coeur d'Alene, the other city on the lake. "They might even be higher here," she said. "I don't have anything to sell for less than $120,000."
Some of the buyers are cyclists looking for a second home near the lake and trail. Others are retirees or young professionals who work in home offices over the Internet. As much as the trail has brought change into the town, it also has had profound effects on longtime residents, Harris said. "I hadn't ridden a bike since I was 16. Now, at retirement age, I have a bike and I ride the trail. My friends are doing the same. It's changed us as much as anything."
A century ago, Harrison was larger and more bustling than Coeur d'Alene, said Peter Nikolaus, a local history buff and the owner of Steamboat Trader, a local fishing and boating shop. The land on which the town sits was once part of the Coeur d'Alene Indian Reservation. President Benjamin Harrison took it away from the tribe at the end of the 19th century at the behest of a family friend who settled in the area. Mining and timber fortunes flowed out of the nearby mountains into Harrison. At one point, the town had three barber shops, a tailor, a bank and an opera house with seats for 400.
There will probably never again be 10,000 people in Harrison, Nikolaus said. For one thing, most people today want to live in big houses. Harrison is confined by its surroundings – the lake and river on two sides, a steep hill forms a backdrop and the reservation boundary runs just outside of town.
"It's just a big pile of rocks," Nikolaus said. "There'll never be room for big condos and hotels."
Still, Nikolaus said the changes are happening faster than ever. He has some concern that rising property taxes could soon be a problem for many pensioners and middle-income residents. "There's so many new people moving in," he said.
So far, the town has preserved its friendly soul, said Jo Prophet, chairwoman of a team of volunteers that meets regularly to promote economic development. The team recently secured a Gem Community designation from the Idaho Department of Commerce. The designation means access to technical expertise and grants for marketing and planning.
This isn't the first time Harrison has had high hopes for economic development and increased tourists, Prophet said. But that was before the trail.
"Is this different this time? Yes, and I'm not sure if I can say why," Prophet said. She paused for a moment, then continued, "There's something here that's permanent. In the past it's been hope. This time it's fact. This is here now."
Local journalism is essential.
Give directly to The Spokesman-Review's Northwest Passages community forums series -- which helps to offset the costs of several reporter and editor positions at the newspaper -- by using the easy options below. Gifts processed in this system are not tax deductible, but are predominately used to help meet the local financial requirements needed to receive national matching-grant funds.
Subscribe now to get breaking news alerts in your email inbox
Get breaking news delivered to your inbox as it happens.
---