News > Features
Tuning in at a Tudor
Fri., June 11, 2004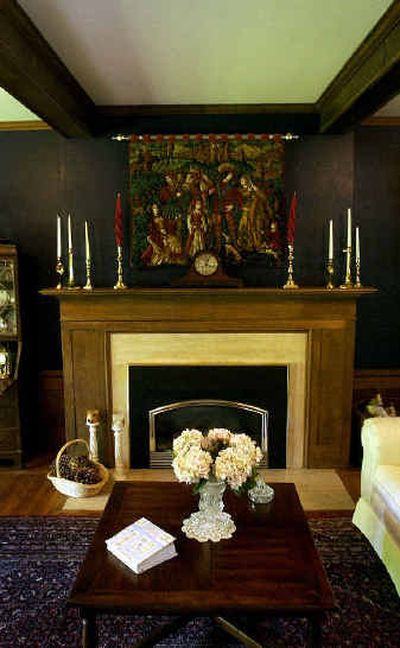 The Halloween trick-or-treaters got fooled. And wowed.
From the street, this historic Rockwood neighborhood home looks like a sprawling mansion on spacious and attractive grounds. While the house lists a Rockwood Boulevard address, the building stretches out along Garfield. That was enough to bamboozle two young boys in costume years ago — a story which homeowners Jerry and Linda Key enjoy recounting.
Their English Tudor revival house, designed by prominent Spokane architect W.W. Hyslop and built in 1913, tricks the eye with its long length and short breadth. Still, each floor measures some 2,700 square feet, striking with lustrous oak woodwork.
On Tuesday and Wednesday, the Keys will open their home for Allegro's summer Historic Home concert. The affair includes a tour of part of the home and refreshments.
The Keys bought the "fixer-upper" 31 years ago. "We're married to this house," Jerry Key says. "I'll never finish."
The home's original owner was furniture tycoon Frank D. Gibbs, who founded Tull & Gibbs Furniture Store in downtown Spokane. He paid around $75,000, says Linda Yeomans, a private consultant in historic preservation. Yeomans, one of four members on Allegro's concert siting committee, lists several articles as sources for the final purchase price.
"That's a whole lot of money all the way back in 1913," she says.
Gibbs lived there until his death in 1936, and his wife, May, stayed on until her passing in 1943.
The Keys — both retired from Deaconess Medical Center, he as an anesthesiologist and she as a nurse — keep a history of the home in a scrapbook of photographs, newspaper clippings and mementoes, including small pieces of original wallpaper. One of the articles, from 1926, calls the Gibbs House one of the two most important English Tudor homes in Spokane along with Campbell House, a Kirtland Cutter design.
Yeomans agrees (though she adds two others: the T.J. Humbird House on Sumner Avenue and the J.P. Graves House, now known as the Bozarth Mansion).
When the Keys moved in all those years ago, the home's extensive interior woodwork had been painted white. Jerry Keys spent years stripping and refinishing the oak to a glowing shine — two years alone on the massive staircase in the entry ("just because I'm slow," he cracks).
"It really looks pretty much like the original," he says. "You have to be a little crazy to do that."
Why would anyone paint luminous wood a boring white, like in many houses? Yeomans points to a popular movement that started in the 1920s called Colonial Revival. People wanted to revive the Colonial style from the 1600s, she says, and those early homes featured woodwork painted white.
"When the Colonial Revival style became popular, everybody wanted to change that dark wood to something that looked Colonial," she says. "So they painted all the woodwork white.
"We see a lot of Craftsman-style bungalows that are painted white. You can't see any detail on the exterior or the interior because they painted everything white."
But Key knew white was not appropriate to Hyslop's creation. "He did a fabulous job," Yeomans says of the wood restoration, including wainscoting, a box-beam ceiling, bookcases and other trim.
Key's work on the house extends beyond wood refinishing. He built a wall to incorporate the servants' quarters into the main house, relocated the kitchen to the front of the house, built in bookcases, tore down the kitchen chimney and added dormers. He also took the broken marble from the living room fireplace to a cemetery monument expert for repairs.
Linda Key's pride and joy are the verdant and elaborate grounds, all 11 1/4 acres filled with flower beds, ground covers and bushes, basalt rock outcroppings and walls. "I love to work in the yard," she says.
Yeomans finds Hyslop's design true to the Tudor style. "It's very much a baronial estate," she says.
Specifically, she points to several design elements, including tapestry brick, front-facing gables with cutouts in the peaks and false half timbers, and rows of leaded glass windows.
The Keys' house, like the first Tudor homes built in medieval England, features battlements. Hyslop put castle-like walls around the south terrace. Plus, the entryway is recessed. "Protection was a big deal, both from enemy and elements," Yeomans says.
W.W. Hyslop (1867-1917) first came to Spokane in 1900 and only worked in Spokane for a decade, but in that time he designed more than 300 homes — many landmark-style houses, Yeomans says. "He was very forward thinking," she says.
Some five years ago, his son Robert visited the Keys and gave them an artist's rendering of Hyslop's original design. That old artwork now hangs on one of their walls.
The Gibbs House would qualify for various historic registers, Yeomans says, but the Keys aren't interested in pursuing an application. They have still more remodeling projects on their list. For one, they'd like to restore the railing by the entry — as shown in that drawing.
"But we're going to quit," Jerry Keys vows.
Perhaps.
So what was the story about those trick-or-treaters?
"We had two boys come to the front door," Linda Keys says. "They rang the doorbell and got their candy.
"Two minutes later, the back door rang. So I went to the back door, and they looked at me and they looked at the house. And I said, 'Weren't you just at the other door?'
"And they both went, 'WOW. This is really a big house.'
"So here I am explaining to two 8-year-olds that it's not really as big as it looks.
"The rooms are big, but the house isn't as big as it looks from the street."
Things always look big when you're little. Especially mansions. self end
Local journalism is essential.
Give directly to The Spokesman-Review's Northwest Passages community forums series -- which helps to offset the costs of several reporter and editor positions at the newspaper -- by using the easy options below. Gifts processed in this system are not tax deductible, but are predominately used to help meet the local financial requirements needed to receive national matching-grant funds.
Subscribe now to get breaking news alerts in your email inbox
Get breaking news delivered to your inbox as it happens.
---