Sports
Top two picks Russians
Sun., June 27, 2004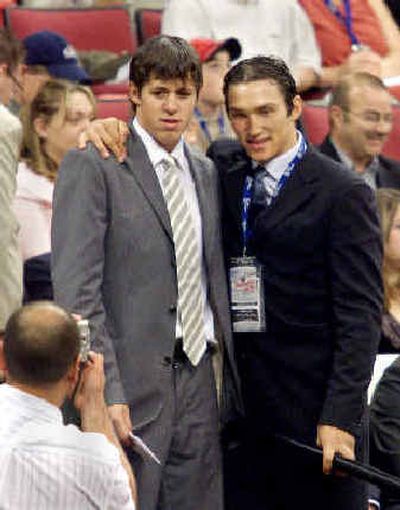 History replaced mystery as top-rated forwards Alexander Ovechkin and Evgeni Malkin became the first Russian duo to be chosen with the first two picks in the NHL draft in Raleigh, N.C.
The choices came as a surprise to no one.
Ovechkin was the consensus top player available Saturday, and the Washington Capitals spurned several offers for the No. 1 pick and took the total package forward.
Malkin was rated second on virtually all ratings charts, and that's where he was picked by the Pittsburgh Penguins.
Washington earned the right to go first by winning the draft lottery. After entertaining 15 trade offers, the Capitals decided the best move was to draft Ovechkin.
Ovechkin, 18, was the overwhelming favorite before the NHL's Central Scouting department ranked him first among European skaters. He was praised for his speed, size and stickhandling as well as his willingness to jump back on defense.
"I've been waiting for this day for maybe two years," he said.
He might have to wait longer. Ninety-eight players – 58 from North America and 40 from Europe – were chosen in the first three rounds Saturday. The final six rounds will be held today.
But it's not clear when any of these players will step onto NHL ice. The league's collective bargaining agreement with its players expires Sept. 15 and, with no agreement near, a lockout is a distinct possibility.
Ovechkin's situation is even more complicated. The Russian Ice Hockey Federation indicated it might not be part of a new deal between the NHL and the International Ice Hockey Federation because it wants more money for players its clubs lose to North America.
Moscow Dynamo has said it would demand cash from any NHL club that wants Ovechkin for next season because it still has him under contract. McPhee said he doesn't know yet how that will affect the Capitals.
In 53 games last season for Dynamo, Ovechkin had 13 goals and 10 assists. His father, Mikhail, is a former professional soccer player and his mother, Tatiana, won Olympic gold medals in basketball in 1976 and 1980.
Malkin is a 17-year-old forward who had three goals and nine assists for Magnitogorsk.
Ilya Kovalchuk, who tied for the NHL goal lead this season with 41, was the first Russian player to be chosen at No. 1, by Atlanta in 2001. Three other Russians have previously been picked No. 2: Andre Zyuzin in 1996, Oleg Tverdovsky – Ukrainian-born but a past member of Russian national teams – in 1994, and Alexei Yashin in 1992.
Washington had three picks in the first round, the most among the 30 teams, and used its final two for defensemen Jeff Schultz and Mike Green at 27th and 29th. The team took two more defensemen and two forwards – including Chris Bourque, son of newly elected Hall of Famer Ray Bourque, in later rounds.
Chicago chose the first North American, top-ranked defenseman Cam Barker, with the third pick. Barker had 21 goals and 44 assists last season for Medicine Hat of the Western Hockey League.
Carolina traded up with Columbus to the fourth spot to choose left wing Andrew Ladd, the top-ranked North American skater.
Phoenix chose the first U.S. player at No. 5, surprisingly taking Blake Wheeler of Minnesota. The right winger, ranked 17th among North American skaters, had 45 goals and 55 assists for Breck School.
The New York Rangers took the top-ranked goaltender, Al Montoya of Michigan, at No. 6. Montoya was the best goalie during the world junior championships, won by the United States for the first time.
Canadiens snag Bonk in 3-team deal
The Montreal Canadiens swung a three-team trade to acquire Ottawa Senators forward Radek Bonk and Los Angeles Kings goaltender Cristobal Huet.
The Senators initially traded Bonk to the Kings for a third-round pick, but Los Angeles quickly dealt him and Huet to Montreal for goalie Mathieu Garon and the Canadiens' third-round choice, No. 95 in Saturday's draft.
Bonk, chosen by Ottawa with the third overall pick in 1997, had 12 goals and 32 assists in 66 games with the Senators last season. He had two assists in the Senators' seven-game loss in the first round to Toronto.
Garon was drafted by the Canadiens in 1996 and he played in 19 regular-season games last season as a backup to Jose Theodore. He went 8-6-2 with a 2.27 goals-against average and a .907 save percentage. He is due to make $1.1 million next season.
Huet, who is from France, had a 10-16-10 record for the Kings with a 2.43 goals-against average and a .907 save percentage.
Anaheim sends Havelid to Atlanta
The Atlanta Thrashers got the veteran defenseman they needed, acquiring Niclas Havelid in a trade with the Anaheim Mighty Ducks.
The Thrashers gave up defenseman Kurtis Foster for Havelid, who helped the Mighty Ducks reach the Stanley Cup finals in 2003 with career highs in goals (11) and assists (22).
Lewis returns as Red Wings' coach
Dave Lewis signed a one-year contract to return as coach of the Detroit Red Wings.
Terms were not revealed. Lewis' contract expired after the Red Wings were eliminated by Western Conference champion Calgary in the second round of this year's playoffs.
Local journalism is essential.
Give directly to The Spokesman-Review's Northwest Passages community forums series -- which helps to offset the costs of several reporter and editor positions at the newspaper -- by using the easy options below. Gifts processed in this system are not tax deductible, but are predominately used to help meet the local financial requirements needed to receive national matching-grant funds.
Subscribe to the sports newsletter
Get the day's top sports headlines and breaking news delivered to your inbox by subscribing here.
---