Sports
Wildcats come through
Thu., May 6, 2004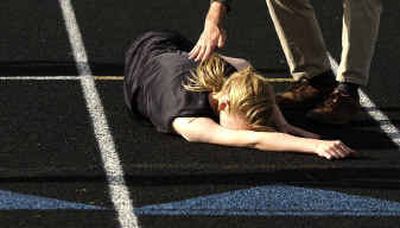 Mt. Spokane girls track coach Annette Pedersen was stressed prior to the Greater Spokane League championship quad meet hosted by the Wildcats. So she took action.
No matter that the unbeaten defending league champions figured on paper to be heavy favorites over North Central, East Valley and Shadle Park.
"I had to go for a run before the meet to get calmed down," Pedersen said.
Her fears were unfounded. The Wildcats rolled to three easy victories, the closest 98-52 over runner-up NC, leaving any anxiety to the Indians, East Valley and Shadle Park during adjunct meets that were considerably closer.
While Mt. Spokane also beat Shadle 113-37 and EV 100-50 and NC beat Shadle 92-58, The Indians were awarded a narrow 78-72 score which was identical to EV's win over Shadle for third. But a potential scoring discrepancy, after sorting through the results, could leave the Indians and Knights tied for second at 75-75.
That, however, doesn't affect Mt. Spokane, the two-time GSL champs.
"I'm so excited," said Pedersen after the final team meet of the GSL season had ended. "Quite a few seniors wanted to get another championship before they left. And they really wanted to win at our school."
In the meet for fifth and eighth, Mead swept Lewis and Clark 84-66, University 95-55 and Central Valley 116-34. The host Tigers beat the Titans 77-73 and Bears 100-50 and U-Hi beat CV 90-60.
In the day's other meet for 9th through 14th, Gonzaga Prep and Ferris each scored 107 points, Rogers had 100, Cheney 78, West Valley 74 and Clarkston 70.
Mt. Spokane figured to have a major advantage on the track, which it did thanks to stalwarts Maria Johnson in the sprints and Megan O'Reilly in the distances, plus a key early 100 hurdles victory from Sam Patrick.
Sophomore O'Reilly, who said she is adjusting to running again after a hard winter of cross-country skiing, and who discovered the value of caloric intake prior to competition, won all three distance races.
"At the Pasco Invite I learned a lot because I hadn't eaten and figured out I needed to two hours before I run," she said. "I felt strong today."
Johnson won the 100, ran on the 400 relay and in the 400 back-to-back, then was second to Shadle's Catie Schuetzle in a dead-heat 26.6 200 run mainly into a brisk wind.
"It's clicking in," the senior sprint standout said. "It took awhile, but I'm coming back."
Pedersen was also pleased with her team's field events efforts that included season bests by discus thrower Denali Tufto, who won in a 3-foot personal best 121-feet-3, in the javelin where Ashley Williamson went a season best 124-8, and the triple jump where Katelan Redmon had a career best 34-9.
"Two in a row, oh my gosh," said Pedersen. "We had a lot of PRs today. They're just great kids and a lot of them gave it their all."
The meet also produced some other strong efforts. EV's Xylena Reed set a school record in the triple jump at 35-3 and Kelcee Moody took over the GSL shot put lead at 40-9 ½.
NC's team depth included a 400-meter win by Stephanie Krebs and 1,600 relay win in the conclusion of the meet.
At LC, the Panthers, Titans and Tigers divided up the first places with Cassie Moore winning both hurdles. Mead picked up major points in those events and also scored well in the javelin en route to its three victories.
Briann January long jumped an area-best 17-5 and also won the high jump for LC while Titan sprinter Sheia Malmoe and distance teammate Amie Dahnke were double victors.
Race of the day at Gonzaga Prep was the 300 hurdles where Cheney's Katie Kimball ran a scorching 45.6, nearly 2 seconds faster than her previous season best, to upend Rogers' Emily Dahl, who clocked 46.5.
The Pirates' Becca Noble won the 100, 200 and 400 races and ran on the long relay that timed a hot area best 3:59.4.
Ferris scored well in six track races and the Bullpups had huge advantages in the 400, 3,200, discus and shot put as the two teams tied. Rogers was not far behind piling up points in the sprints, hurdles and javelin.
West Valley's Kayla Mainer continues to improve on her long jump (16-9 1/4 ) and won the high jump. Bullpup Erica Chaney won shot put and discus. Clarkston won three field events.
Local journalism is essential.
Give directly to The Spokesman-Review's Northwest Passages community forums series -- which helps to offset the costs of several reporter and editor positions at the newspaper -- by using the easy options below. Gifts processed in this system are not tax deductible, but are predominately used to help meet the local financial requirements needed to receive national matching-grant funds.
Subscribe to the sports newsletter
Get the day's top sports headlines and breaking news delivered to your inbox by subscribing here.
---