News > Features
CENTENARIAN
Fri., May 7, 2004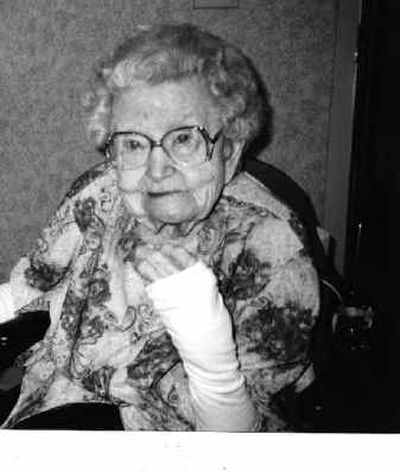 Mabel (Stone) Webber
Spokane
Mabel (Stone) Webber is celebrating her 106th birthday today. She was born May 7, 1898, in Spokane.
Webber's family has a rich history in the Spokane area. Her father was president of Cheney Normal School, which is now Eastern Washington University. He also was the former owner of the Elk Drug Store, currently the Elk Public House Restaurant in Browne's Addition.
Webber graduated from North Central High School and Washington State University, where she received a degree in music.
While attending WSU, she met Carroll Webber. After graduation, the couple moved to New York City and were married Sept. 10, 1923.
While in New York, Mrs. Webber attended the Julliard School of Music and later opened a piano studio in her home. She had several pupils and would organize them into annual spring recitals.
Later, her husband's career took them to Alaska and Guatemala. The couple also traveled throughout Asia and the South Pacific.
She moved back to Spokane in 1977 after her husband's death. In 1982 she moved into the Hawthorne Retirement Community, where she provided entertainment and travel programs for several years.
Mrs. Webber's son, Carroll Webber Jr., lives in Greenville, N.C., and her daughter, Phyllis McWilliams is deceased. She also has four grandchildren, two great-grandchildren, three nephews and seven grandnieces and grandnephews.
She says that her sense of humor has helped her live a long and healthy life, and what she finds most memorable is living from the 19th into the 21st century. In fact, she made a point to stay awake to bring in the New Year in 2000.
Local journalism is essential.
Give directly to The Spokesman-Review's Northwest Passages community forums series -- which helps to offset the costs of several reporter and editor positions at the newspaper -- by using the easy options below. Gifts processed in this system are not tax deductible, but are predominately used to help meet the local financial requirements needed to receive national matching-grant funds.
Subscribe to the Coronavirus newsletter
Get the day's latest Coronavirus news delivered to your inbox by subscribing to our newsletter.
---