News > Business
Economy gets double boost
Fri., May 7, 2004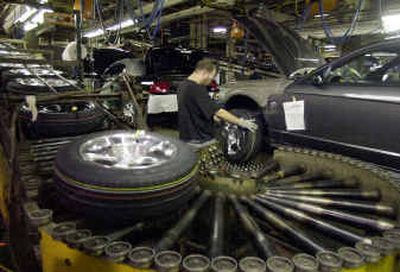 WASHINGTON — The productivity of America's companies rose solidly in the opening quarter of this year, and new filings for jobless benefits plunged last week to their lowest level in more than three years, good news for the country's economic health.
The Labor Department reported Thursday that productivity — the amount an employee produces for every hour on the job — rose at a 3.5 percent annual rate in the January-to-March quarter, up from a 2.5 percent pace registered in the previous quarter.
The latest reading on productivity marked the best showing since the third quarter of 2003 and matched analysts' forecasts.
In a second report from the department, new applications filed for unemployment insurance dropped by a seasonally adjusted 25,000 to 315,000, for the week ending May 1. That marked the lowest level since Oct. 28, 2000.
The layoffs picture presented by the jobless claims filings looked better than economists had expected. They had forecast claims to dip to around 335,000 last week.
"The employment picture is brightening," said Sherry Cooper, chief economist at BMO Nesbitt Burns.
On Wall Street, however, stocks fell. The Dow Jones industrials were off 75 points and the Nasdaq was down 23 points in morning trading.
In other economic news, consumers retrenched a bit in April, leaving many retailers with modest sales gains for the month. Cool weather, particularly in the Northeast, hurt results at many stores. Wal-Mart Stores Inc., Limited Brands, TJX Cos. and Talbots Inc. were among the retailers reporting disappointing sales.
On the productivity front, efficiency gains are important to the economy's long-term vitality. They allow the economy to grow faster without igniting inflation. Companies can pay workers more without raising prices, which would eat up those wage gains. And productivity can bolster a company's profitability.
Local journalism is essential.
Give directly to The Spokesman-Review's Northwest Passages community forums series -- which helps to offset the costs of several reporter and editor positions at the newspaper -- by using the easy options below. Gifts processed in this system are not tax deductible, but are predominately used to help meet the local financial requirements needed to receive national matching-grant funds.
Subscribe to the Coronavirus newsletter
Get the day's latest Coronavirus news delivered to your inbox by subscribing to our newsletter.
---