Sports
Give Myers credit
Fri., May 7, 2004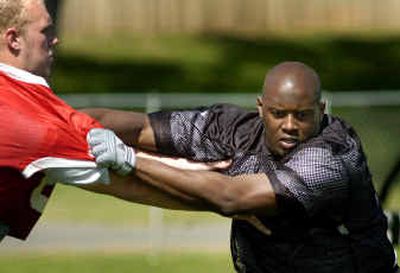 MASSIVE OFFENSIVE LINEMEN, double teams in the trenches… bring 'em on. Compared to the challenge Brandon Myers met off the field, nothing on the football field is going to faze him. The 6-foot-1, 260-pound senior defensive tackle for Eastern Washington went to school non-stop for two years, often taking 20 credits a quarter, to earn the opportunity to be a senior again.
"It was hard," he said, but there was no erasing his smile.
Linebacker Joey Cwik, whose locker is next to Myers, said, "Now that he's graduated, he's a little bit laid-back. He can put more focus on football. He'll be that much better."
Myers' first senior season ended with 62 tackles, fourth on the team, and a team-high six sacks, good for Big Sky Conference honorable mention recognition.
He wasn't sure then that he would be suiting up for another Red-White Spring Game. In fact, even though he graduated, he waited until his diploma arrived in the mail after spring break before he started looking forward and savoring all the little things that mark a football season, like Saturday's 2 p.m. game at Woodward Field.
"Last year I thought it was my last go-around," Myers said, looking forward to the game with that ever-present smile. "This time it really is. Every moment counts."
Myers helped Wilson High School in Tacoma reach the State 4A title game against Pasco as a senior in 1998 but he was an academic non-qualifier after his graduation the next spring. He was a part-time student at Tacoma Community College until arriving in Cheney for the 2000 winter quarter. He had to sit out the 2000 season to get on track academically and he had to graduate in four years to get his "freshman" year back.
"It starts in high school, that's why I'm in this predicament," Myers said. "Every moment counts. I tell kids who are (non-qualifiers) if they're playing or not playing yet, get school taken care of now, get help."
Eagles head coach Paul Wulff is thrilled to have last year's defensive captain back: "Tackle is the most critical position on the defensive side of the ball," he said.
But the real reason isn't all about football.
"He's worked so hard the last year and a half to give himself this opportunity," Wulff said. "There were some shaky moments. He did a great job, he's really matured. To me he's the consummate Eagle. He's done well academically; he does the right thing on and off the field. He's a great person."
Cwik is one of those who would benefit by Myers' presence on the field. The more Myers engages offensive linemen, the more tackles Cwik makes, yet the junior's first comments about Myers are more personal.
"When I came here as a freshman, he was one of the guys that (helped) us; he accepted everyone," Cwik said. "He's easy to be with."
Randy Meade sees plenty of Myers as well since he is the center who lines up across from Myers in practice.
"He seems real happy getting that extra year," Meade said. "I know the defense is happy to have him. I'm glad he's back to help the defense, that's going to help the offense, too. He's a tough guy to go against."
Wulff obviously has high expectations for Myers' bonus year but said, "His expectations need to be higher than mine."
They would seem to be.
"Nobody wants to wear a (championship) ring as bad as I do," he said. "I tell the young guys to work hard. We have a lot of the same guys the last two or three years, they have more experience, more leadership, more determination. Six-and-five, we don't agree with that, it's a winning season, but we want a lot more."
In other words, bring it on.
Quick kicks
Saturday is a full day at EWU. Prior to the football game, the soccer team scrimmages at noon and the volleyball team goes at 1 p.m. … The Killin Dinner, Dance and Auction starts at 4:30. Tickets are $75 and can be reserved by calling 459-2463 … This is Wulff's fifth spring practice as the Eagles head coach, 12th overall, and he said: "As a head coach, this is probably the best spring we've had since I've been here. A lot of that has to do with the players. We have great kids and great leadership. A real positive attitude just makes it a lot of fun for everybody out here." … The bulk of the scrimmage is going to feature the No. 1 units against the No. 2 … There will be four 12-minute quarters with running time except for the final 2 minutes of each half. … Myers has five sacks in three previous scrimmages this spring to lead a defense that has three interceptions, two fumbles and seven sacks. … Freshman Gregor Smith has 17 tackles and senior Muhammad Shamsid-Deen has 13 tackles. Both safties have an interception. … Junior quarterback Erik Meyer and his freshman backup have combined to complete 32 of 49 passes for 395 yards but Meyer, who had three interceptions last season, has been picked three times. … The leading receiver is junior Craig McIntyre with seven catches for 64 yards. Raul Vijil has five catches for 88 yards and a touchdown. … Darius Washington is the top rusher with 78 yards on 20 carries. … At halftime Wulff will hand out special team awards, including the announcement of co-captains.
Local journalism is essential.
Give directly to The Spokesman-Review's Northwest Passages community forums series -- which helps to offset the costs of several reporter and editor positions at the newspaper -- by using the easy options below. Gifts processed in this system are not tax deductible, but are predominately used to help meet the local financial requirements needed to receive national matching-grant funds.
Subscribe to the sports newsletter
Get the day's top sports headlines and breaking news delivered to your inbox by subscribing here.
---