Sports
MLB nixes plan for ads on bases
Fri., May 7, 2004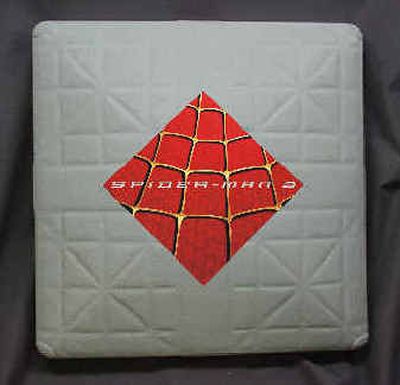 Spider-Man ads on bases didn't fly with baseball fans.
A day after announcing a novel promotion to have advertisements on bases next month, Major League Baseball reversed course Thursday and eliminated that part of its marketing deal for "Spider-Man 2."
"The bases were an extremely small part of this program," said Bob DuPuy, baseball's chief operating officer. "However, we understand that a segment of our fans was uncomfortable with this particular component and we do not want to detract from the fan's experience in any way."
Under the original plan, red-and-yellow ads were to appear on bases — but not home plate — during games from June 11-13. The plan began to crumble Wednesday night when the New York Yankees said they would only allow the ads on bases during batting practice — and only for one game that weekend.
Washington gives latest proposal for Expos
Both city and baseball officials gave positive reviews to Thursday's meeting in which Washington, D.C. Mayor Anthony Williams explained his new plan for a 100 percent taxpayer-funded stadium if the Montreal Expos are moved to the nation's capital.
"If we weren't serious about Washington, D.C., we would not be here," Major League Baseball executive vice president John McHale Jr. said in a rare public statement. "We consider it to have been a positive afternoon."
Three owners — Jerry Reinsdorf of the Chicago White Sox, Tom Hicks of the Texas Rangers and Wendy Selig-Prieb of the Milwaukee Brewers — and other members of the relocation committee met with Williams and a host of city officials, including three members of the City Council, which would have to approve any stadium financing.
Baseball has been trying to relocate the Expos since the franchise was purchased by the 29 other teams before the 2002 season. The Expos are splitting their schedule between Montreal and San Juan, Puerto Rico, for the second consecutive year in order to ease the club's debt.
Las Vegas; Monterrey, Mexico; Norfolk, Va.; Portland and Northern Virginia are all possible relocation candidates.
Henderson still aiming for big leagues
At 45, Rickey Henderson is still ready to run.
"I'm one of the rare ones," Henderson said before taking his first batting practice with the Newark Bears.
"God gave me this body, this gift, these skills to play this sport. Until He says 'enough,' this is what I'm supposed to be doing."
A quarter-century after making it to the major leagues, baseball's career leader in runs, stolen bases and walks is back for his second stint with Newark in the independent Atlantic League.
"I didn't get no job, so I'm back here," he said. "Gotta do it again. Gonna do it again.
"There's nothing wrong with my body," he said. "I can compete."
Around the horn
Sniffling and battling a stuffed nose, Barry Bonds was back in the Giants' starting lineup against the Mets after missing three games with a sinus infection. Bonds went 0 for 3 before being intentionally walked in the ninth and eleventh… . Chicago Cubs shortstop Alex Gonzalez will be out six to eight weeks after breaking a bone in his right wrist… . Braves right fielder J.D. Drew was a late scratch from the lineup and missed his third straight game with a stiff neck.
Local journalism is essential.
Give directly to The Spokesman-Review's Northwest Passages community forums series -- which helps to offset the costs of several reporter and editor positions at the newspaper -- by using the easy options below. Gifts processed in this system are not tax deductible, but are predominately used to help meet the local financial requirements needed to receive national matching-grant funds.
Subscribe to the sports newsletter
Get the day's top sports headlines and breaking news delivered to your inbox by subscribing here.
---