Sports
Beating the clock becomes game in itself
Sat., May 8, 2004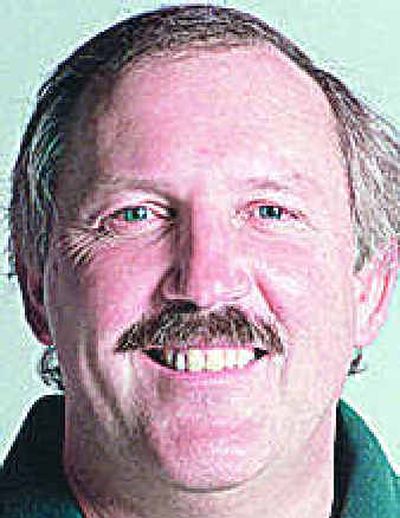 The moment was rife with temptation.
I had just polished off a couple of early morning projects on my "Honey-do" list and decided to grab my clubs and check out the city's new Fast Play Days policy at Downriver Golf Course.
For those still unfamiliar with the first-year concept, the city has instituted one fast play day each week at each of its four courses. Originally, city officials toyed with the idea of guaranteeing golfers that on those selected days — Monday at Esmeralda and Indian Canyon, Tuesdays at Qualchan and Wednesdays at Downriver — they would be able to finish their round in a predetermined amount of time or have their greens fees refunded.
The potential loss of revenue made that an unrealistic option, however. So the city settled on simply asking golfers who could not meet the pace of play guidelines to leave the course and accept a nine-hole "rain check" to return and play again on a designated day when the course should be less crowded.
Realizing how intent the city and our local head professionals are on making the concept work, I thought it would be amusing to stroll into the clubhouse on my first fast play day dressed in work boots, hiking shorts and a "Life's too Short to Drink Cheap Beer" T-shirt.
And then ask for a set of rental clubs.
I tried to imagine the look on the face of Downriver head professional Steve Conner, the guy responsible for keeping Wednesday rounds on his course under 4 hours and 15 minutes.
And what would the golfers I was paired with think when I joined them on the first tee?
That there was a dreaded "rain check" in their near future, perhaps?
In the end, though, I opted to play it straight and go with my normal golf attire — a wrinkled polo shirt and ragged pleated shorts — which can also be a bit scary this early in the season when my legs have yet to be reintroduced to the sun.
I was pumped as I pulled out of my driveway. It was late morning, and if the fast play guarantee held up, I figured I'd be home by midafternoon, in plenty of time to fire up the grill, uncork a bottle of cabernet and set a juicy T-bone or two ablaze.
But on the drive to Downriver, I became a bit apprehensive about being able to finish a round of golf in less than 4½ hours. I've struggled with my game on occasion.
And, suddenly, my mind was flooded by waves of self doubt.
What if I play poorly? Heck, what if I just play average?
What if I'm paired with worse hacks than myself?
What if the lady driving the beer cart shows up every three or four holes like she's supposed to? What if she has Kokanee on board? What if she's slow at counting change?
Yikes!
I could see myself with my legs spread and hands on the top of my golf cart as the marshal frisked me for confiscated range balls before ushering me off the course for not living up to my obligation of keeping up with the group ahead of me.
I started contemplating ways to speed up my own play.
Among the best ideas I came up with was giving myself every 4-foot putt and picking up, instead of lagging and then tapping in like I normally do from that distance.
But what if they pair me with serious golfers who make me putt everything out?
Worse yet, what if they make me return to the tee and hit again every time I lose a drive to the right and can't find my ball?
It was starting to look hopeless.
But I trudged on, rolling into the crowded parking lot and pulling out a couple of sleeves of my $7-a-dozen Tour Select Ultra Distance golf balls with a titanium core — or maybe it's a titanium cover, I forget — just to avoid the temptation to waste valuable time trying to track down errant shots.
After checking in at the front desk, I was issued a card that listed the pace of play guidelines for each hole. I was also politely informed of my responsibility to meet those guidelines or risk the embarrassment of being asked to leave the course.
Working in my favor was the fact that I was paired, as part of a threesome, with two young guys riding in a cart. I had decided to walk, just to test the limits of the fast play challenge I had accepted.
We left the first tee at 11:32 a.m. and finished the first hole, an easy 444-yard par-5, without incident — other than the drive I fanned into the woods on the right, the sand wedge approach I yanked left of the green behind a tree and the short putt I missed for my bogey.
Limping over to the second tee box, I checked my watch. It was 11:53, and we were already 7 minutes behind the suggested pace of play, which allows just 14 minutes to complete the opening hole.
Fortunately, that's the same amount of time allotted to play the second hole, a straight-ahead par-3, which we finished in 9 minutes. And after we raced through the par-4 third hole in 11 minutes, we were back on pace and cruisin'.
We finished the first nine in 85 minutes and caught only fleeting glimpses of the foursome in front of us. It helped that my partners were players.
And that the drink cart must have been operating on the back nine, only.
Because of that, and in order to keep things real, I stopped by the snack bar at the turn and ordered up a Kokanee to go.
Like Alan Jackson and Jimmy Buffett say, "It's 5 o'clock somewhere." As if I've ever needed to validate my first beer of the day.
By the time we finished the 10th hole, we were 48 minutes ahead of schedule and on pace to complete our round in 3 hours. As we approached the 11th green, I noticed the group ahead of us waiting on the tee on the par-3 12th and thought, "Great. Let the waiting begin."
But by the time I had knocked my approach shot long and left, bladed my lob wedge over the green, chunked two pitch shots and three-putted for a nine, the 12th green was clear.
Still, we remained well ahead of our suggested pace, and I ended up playing two balls on a couple of the finishing holes. My final putt on the 18th green dropped at 3:14 p.m., giving us an elapsed time of 3 hours, 42 minutes — 33 minutes under the pace of play guidelines on my card.
It wasn't the fastest round of golf I've ever played, but I can't remember finishing that quickly with a late-morning tee time at a course as busy as Downriver.
I don't see matching that time on a weekend. But then, no one is demanding that I do.
The Fast Play Days concept, according to Conner, has been a huge success at his course.
"I've gotten a lot of 'It's about time,' comments," he explained. "Some others have asked why we don't do it every day. I think people are just tired of slow play across the board."
In the four fast play days held at Downriver so far this spring, not one group has failed to finish in the allotted 4:15, Conner added. And only two groups have decided not to book a tee time after having the city's fast play obligations explained over the phone.
The key, Conner is convinced, is the time card each player is handed before teeing off.
"It gives them something to monitor themselves with," he explained. "We just ask them to keep up, and most people seem to want to show us they can beat the scheduled time by a half hour, 20 minutes, or whatever.
"It's amazing how most people don't feel any (deadline) fear. They see early on in their round they can do it with ease. It's not like anybody has to run to make the times."
I know I certainly didn't.
In fact, I was dragging by the end of my round and stopped twice on my way up the hill to the 18th green.
But the fact that I finished my round in under 4 hours — and with plenty of daylight remaining — helped ease my fatigue.
On the relaxing drive home, I thought about the satisfaction of having worked a round of golf into my schedule without giving up the better part of my day. It left me enough time to do some domestic chores in the morning, play 18 and beat my wife home from work.
It was enough to get me thinking about having another slogan T-shirt printed up.
One that says, "Life's too Short to Play Slow Golf."
Local journalism is essential.
Give directly to The Spokesman-Review's Northwest Passages community forums series -- which helps to offset the costs of several reporter and editor positions at the newspaper -- by using the easy options below. Gifts processed in this system are not tax deductible, but are predominately used to help meet the local financial requirements needed to receive national matching-grant funds.
Subscribe to the sports newsletter
Get the day's top sports headlines and breaking news delivered to your inbox by subscribing here.
---