News > Features
Bridge
Sat., May 8, 2004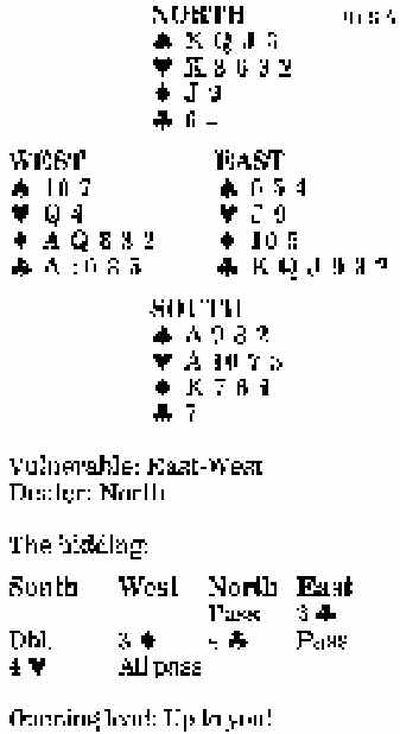 Today's deal was named best-defended hand at the Lederer Invitational Tournament in London last October, and a bottle of champagne went to David Burn, East, and David Price, West.
You can see the best deals from the event on the Lederer pages of the Young Chelsea Web site, where the tournament was organized.
Curiously, the defense on this hand actually started during the auction. After East's pre-empt, West did not raise clubs but bid three diamonds, making sure that if East were ever on lead, he would know what to do.
Four hearts was the normal contract. If played by North, as at a couple of other tables, it went off. East simply led a club and switched to a diamond. Three rounds of diamonds followed, and the defenders were able to engineer a trump promotion.
However, when the contract was played by South, it looked bound to succeed — thanks to the favorable trump split. As you can see, the defenders need to arrange to get East on lead to broach the diamonds, but how could that be done? Answer: Price (West) underlead his club ace at trick one! Given the auction, when Burn took his club jack, he had no doubts about what to do. Three rounds of diamonds scuttled the contract at once.
It may have seemed obvious after the event, but at the table how many would find the three-diamond bid and then underlead the club ace?
Bid with the aces
South holds:
| | |
| --- | --- |
| | •K Q J 3 |
| | •K 8 6 3 2 |
| | •J 9 |
| | •6 4 |
| | | | |
| --- | --- | --- | --- |
| South | West | North | East |
| | | 1 • | Pass |
| 1 • | Pass | 2 • | Pass |
| ? | | | |
Answer: Pass two clubs. Since you know you do not have an eight-card fit in spades and are relatively unlikely to have even a moderate fit in hearts, what are you hoping for by bidding on? The most probable consequence would be to turn a plus score into a minus score, since you are short in values and have no source of tricks for a no-trump game or part-score.
Local journalism is essential.
Give directly to The Spokesman-Review's Northwest Passages community forums series -- which helps to offset the costs of several reporter and editor positions at the newspaper -- by using the easy options below. Gifts processed in this system are not tax deductible, but are predominately used to help meet the local financial requirements needed to receive national matching-grant funds.
Subscribe to the Coronavirus newsletter
Get the day's latest Coronavirus news delivered to your inbox by subscribing to our newsletter.
---