News > Features
PICTURE PERFECT
Sat., May 8, 2004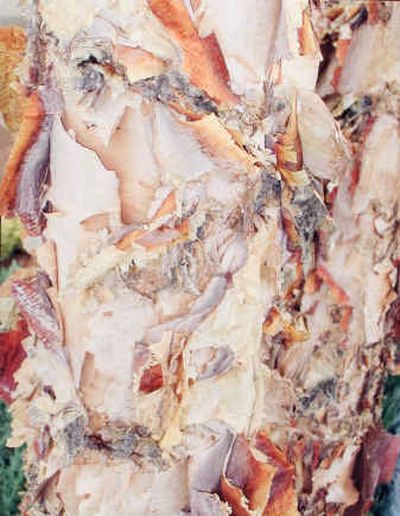 A rural gravestone, a tree trunk with peeling bark, a door framing a waterfall — like on "Jeopardy," that's the answer.
What are three of the best images in this year's competition by members of the Spokane Camera Club? That would be the question.
Two weeks ago the club's 72nd annual Salon feted the winners, selected from among 750 images shot by 40 photographers. The shooters vied in 10 categories in each of the three major divisions: monochrome, color prints and slides.
Some of those categories are animals, flowers, people, still life, machines and architecture. Plus, there's an extra category in the black-and-white division: hand-colored.
"That's done to try to encourage the practice of that craft, which in days past was the only way people could get a color picture," says Salon director David Sams, himself a winner this year.
His image of a lone monument being swallowed up by bushes, which he titled "Gone Home," took the John Sparkes Memorial Black and White Print of the Year award.
"It was a cemetery out in the Rosalia area, off the beaten path," Sams says. "Spent about three hours photographing there last September."
The other big winners, as selected by three outside judges, are:
" Creative Color Print of the Year: Donna Larsen, "Is That Really Elowah Falls?"
" Scenic Color Print of the Year: Larsen, "View From the Terrace."
" Vee Nealey Memorial Slide of the Year: Barbara Murray, "Past Prime."
" Elden Griffith Color Print of the Year: Mardelle Shagool, "Nature's Peel."
" Nature Slide of the Year: Steve Shining, "Bugle Boy."
" Zaner Miller Memorial Creative Award for Slides: Ken Strange, "Waiting in Reserve."
" Talbot Creative Award for Black and White Prints: LeRoy Nielsen, "Line & Curve."
" Rookie of the Year: Tony Horpel, "Hypnotic."
Some photographers placed images among the top four in several categories, including Nielsen, Larsen, Horpel, Sams, Ken Strange, Lydia Strange and Otto Stevens.
A complete list of winners and all the above images can be found on the club's Web site: www.inlandregion.org/ie-psa/scc/
Details about the club, which has some 125 members, can also be found there. The group meets several times a month from September through April, with regular critique sessions, competitions and workshops.
Local journalism is essential.
Give directly to The Spokesman-Review's Northwest Passages community forums series -- which helps to offset the costs of several reporter and editor positions at the newspaper -- by using the easy options below. Gifts processed in this system are not tax deductible, but are predominately used to help meet the local financial requirements needed to receive national matching-grant funds.
Subscribe now to get breaking news alerts in your email inbox
Get breaking news delivered to your inbox as it happens.
---