News > Features
Table marks new era
Sat., May 8, 2004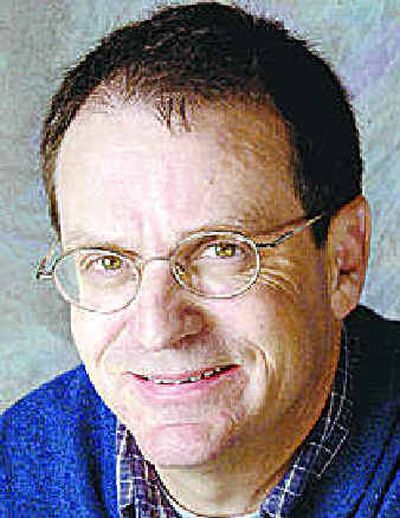 I did something this past weekend I once would have thought inconceivable.
I paid over $500 for a piece of furniture that (1) can't be plugged in, (2) does not get cable and (3) does not have a patented Super Bass feature.
This thing is an end table, for crying out loud. It's nothing but several pieces of wood stuck together. Sure, the wood is beautiful and quite artfully crafted in the mission style. It's solidly made and sturdy. You could stand an elephant on it, if you had a willing elephant.
But still, it's just an end table. A guy could have purchased a mighty fine piece of electronic equipment for that price. Any kind of electronic equipment. I don't care. A big woofer or something.
How did I descend to this state? I've been brooding about it for a while and I have come to the conclusion that it is nothing to be alarmed about. I have merely begun to purchase "age-appropriate" furniture.
Are you familiar with the term "age-appropriate"? You hear it in schools all the time, referring to activities or behavior suited to a certain age. For instance, playing tag at recess may be age-appropriate for third-graders. It is not age-appropriate for high school seniors.
I have never heard "age-appropriate" used in regards to furniture, but believe me, it fits. Perhaps my wife, Carol, put it best when she examined our new end table and said: "It's about time we bought a decent piece of furniture."
I interpreted this to mean: "We are in our 50s. We have grown children. It is time we bought a piece of furniture that is (A) not made out of particle board and (B) does not come with its own miniature squeeze-bottle of Elmer's glue "for E-Z assembly."
I'm not saying that we've never had any decent furniture. We splurged on a queen-size bed about 15 years ago and have never regretted it. The thing is a joy to collapse onto. But you have to understand. That took care of only one bedroom. We have two other bedrooms that are populated with various futons, fold-up cots and old mattresses salvaged out of sleeper sofas. In our family room, our high-class furniture consists of one bookshelf (particle board), two low chairs of the style known as "video game chairs" (not age-appropriate) and one Flexible Flyer sled hanging on the wall (my idea of a fine decorating accessory).
In other words, the Fab Five would gape in horror. And then they would buckle down to work.
I once heard our decorating style referred to as "early graduate school." I found this apt except for one detail: Neither of us ever went to graduate school. So we have the worst of both worlds: the crummy furniture without the Ph.D.
There is another, even crummier decorating style which might be referred to as "undergraduate chic." Everybody has seen this: The bookshelf made from cinder blocks and planks; the coffee table fashioned from an old electrical-cable spool; the draperies made from bed sheets; the end table made out of either a peach crate, an old stereo box or an empty beer keg.
Well, all I can say is we certainly have graduated from the undergraduate school of decorating. With our $500 end table we have leapfrogged four or five steps in normal decorating evolution all the way into "museum-quality heirloom." In other words, we now have an end table that we can bequeath to our daughter, who is still an undergraduate and would at this moment probably prefer a peach crate.
Even though I am still in denial about my pending Visa bill, I am quite proud of our new taste in furniture. Carol and I have found ourselves staring at that end table and daydreaming about an entire mission-style living room, complete with mission chairs, beautiful Tiffany-style mission lamps, and possibly a mission-style dog, artfully splayed out in front of the fireplace.
We're in our 50s. This is how we get our jollies.
However, sometimes when I sit and stare at my new mission end table, I indulge in a different kind of daydream. I whisper, pensively, "A guy could trade that in for an entire home-theater system."
Yeah, but it would be obsolete in 10 years. A beautiful end table — that's forever.
Local journalism is essential.
Give directly to The Spokesman-Review's Northwest Passages community forums series -- which helps to offset the costs of several reporter and editor positions at the newspaper -- by using the easy options below. Gifts processed in this system are not tax deductible, but are predominately used to help meet the local financial requirements needed to receive national matching-grant funds.
Subscribe to the Coronavirus newsletter
Get the day's latest Coronavirus news delivered to your inbox by subscribing to our newsletter.
---