News > Features
Trip south hooks couple on RVing
Sat., May 8, 2004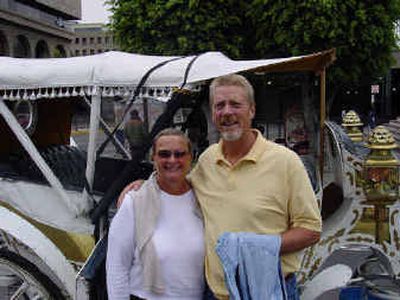 During cold winter months thousands of Pacific Northwest RVers veer their rigs toward warmer climates. Many head for Mexico.
One RV that crossed the border at Nogales last November was a 1978 19-foot Dodge Huntsman with Lynne and Dave Sanders of Spokane sitting in the cab.
New to RVing, the Sanderses didn't want to make a huge investment in a new rig, so they paid $4,000 for the old class C motor home.
"We bought it in September from a 99-year-old man who decided he needed to downsize," said Lynne. "It only had 32,000 miles on it."
Less than a year before, the Sanderses had no intention of owning an RV or spending the winter soaking up the sun on the expansive beaches of Mexico.
In their early 50s, each was successful in their careers — Dave as a community coordinator for the Center for Justice; Lynne as executive director of the Community Building Child Care and Blue Prints for Learning.
Then in February 2003 Lynne was diagnosed with cancer. Within weeks she went through surgery and began six months of chemotherapy. By the end of August, puffy and exhausted from the chemo, all Lynne knew was she did not want to face "a long, cold, dark Spokane winter" recuperating.
"I wanted to be away from my day-to-day responsibilities and rest and heal in the sun," recalled Lynne. "So I told my husband we were going to Mexico."
They received "a tremendous amount of support" from co-workers, said Dave, and by the middle of November they were lying on the beach in San Carlos on the Sea of Cortez.
'The truck just quit'
About two weeks into their trip they were meandering down the west coast of Mexico, "following their noses," when "somewhere in the middle of nowhere the truck just quit," said Lynne.
Dave hitchhiked into the nearest town for parts. Finding what he thought he needed the same man who picked him up took him back to his rig.
When that part didn't fix the problem, Dave once again hitched a ride into town and found a mechanic. "The guy who gave me the second ride stayed with us all afternoon and drove the mechanic and me around for parts," said Dave.
"I didn't speak Spanish and they didn't speak English. We communicated with sign language," he said. After the mechanic worked for three hours in the hot sun, the total bill, including parts, came to $40. The good Samaritan accepted nothing.
"That was a wonderful, wonderful experience," said Lynne. The Sanderses also found that it was to their advantage having an older rig, "because the parts were available in those small towns."
Hooked on RVing
After three months and 8,000 miles exploring the coast and interior highlands of Mexico, the Sanderses became hooked on RVing.
"We ran into hundreds of people from Canada and the U.S.," said Lynne. "We never expected this phenomenon of all these RVers traveling through Mexico."
Best of all, the trip helped Lynne heal.
"It was a total lifestyle change," said Dave. "Instead of coming to the office and dealing with crisis, we were out walking, seeing new sights and buying fresh vegetables every day."
The Sanderses are now looking for a new, smaller rig and planning for next winter.
"We are in our second adolescence," said Lynne. "The trip was perfect. It was so much fun, I recommend it highly."
Hints from the Sanders
" Don't go into Mexico without "Traveler's Guide to Mexican Camping: Explore Mexico and Belize with Your RV or Tent" by Mike and Terri Church (Rolling Home Press; second edition, $19.95). "Everyone traveling in Mexico has one," says Dave.
" Learn a little Spanish. Between now and their next trip, the Sanderses plan to improve their Spanish "so we can develop more relationships with local people in the towns we visit," said Lynne.
" Don't be afraid. "I think some people are fearful about going into a foreign country," said Lynne. "We felt really safe and accepted."
" "Open up to the universe," said Dave. "Recognize that in Mexico they really truly want to help. If you go through a town and you look lost, people will go out of their way to take you where you need to go. It happened to us time and time again."
Internet sources
" For current information on Mexico the Sanderses recommend www.mexicomike.com. Webmaster "Mexico Mike" Nelson has written 15 books on Mexico. "I ain't your average travel writer and try to entertain and amuse you as well as give you facts," Nelson states on his Web site.
"Mexico Mike lists things you need to know and tells you which regions to avoid," said Dave. "He lives on the road and travels to Mexico often."
" An RV cyber travel guide — www.ontheroadin.com — lists 400 campgrounds in Mexico, complete with pictures and write ups. It's updated frequently by Bill and Dorothy Bell, of Vancouver, B.C.
" Check out www.travelguidewarehouse.com, which lists thousands of guidebooks and maps, including those for Mexico.
" An extensive Web site on the La Penita RV Resort can be found at www.lapenitarvpark.com. Between now and October, call (250) 286 1803 or email Carole@lapenitarvpark.com.
" For a peek at the attractions of Guanajuato, the hometown of Diego Rivera and where much of his art is still displayed, go to www.guanajuato.gob.mx.
" Details about what to do and see in San Michel de Allende go to www.sanmiguelguide.com.
Wheel question
I'm planning an article on RV clubs in the Inland Northwest. Let me know which ones you belong to and how interested people can get in touch with your group.
Local journalism is essential.
Give directly to The Spokesman-Review's Northwest Passages community forums series -- which helps to offset the costs of several reporter and editor positions at the newspaper -- by using the easy options below. Gifts processed in this system are not tax deductible, but are predominately used to help meet the local financial requirements needed to receive national matching-grant funds.
Subscribe to the Coronavirus newsletter
Get the day's latest Coronavirus news delivered to your inbox by subscribing to our newsletter.
---