News > Features
Unchurched
Sat., May 8, 2004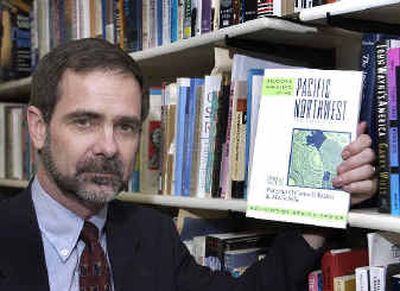 The Pacific Northwest is not as godless as commonly believed, according to a new book that seeks to measure the religious passion of Washington, Oregon and Alaska.
While the region typically reports the lowest percentages of churchgoers in nationwide surveys, there is not necessarily a shortage of believers, said Patricia Killen, editor of "Religion and Public Life in the Pacific Northwest: The None Zone."
"We are unchurched but not irreligious," said Killen, a Pacific Lutheran University professor.
In 2000, 62.8 percent of the people in Washington, Oregon and Alaska reported they were unaffiliated with a religion, by far the highest percentage in the nation, according to the North American Religion Atlas. Nationally, 40.6 percent answered "none" when asked about their religious affiliation.
"Most of those people believe God exists, and about half of them believe God intervenes in our lives," said Killen, whose book is the first academic study of the Northwest's ambivalence toward church. "Over a third of them pray."
Killen, an Oregon native, identified three key factors for the unchurched majority in the Northwest.
• A mobile population often disconnected from social institutions. Many of those people prize individualism and are in a perpetual state of keeping options open rather than sinking roots, Killen said.
• The Northwest is the only region of the country that lacks a dominant religion which people either join or line up against. Roman Catholics are the largest, at just 11 percent of the population, compared to 22 percent nationwide.
• The works of nature tend to dwarf the works of humans in the Northwest, sending people to mountains and coastlines in search of the divine. On any given Sunday, thousands of Northwesterners ski, fish, boat, hike or avoid church in countless other ways.
The Northwest also has the highest percentage of people who say they do not believe in any religion, at 25 percent. Nationwide that number is 14 percent.
"The Pacific Northwest has pretty much always been this way," Killen wrote.
But while a majority of Northwesterners may ignore religion, it permeates the region's life and politics.
A furor erupted recently when liberal U.S. Rep. Jim McDermott, a Democrat from Seattle, left out the words "under God" from a recitation of the Pledge of Allegiance. McDermott denied omitting the phrase purposely.
Battles over assisted suicide and gay marriage largely break over religious lines. Demonstrations against the World Trade Organization in Seattle in 1999 were organized and carried out in part by churchgoers seeking social justice.
Religious groups fight for environmental protection and better pay and working conditions for the poor.
The ongoing sexual abuse crisis in the Catholic Church affects people from many Northwest communities.
But other religious issues matter less here, Killen said. The question of whether Democratic presidential candidate John Kerry, a Catholic, should be denied Communion because he supports abortion rights won't resonate heavily in the Northwest, Killen said.
"This is a region where across all denominations there is a long history of lay people acting independently from what church leaders tell them," Killen said. "It's part of our individualism."
While many churches in the region may be losing members, entrepreneurial churches — large, usually nondenominational churches that make extensive use of technology and media to spread their message — are the fastest-growing part of the religious landscape, Killen found.
Often called megachurches, they tend to focus on family and individual enrichment rather than community and political involvement. They also provide the region's many new residents with an instant network of friends and assistance.
Megachurches also tend to attract the type of entrepreneurs who helped build the region's high-tech economy, people who favor fewer government constraints on business and free trade and are comfortable making large sums of money, the book says.
One chapter of the book pays special attention to the legacies of mainstream Catholics, Protestants and Jews, saying they created colleges, hospitals and social services providers of far greater importance than their share of the population would suggest.
"In this part of the country, almost all the private colleges were established by religious people with the purpose of educating their students into a Christian world view," said Dale Soden, director of the Weyerhaeuser Center for Christian Faith and Learning at Whitworth College in Spokane.
Mother Joseph and the Sisters of Providence established the first Catholic hospitals in Portland in 1875 and in Spokane in 1886, Soden said. The order's hospitals and clinics now dot the region.
"That story in this part of the country has simply been neglected," Soden said.
Local journalism is essential.
Give directly to The Spokesman-Review's Northwest Passages community forums series -- which helps to offset the costs of several reporter and editor positions at the newspaper -- by using the easy options below. Gifts processed in this system are not tax deductible, but are predominately used to help meet the local financial requirements needed to receive national matching-grant funds.
Subscribe to the Coronavirus newsletter
Get the day's latest Coronavirus news delivered to your inbox by subscribing to our newsletter.
---