Sports
Lightning strike Flyers in opener
Sun., May 9, 2004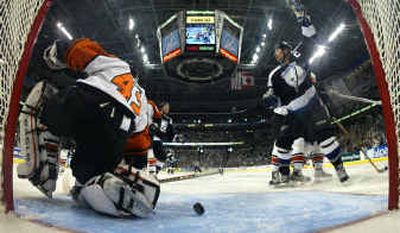 TAMPA, Fla. — It took the Tampa Bay Lightning just one period to get back into the flow of the playoffs.
Showing little rust from an eight-day layoff between series, the Lightning won their eighth straight playoff game Saturday by beating the Philadelphia Flyers 3-1 in the opener of the Eastern Conference finals.
"I think, overall, if you ask a lot of guys, I don't think they felt as good as they thought they might," Tampa Bay's Brad Richards said. "But at the same time, as the game went on, I think our game kind of calmed down and we played a little bit better."
Richards, Dave Andreychuk and Chris Dingman scored and Nikolai Khabibulin stopped 19 shots for the Lightning, who beat the Flyers for the fifth straight time this season and improved to 9-1 in these playoffs.
Game 2 is Monday night in Tampa.
"I'm definitely not discouraged," Philadelphia goaltender Robert Esche said. "We didn't come in here by no stretch of the imagination assuming it would go four games, and I don't think they did either."
One of the biggest questions before the opener was how Tampa Bay would respond after having more than a week off following its four-game sweep of Montreal in the second round.
The Lightning finished off the Canadiens on April 29 and bided time by trying to simulate game-like situations in practice until Philadelphia clinched its second-round victory over the Toronto Maple Leafs on Tuesday.
"I thought our guys handled themselves very well in getting themselves settled," Lightning coach John Tortorella said.
With just three days between series, the Flyers were the sharper team early. Nevertheless, they failed to take advantage of a couple scoring chances against Khabibulin in the first period and fell behind 1-0 on Andreychuk's goal just over 2 minutes into the second period.
"One thing we try to focus on as a team is stay levelheaded, not to get too emotionally high or low," Philadelphia's Jeremy Roenick said. "We thought we had a really good first period. We had some quality chances and they weathered the storm pretty well."
Philadelphia, which had an apparent goal by Sami Kapanen wiped out by a goaltender interference call against Keith Primeau, tied it less than 5 minutes later when Michal Handzus knocked in a rebound after Danny Markov's pass glanced off the center's skate and ricocheted off Khabibulin's pad.
The goal was just the 10th the Tampa Bay goaltender has allowed in 10 playoff games.
Local journalism is essential.
Give directly to The Spokesman-Review's Northwest Passages community forums series -- which helps to offset the costs of several reporter and editor positions at the newspaper -- by using the easy options below. Gifts processed in this system are not tax deductible, but are predominately used to help meet the local financial requirements needed to receive national matching-grant funds.
Subscribe to the sports newsletter
Get the day's top sports headlines and breaking news delivered to your inbox by subscribing here.
---