Sports
Heavyweight division a real lightweight
Tue., May 11, 2004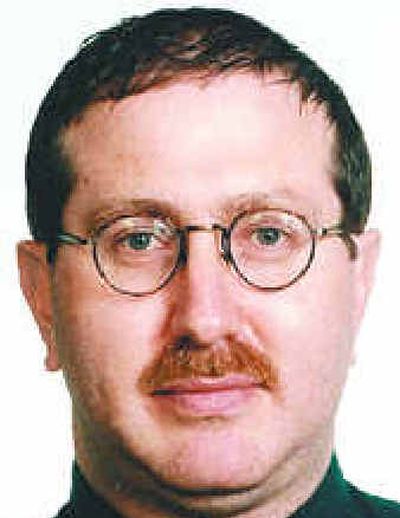 Today we are going to discuss the heavyweight boxing division. Women and children are excused, as are men with a DirecTV Total Choice package.
As some of you might know, Chris Byrd is currently the IBF champion and Lamon Brewster is the WBO champion.
(Actually, I suspect the number of readers who know Byrd and Brewster are heavyweight champions is about the same as the number of readers who know bharata natya is the principal classical dance style of India.)
(By the way, Wladimir Klitschko now says he might've been drugged when he lost his WBO title fight to Brewster last month. I used the same excuse when someone asked me why I watched the "Friends" finale.)
What, some of you still think the heavyweights are the glamour boys of boxing?
OK, here's a test for you. Half the names listed alphabetically below are members of President Bush's Cabinet, the other half are ranked among the top 10 heavyweight contenders by the WBO:
Spencer Abraham, Monte Barrett, Eliecer Castillo, Juan Carlos Gomez, Alphonso Jackson, Jameel McCline, Joe Mesi, Gale Norton, Roderick Paige, Tony Principi.
Good luck. (Correct answer will appear in fall issue of Congressional Boxing Quarterly.)
Now, if you're searching for the next generation of great heavyweights, don't look to ESPN, look to ESPN Classic. Foreman, Holyfield, Tyson. That's right – George Foreman, 55; Evander Holyfield, 41; and Mike Tyson, 37, are back, straight from Leisure World to Caesars Palace.
In February, Foreman said he wants to lose 45 pounds and fight at 225. (If I were him, I'd gain 45 pounds and sell more grills at 315.)
As a warm-up to his comeback, Foreman, in a bout for charity, will fight the president of Rice University, 63-year-old Malcolm Gillis. (Gore Vidal apparently was unavailable.)
Meanwhile, Holyfield, perhaps energized by his lackluster loss to James Toney six months ago, now figures the crown might be within his grasp with Lennox Lewis retiring. Holyfield has lost six of his past eight fights, which, by today's heavyweight math, puts him squarely in the title picture.
And then there's Tyson, who fights about 45 seconds every two years, sometimes even in the ring. Pending any unforeseen legal entanglements he might encounter, Tyson is scheduled to meet journeyman Kevin McBride July 31.
(At this point of his career, Tyson doesn't even fight tomato cans anymore, he fights tomato paste cans.)
There were four heavyweight title bouts last month; Michele Tafoya replacing Lisa Guerrero on "Monday Night Football" got more attention. I happened upon the Vitali Klitschko-Corrie Sanders WBC title fight a couple of weekends ago. It was somewhat entertaining, much in the same way it's somewhat entertaining to watch a wrecking ball repeatedly hit the side of a building. The fight was on HBO, home of "The Sopranos," where people kill and curse each other; "Deadwood," where people kill and curse each other; and boxing, where people want to kill Don King but just curse him.
(Did you know that Tyson sued King for $100 million and King counter-sued Tyson for $100 million? In legal jargon, this is what's called a "Beaver Cleaver-Lumpy Rutherford standoff.")
Anyway, a few days after losing to Klitschko, Sanders, 38, announced his retirement to pursue a career in golf. I guess Primo Canera will move up the rankings now.
Ask The Slouch
Q. Don't you think Olympic baseball will be a sham without the Americans participating? (Jim Thomsen; Clearwater, Fla.)
A. That's a little like saying the salad bar at Sizzler is a sham because they don't have frisee. Who's watching Olympic baseball, anyway? I mean, other than the guys at BALCO, who have their eyes on a five-tool Korean.
Q. At the National Zoo in Washington, how come Tian Tian, the male panda, can't get Mei Xiang, the female panda, pregnant? (Katy Clark; Quincy, Mass.)
A. It might help if Tian Tian would turn off "SportsCenter" once in a while.
Q. After sports writing, poker and marriage, what's the fourth thing you know least about? (Bob Cohn; South Euclid, Ohio)
A. How lightly to pack for the afterlife.
Q. I tried to check out your column on-line last week – and had to register. Are terrorists reading your stuff before they act? (Jim Spence; Waldorf, Md.)
A. Pay the man, Shirley.
Local journalism is essential.
Give directly to The Spokesman-Review's Northwest Passages community forums series -- which helps to offset the costs of several reporter and editor positions at the newspaper -- by using the easy options below. Gifts processed in this system are not tax deductible, but are predominately used to help meet the local financial requirements needed to receive national matching-grant funds.
Subscribe to the sports newsletter
Get the day's top sports headlines and breaking news delivered to your inbox by subscribing here.
---