News > Features
Add vegetables to your meals
Wed., May 12, 2004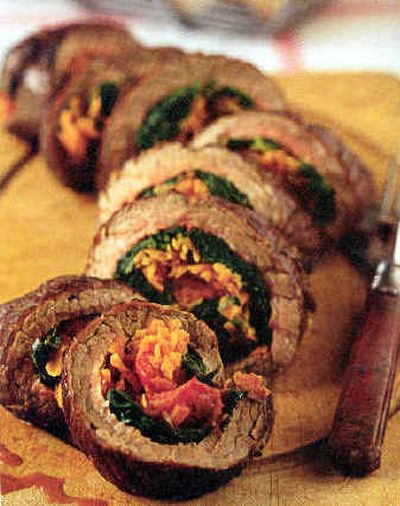 A new cookbook from Reader's Digest, "Vegetables for Vitality" (2004, $29.95) is packed with recipes and color photos that may well have cooks bounding into the kitchen — and out again, too.
The book offers "240 delicious recipes to add vegetables to every meal." That's a worthwhile exercise in itself, made easier here with a guide to vegetables, background on their nutritional values, and tips on cooking with them.
Then there are those 240 recipes. They range from red-pepper and green-chili spoonbread to baked sweet-potato fries, from crab gumbo to sausage and pepper pasta. The photos offer ample visual how-to help as well as inspiring shots of the finished dishes.
Among healthy choices in the book is the following low-fat but hearty steak roll with spinach, carrots and red pepper. Slices of the roll show the colorful mosaic of ingredients that give it flavor and powerful nutrients; it can be served either hot or cold. For a hot meal, the book suggests offering mashed sweet potatoes, and a grapefruit and greens salad in a citrus vinaigrette. For a cold dinner, add crusty hot bread and a mixed green salad.
Flank Steak Roll with Spinach, Carrots and Red Pepper
1/2 cup red wine
1/2 cup reduced-sodium soy sauce
2 tablespoons sugar
1 teaspoon garlic powder
1 1/2 pounds flank steak, butterflied
6 ounces fresh baby spinach leaves
4 scallions, coarsely chopped
1/8 teaspoon salt
2 1/2 cups grated peeled carrots (about 1 pound carrots)
12-ounce jar roasted red peppers, drained
In large, resealable plastic bag or container, combine red wine, soy sauce, sugar and garlic powder. Add steak. Turn to coat. Refrigerate at least 2 hours or up to 4 hours.
Meanwhile, rinse spinach and leave some water clinging to leaves. Place in large pot over medium heat. Cook, stirring often, just until wilted, about 1 minute. Transfer to plate. Let cool.
Preheat oven to 375 degrees.
Remove meat from marinade. Pat dry. Set marinade aside. Spread spinach in even layer over steak. Top with scallions. Sprinkle with salt. Layer carrots on top, then roasted peppers. Starting at one long side of steak, roll up meat tightly to enclose filling. Secure seam in several spots with toothpicks. Place roll, seam side down, in shallow baking pan. Brush top with marinade.
Roast 15 minutes. Spoon any juices in pan over top of meat. Roast 20 minutes longer for medium-rare or until desired doneness. Let meat stand 10 minutes.
Meanwhile, in small saucepan, boil remaining marinade just until it's thick enough to coat a spoon. Strain and set aside.
Cut meat diagonally into 1/4 -inch-thick slices. Drizzle a little marinade over each plate. Top with steak slices.
Yield: 6 servings
Nutrition information per serving: 229 calories, 9 grams fat (4 grams saturated, 35 percent fat calories), 21 grams protein, 15 grams carbohydrate, 48 milligrams cholesterol, 2 grams dietary fiber, 738 milligrams sodium.
Local journalism is essential.
Give directly to The Spokesman-Review's Northwest Passages community forums series -- which helps to offset the costs of several reporter and editor positions at the newspaper -- by using the easy options below. Gifts processed in this system are not tax deductible, but are predominately used to help meet the local financial requirements needed to receive national matching-grant funds.
Subscribe to the Coronavirus newsletter
Get the day's latest Coronavirus news delivered to your inbox by subscribing to our newsletter.
---