News > Features
Braised pears a 'delectable side dish'
Wed., May 12, 2004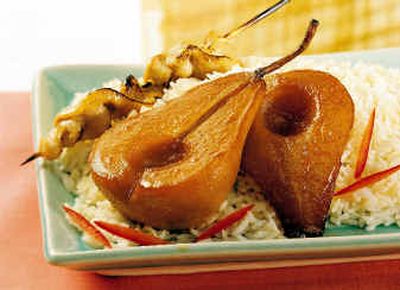 Typically, poached or braised pears are served for dessert, says cookbook author Diane Morgan, who is based in Portland.
However, she developed this recipe, combining pears with soy sauce, ginger root, a touch of cayenne, and a splash of rice vinegar, for what she describes as "the most delectable side dish you've ever tasted."
"Forget the usual meat and potato combo — serve these braised pears with grilled pork tenderloin or chicken," she says. Or use your own taste and imagination to guide you to other great pairings.
Braised Pears with Soy-Ginger Glaze
Recipe developed for Associated Press by Diane Morgan, courtesy Pear Bureau Northwest
4 tablespoons ( 1/2 stick) unsalted butter, melted
3 tablespoons soy sauce
1 tablespoon grated fresh ginger root
1/2 cup packed golden brown sugar
1/4 teaspoon cayenne pepper
4 firm but ripe Bosc pears, peeled, halved lengthwise, and cored
2 tablespoons unseasoned rice vinegar.
In a 10-inch sauté pan over medium heat, melt the butter. Add the soy sauce, ginger, sugar and cayenne pepper. Stir until the sugar is melted and the ingredients are well combined; then reduce the heat to medium-low. Add the pears, cut side down, and simmer, basting frequently, until the pears are tender when pierced with a knife, about 8 to 10 minutes. Transfer the pears to a microwave-safe serving dish.
Bring the liquid in the pan back to a slow boil and add the vinegar. Simmer the sauce until it is thick and syrupy, about 3 minutes. Pour the sauce over the pears and serve immediately or set aside until ready to serve. Reheat in the microwave just before serving.
Cook's note: The dish can be made 1 to 2 days before serving. Refrigerate in a covered container. Serve with grilled pork tenderloin, chops, or roast or grilled chicken.
Yield: 4 servings
Approximate nutrition per serving: 287.9 calories, 12 grams fat (7 grams saturated, 36 percent fat calories), 47.9 grams carbohydrate, 31 milligrams cholesterol, 3.4 grams dietary fiber, 687 milligrams sodium.
Local journalism is essential.
Give directly to The Spokesman-Review's Northwest Passages community forums series -- which helps to offset the costs of several reporter and editor positions at the newspaper -- by using the easy options below. Gifts processed in this system are not tax deductible, but are predominately used to help meet the local financial requirements needed to receive national matching-grant funds.
Subscribe to the Coronavirus newsletter
Get the day's latest Coronavirus news delivered to your inbox by subscribing to our newsletter.
---