News > Features
Can I buy a vow?
Thu., May 13, 2004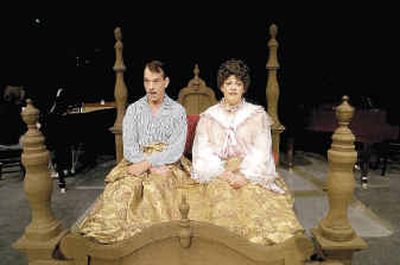 The subject of marriage has been batted back and forth like a squash ball recently. So the time is right for the Spokane Civic Theatre to revive the 1966 musical "I Do! I Do!" on its Main Stage beginning this week. This well-loved Tom Jones-Harvey Schmidt musical follows a couple from their wedding day (and their comical wedding night) through their golden anniversary 50 years later.
We watch them as they raise a family, suffer through a series of midlife crises, separate, reconcile and finally grow old together. The story, based on the equally beloved play "The Fourposter" by Jan de Hartog, works as a concise and non-sugar-coated lesson in the power of marriage.
When it first played Broadway in 1966, the New York Post said it was "at once amusing, astonishingly touching and truly endearing."
It is also one of the rare "two-handers" in musical theater, that being a term for a show that has only two characters. Robert Preston and Mary Martin originated the roles on Broadway.
This entire, rich story is played out through the eyes of Michael, who will be played by Thomas Heppler in this production, and Agnes, who will be played by Jan Neumann.
Troy Nickerson, one of Spokane's top theater figures, is the director and choreographer. Carol Miyamoto is the musical director.
The Jones-Schmidt score doesn't have quite as many memorable tunes as their smash hit, "The Fantasticks." But it does have "My Cup Runneth Over," a beautiful ballad of gratitude and love, which was a Top 10 hit for Ed Ames in 1967 and has been sung at countless weddings ever since.
The show was a Broadway hit in no small part because of Preston and Martin, and ran for nearly two years (with Carol Lawrence and Gordon MacRae after the first year). It was made into a TV version with Lee Remick and Hal Linden, and was revived off-Broadway in 1996.
It has always been a staple of regional and community theater, partly because of its small cast and its single setting. The show takes place almost entirely in the bedroom of Michael and Agnes.
Yet its popularity has also been because of its themes, which many theatergoers can relate to.
Here's how Mary Martin once assessed its appeal: "This is the way it really is in marriage — the way people are — it's so universal they'll understand it in Tokyo or Hong Kong or anywhere. We've all lived through every moment of this story in our own lives."
Local journalism is essential.
Give directly to The Spokesman-Review's Northwest Passages community forums series -- which helps to offset the costs of several reporter and editor positions at the newspaper -- by using the easy options below. Gifts processed in this system are not tax deductible, but are predominately used to help meet the local financial requirements needed to receive national matching-grant funds.
Subscribe to the Coronavirus newsletter
Get the day's latest Coronavirus news delivered to your inbox by subscribing to our newsletter.
---