News > Features
'Frasier' often put Spokane on TV map
Thu., May 13, 2004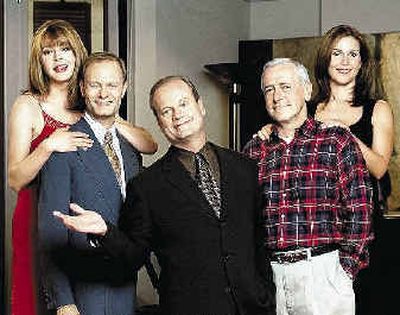 "Frasier" may be about as close to a hometown TV show as Spokane has ever had.
Set in Seattle, the series made frequent references to the Lilac City. For example, in the first-season episode "Death Becomes Him" (Dec. 12, 1993), Frasier complains to a receptionist after his father has been waiting half an hour for a medical appointment.
"The doctor's running a little late this morning, but you'll be the first up when he gets in," she says.
Replies Frasier: "When he gets in? My God, where's he coming from, Spokane?"
In "Party, Party" (May 19, 1998), Frasier finally hooks up with a woman he had met at the opera _ only to find out she has to catch a plane to Spokane in an hour. He offers to drive her instead, saying, "I could have you in Spokane in six hours. That'll certainly give us enough time to get acquainted." (And for a stop or two along the way, apparently.)
As they set off on the trip he discovers she's no opera buff, but an evangelist who was dragged there by one of her "converts."
"Have you heard the Truth?" she asks him, switching the car radio to a country station.
"Something tells me I'm about to," he replies.
But for his actual arrival, we had to wait until "Frasier Has Spokane" (May 7, 2003), in which his call-in show is being picked up by KQZY in Spokane and he comes to town to broadcast for a day.
"If I can prove that my brand of radio travels well, perhaps I can parlay Spokane into Denver, Chicago … maybe even New York City," he says.
Unfortunately for Frasier, it turns out he's taking the time slot away from beloved longtime Spokane radio personality Neil "Sully" Sullivan, and angry callers tell him to go back to Seattle. (The celebrity cameo callers, a series trademark, include figure skater Scott Hamilton and actress Daryl Hannah.)
During a station press conference introducing Frasier, Sully stops by and is asked by a reporter whether he plans to listen to his replacement's show.
"Not sure, Cathy," he replies. "I've been going around on that one like the horses on the Looff."
"I'm sorry, the Looff?" Frasier asks as the reporters start laughing.
"It's a carousel," Sully replies. "But I guess you have to be in the city more than three hours to know that."
Actually, considering how few people really refer to the Riverfront Park Carrousel by its creator's name alone, even some long-timers might be baffled by that one.
But why be picky about Spokane finally getting its 30 minutes of prime-time fame?
Local journalism is essential.
Give directly to The Spokesman-Review's Northwest Passages community forums series -- which helps to offset the costs of several reporter and editor positions at the newspaper -- by using the easy options below. Gifts processed in this system are not tax deductible, but are predominately used to help meet the local financial requirements needed to receive national matching-grant funds.
Subscribe to the Coronavirus newsletter
Get the day's latest Coronavirus news delivered to your inbox by subscribing to our newsletter.
---