News > Spokane
Murray leads Nethercutt, but by how much?
Thu., May 13, 2004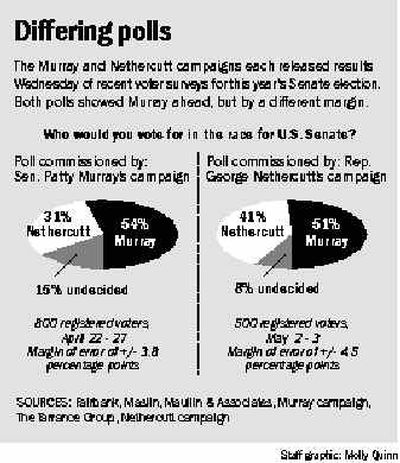 George Nethercutt is "only" 9.5 percentage points behind Patty Murray in a recent poll of Washington state voters, the Nethercutt campaign said Wednesday.
"New poll shows Washington Senate race in single digits," the campaign proclaimed as it released a memo from its polling firm.
No, Murray is 23 points ahead of Nethercutt in a slightly older, but bigger, poll of voters, the Murray campaign said.
"Murray maintains a sizable double-digit lead …  as she has since her likely opponent entered the race last year," her pollsters said in a memo released by the campaign.
Both polls are likely valid – properly conducted by reputable firms – said a pollster not connected with either of them. Differences in the number of people surveyed, when they were surveyed, even the order in which the questions were asked, could cause some of the differences in the results, said Del Ali of Research 2000, who has worked with The Spokesman-Review.
"Nethercutt's down a lot more than 10 percent, and Murray's not up by 23," suggested Ali, who has surveyed Washington state for more than a decade but has yet to poll in this year's Senate race.
One key point, Ali added, was that both polls have Murray over 50 percent, which is what any candidate needs to win.
"Based on both those polls, it's her race to lose," he said.
With six months of campaigning left before the general election, many things can happen to shift the final vote, he said. At this point, polls are usually conducted to get results to show to potential donors.
They also help the campaigns plan strategies and decide issues to stress. Both campaigns refused to release the full results of their polls, saying much of the information is proprietary.
The Senate race pits Murray, a two-term Democratic incumbent, against Nethercutt, a Spokane Republican who has served 10 years in the House. Because Nethercutt is not as well known in Western Washington, where about three-fourths of the voters live, he has just completed a major television ad campaign to raise his profile.
The Murray campaign conducted its poll in late April, in the middle of that ad blitz. If the race were held today, 800 likely voters were asked, would you vote for Murray or Nethercutt?
The results: 54 percent said Murray, 31 percent Nethercutt, reported Fairbank, Maslin, Maullin & Associates, a California firm. That poll had a margin of error of 3.8 percent.
That poll indicates Murray remains strong "despite (Nethercutt's) first major attempt to introduce himself to the statewide electorate," her pollsters reported.
The Nethercutt campaign conducted its poll on May 2 and 3, at the end of the ad blitz. It asked the same question of 500 likely voters.
The results: 50.6 percent said Murray, 41.1 percent Nethercutt, said The Tarrance Group of Virginia. That poll had a margin of error of 4.5 percent.
"The Nethercutt campaign advertising was tremendously successful in building (his) name awareness and image ratings, particularly among votes in the western half of the state," pollster Dave Sackett reported.
In the Murray poll, half the voters surveyed said they had never heard of Nethercutt. In the Nethercutt poll, the number saying they didn't recognize him fell to 29 percent.
Both polls asked whether they had favorable or unfavorable opinions of the two candidates, a standard measure of gauging support. Murray's poll said 59 percent of the voters surveyed had a favorable opinion of her, and only 28 percent had a favorable opinion of Nethercutt.
Nethercutt's poll indicated his favorable rating increased 11 percent, according to Sackett's memo, but didn't say from what. Nor did it say what Murray's favorable ratings were.
Alex Conant, a spokesman for the Nethercutt campaign, said he couldn't release any details that weren't in the memo.
Local journalism is essential.
Give directly to The Spokesman-Review's Northwest Passages community forums series -- which helps to offset the costs of several reporter and editor positions at the newspaper -- by using the easy options below. Gifts processed in this system are not tax deductible, but are predominately used to help meet the local financial requirements needed to receive national matching-grant funds.
Subscribe to the Coronavirus newsletter
Get the day's latest Coronavirus news delivered to your inbox by subscribing to our newsletter.
---