News > Nation/World
Reform Party endorses Nader
Thu., May 13, 2004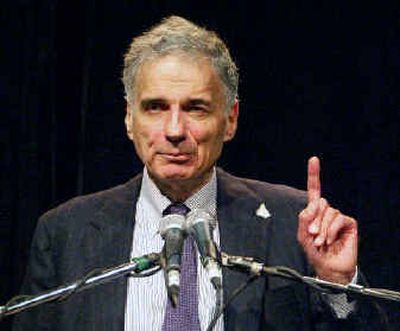 WASHINGTON – Independent Ralph Nader, reviled by some Democrats for his presidential bid, was endorsed Wednesday by the national Reform Party, giving him ballot access in at least seven states including the battlegrounds of Florida and Michigan.
Nader spokesman Kevin Zeese said the candidate welcomes the support but plans to continue running as an independent. He said Nader would decide on a case-by-case basis whether to accept the Reform Party's ballot lines in each state or try to gain ballot access through other means.
In an interview with Associated Press Radio, Nader said he is counting on Reform Party members to help him get on the ballot in other states. "We'll get a greater get-out-the-vote drive – there are tens of thousands of Reform Party people in California alone," he said.
Nader won the Reform Party endorsement shortly after midnight Tuesday, when more than two-thirds of its national and executive committee members who participated in the vote chose the consumer advocate, said party chairman Shawn O'Hara, who called Nader "a man of peace."
The prospect of Nader appearing on Florida's ballot is certain to incense many Democrats, who blame Nader for pulling votes from Democrat Al Gore in 2000. Gore lost Florida – and the presidency – to Republican George W. Bush by fewer than 600 votes while Nader garnered nearly 100,000 votes there as the Green Party's nominee.
Other states in which the Reform Party has already secured ballot access for its nominee are Colorado, Kansas, Mississippi, Montana and South Carolina. The Reform Party said it also had ballot access in Wisconsin. But Kevin Kennedy, executive director for the state's elections board, said the party has not yet qualified for the 2004 presidential race.
Nader is not yet on the ballot in any state.
Democrats have almost universally urged Nader not to run again, saying his presence will only help President Bush win re-election.
"Our position on Ralph Nader has not changed," Democratic National Committee spokesman Jano Cabrera said. "Unless Ralph Nader wants his legacy to be that of simply a political spoiler, our hope is that between now and November, he will urge his supporters to vote for and work for the election of John Kerry."
Nader has struggled to win ballot access in some early states such as Texas, where a deadline passed Monday without him collecting enough signatures to appear on the ballot. Nader filed a federal lawsuit Monday challenging the signature requirement in Texas. Nader also missed an early opportunity to get on Oregon's ballot, although he has time to try again.
In Florida, Nader faced the daunting task of collecting more than 92,000 signatures to gain ballot access. If he runs as the Reform Party's candidate, he will not need any signatures.
In 2000, Gore won Michigan by 5 percentage points, with Nader receiving close to 2 percent of the vote.
Local journalism is essential.
Give directly to The Spokesman-Review's Northwest Passages community forums series -- which helps to offset the costs of several reporter and editor positions at the newspaper -- by using the easy options below. Gifts processed in this system are not tax deductible, but are predominately used to help meet the local financial requirements needed to receive national matching-grant funds.
Subscribe to the Coronavirus newsletter
Get the day's latest Coronavirus news delivered to your inbox by subscribing to our newsletter.
---