News > Spokane
CdA's reputation heads east
Mon., May 17, 2004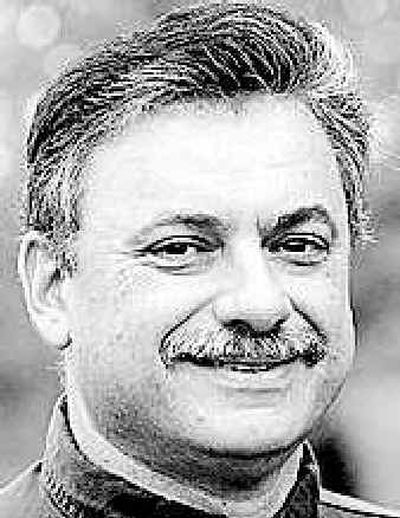 Via my online column, I've become acquainted with Jonathan Cohen, a Joe Lieberman Demo/John McCain Repub from Taxachusetts, whose doorman knows how Lake City was settled. "French trappers and silver miners?" Close enough. Jonathan, who sez he's represented among others by "Sen. Jean-Francoise Kerry (pronounced Ker-REE, Parisian style)," knows this about CdA: "The entire town is run by some group called Hagadone's Heroes, and the official meal involves burgers, Idaho fries and huckleberry shakes. Funny, the only huckleberries I know are an old cartoon dog, a Mark Twain hero and something from old Yankee broadcasts." And: "Still, I believe you're in a pretty resort area with lakes and outdoor activity. Have to be careful of those Hagadone boys, though." Jonathan has read my diary.
George, who?
And the trivia answer is — Clarence C. Dill. The question? Who was the last Eastern Washington pol to serve as a U.S. senator. (And you get bonus points if you can name the year Dill left office: 1934.) U.S. Rep. George Nethercutt, R-Wash., was testy when a Seattle Times reporter brought up those facts Thursday. "It's a myth," said George re: the "Cascade Curtain" theory that East Siders can't win statewide office. "The people of the state of Washington will vote for the candidate they like. It's not an east or west choice." Yeah. Sure. Ahem. Onward … Stop me when you believe Mindy Cameron of Sagle is qualified to serve on the Lake Pend Oreille School Board: Former editorial page editor of the Seattle Times. (Stop?) Pacific University trustee. (Stop, Stop?) Former managing editor of the Lewiston Morning Tribune. (Enough, already?) Founding member of Panhandle Alliance for Education. (OK, I'm gonna stop here because the resume goes on.) Bottom line? Bonner County should consider itself lucky that Cameron retired there and wants to serve in another field of expertise.
Spring has sprung
The tourism season unofficially began May 7 when Councilman Al Hassell spotted a Washington rental car going the wrong way on Fourth. However, the first two wrong-wayers he saw this year had Kootenai County plates … Sure, I know which North Idaho College Symphony bass players perform without shoes. Caught 'em during intermission. But I ain't talkin' … Jerky Jim trailed a silver Accord into the CdA Target parking lot because he liked his vanity plate: "BZGRAMA." Explained the driver: "We try to keep her busy" … Sounds like the lucky stiff has that perfect wife described by '04 Lilac Queen Jenna Johnson on Christian radio KMBI Friday in a reading from Proverbs 31: "She is worth far more than rubies." Amen?
Whattaline
After we were introduced, Marge Chadderdon, the House District 4 GOPrimary wannabe, made a good first impression. Sez she: "You're better looking in person than in the newspaper." In itself, that won't win her our endorsement. But it doesn't hurt … I'm not gonna tell ya who phoned to say that a nudist colony in Spokane, Ill., placed a classified ad in Playboy's June 4 issue, seeking someone to grill hot dogs for $8.50 per hour. But the caller did say that he gets the mag "just to read the articles." And then passes it along to his neighbor who does likewise. And then repeats the process … Serra Woods, the public defender who ended her opening argument by asking that her Aryan Nations client be found guilty (Huckleberries, May 3), called the S-R office after I wrote about it. Asked she: "Does a Dave All-oh-veera work there?" I'm a legend only in my own mind.
Huckleberries
Didn't know what a "PDA" stood for until the Cedar Post wrote about it: public display of affection. You know, lip locks. Swapping spit. Tonsil hockey. At Sandpoint High, the first offense results in a warning; second, a call to parents. And to think I was busted as a sophomore for holding hands with cutie Gail Shirley … Namephreak: The Noxon schools super has a name that's more appropriate for U.S. president or governor: Jackie Veto … Speaking of Noxon, there is/was a community battle raging between traditionalists and religionists over an intended mural to spotlight the high school mascot: Red Devil. But it's not what you think, sez the River Journal. According to local historian Mona Vanek, the mascot was selected because marketing slogans for Red Devil, an old soot remover, said the product was "trustworthy," "reliable" and "can't be beat."
Parting shot
"I don't like to blow the whistle on anybody, but dang it, what they did was just a shame" — Spokane River homeowner Sharla Griese after turning in neighbor Thomas Hamilton for trashing the water while dredging an unauthorized boat slip. Sharla called us and then authorities. At a minimum, Hamilton now is facing a penalty of a $300 fine and six months in jail for every day he remains in violation of the county's site disturbance ordinance. We need more whistleblowers, like Sharla. As Bacall said to Bogie: "You know how to whistle … Just put your lips together and blow." And then call.
Local journalism is essential.
Give directly to The Spokesman-Review's Northwest Passages community forums series -- which helps to offset the costs of several reporter and editor positions at the newspaper -- by using the easy options below. Gifts processed in this system are not tax deductible, but are predominately used to help meet the local financial requirements needed to receive national matching-grant funds.
Subscribe to the Coronavirus newsletter
Get the day's latest Coronavirus news delivered to your inbox by subscribing to our newsletter.
---