News > Spokane
Kitchen-table cardplayer antes up to big-time poker
Mon., May 17, 2004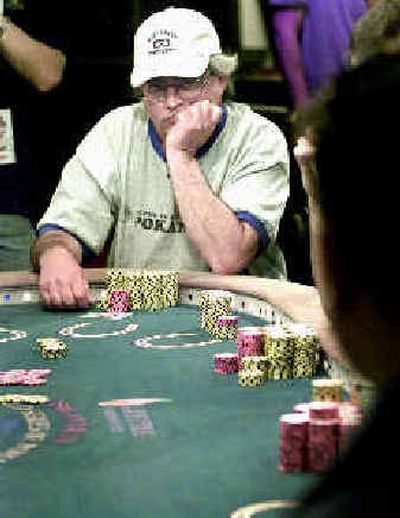 Gerry Drehobl, a middle-class, middle-aged man who can work a TV remote as skillfully as Tiger Woods controls a 2-iron, has joined the in crowd.
Around Thanksgiving, Drehobl began teaching himself how to play the hottest poker game on the planet, Texas Hold'em. Five months later, Drehobl found himself holding $365,000.
He won the money April 28 when he finished first at the 35th-annual World Series of Poker.
Drehobl; his wife, Ann; and their two children were on a family vacation in Las Vegas. With no arm-twisting whatsoever, Drehobl found himself saddled up at a tournament table in the Binion Horseshoe Casino under the bright lights and television cameras of the ESPN broadcast crew.
Two days and 26 hours of poker later, it was cha-ching, cha-ching, thanks to a pair of kings.
"After it was all over, my wife and I were driving, looking at each other saying 'Oh my God. Can you believe this happened?' " Drehobl said.
Drehobl, 49, was raised in Chicago and moved to the Shadle Park neighborhood of Spokane in 2000 after he fell in love with Ann, a Cheney High graduate.
He never got caught up in kitchen-table poker until he became a part of Ann's big, happy extended Spokane family.
"After dinner and on holidays we always play cards," said Ann, whose maiden name is Forwood. "When neighborhood kids are playing outside, sometimes my kids are in our back yard, playing poker."
When Drehobl dived into the poker pool, he went head first.
"I started reading every book I could get a hold of," he said. "I watched all the world poker tour events and the World Series of Poker on TV as much as I could."
Drehobl also became a regular at the Northern Quest Casino in Airway Heights, playing low-stakes games two to three times a week. When he got comfortable with bets in the $3 to $6 games, he began entering some daily tournaments at the Northern Quest. Last week, before flying back to Las Vegas, he won $500 in a $35 entry-fee tournament at Northern Quest.
"He is raw natural talent. He doesn't do what a normal old-style poker player does," said Wayne Johnston, Northern Quest floor supervisor. "He'll take a chance now and then, and he has the natural ability of reading people."
Drehobl's next big competition will be the finale of the 33-event World Series of Poker. The WSOP runs five weeks and concludes with the World Series championship on May 23-28. Drehobl already has played in five of the competitions. Prior to his big payday, he won $4,440 by finishing 40th in an early session for his biggest payday yet.
His earnings have allowed him to buy into the championship — which costs $10,000 — without blinking an eye.
This year's championship could draw as many as 2,000 players. The prize pool could reach $17 million, with a $3.5 million first prize, said Nolan Dalla, spokesman for the WSOP. Anyone can enter.
"That's the wonderful thing about poker. Once you learn the basics, you have the chance to win," Dalla said. "Certainly his (Drehobl's) story is interesting, but not unique. It's not inconceivable that a newcomer can play and win at this game."
Last year, 839 players entered the WSOP championship. The top prize of $2.5 million went to Chris Moneymaker, a 27-year-old-Tennessean who has a name perfect for gambling (or working for Donald Trump).
Drehobl was one of the millions who watched Moneymaker on TV as he went from an unknown to the envy of every recreational poker player.
Last year's tape-delayed WSOP series on ESPN averaged more than 1.2 million viewers, according to published reports. The first show of the 2004 tournament will be shown on June 8. Drehobl's win will be shown June 22.
Aside from ESPN's frequent airing of the WSOP, other shows that have contributed to the No Limits Texas Hold'em's popularity are the Travel Channel's "World Poker Tour" and Bravo's "Celebrity Poker Showdown." No Limits Texas Hold'em means, at any time, a player can bet all his or her chips.
By no surprise, online play also is booming. Sites such as partypoker.com and pokerpages.com are taking more hits than boxers on amateur night.
"Texas Hold'em is a simple game to learn but hard to master," Johnston said. "And no matter how good you are, it still takes a certain degree of luck at any time."
To play, each player is dealt two personal cards, or pocket cards. There are five community cards turned up on the board. Players make the best five-card hand using any combination of the cards. There are four betting rounds. Drehobl's final winning hand was two pocket kings. His opponent's best cards were an ace and a six.
"He can tell what other players have based on where they're sitting (at the table) and how they're betting," said Ann, who was in the stands watching. "It's amazing. I knew he was good, but I'm constantly amazed at how good."
Despite the instant earnings, Drehobl has remained grounded. He said he gave 10 percent of his winnings to Children Incorporated charity. He did, however, splurge and buy a 50-inch TV and home-theater system.
"It has about 17 remotes," Ann said. "I'll never know how to work them all."
But she's certain her husband will figure out the new system in no time. After all, he is a quick learner.
Local journalism is essential.
Give directly to The Spokesman-Review's Northwest Passages community forums series -- which helps to offset the costs of several reporter and editor positions at the newspaper -- by using the easy options below. Gifts processed in this system are not tax deductible, but are predominately used to help meet the local financial requirements needed to receive national matching-grant funds.
Subscribe to the Coronavirus newsletter
Get the day's latest Coronavirus news delivered to your inbox by subscribing to our newsletter.
---