Sports
Mariners end road trip on losing note
Mon., May 17, 2004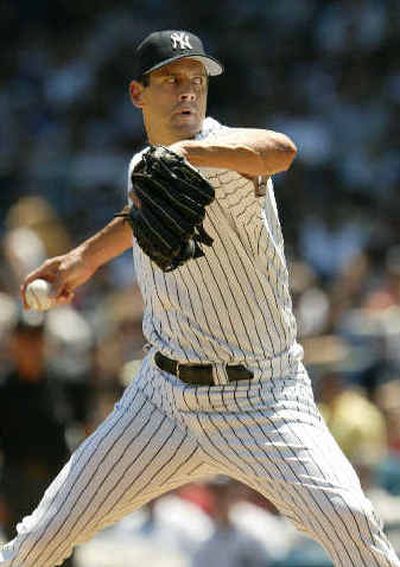 NEW YORK – Kevin Brown was angry.
He had pitched seven shutout innings before giving up Scott Spiezio's home run, and Yankees manager Joe Torre removed him after a two-out single in the eighth. The crowd of 54,732 responded with a standing ovation as Brown walked off the mound and, finally, as he approached the dugout, he responded with a tip of his cap.
While most of the Yankees concentrated on the positives of Sunday's 2-1 win over the Seattle Mariners, which gave Brown a 5-0 start for the first time since 1990 with Texas, he chose to dwell on his mistakes.
"I don't know if they can understand," he said. "I feel like I've given them a chance to get back into the game. I'm pretty irritated at myself. At that point in time, I'm not so sure I'm worthy of that kind of appreciation. I'm too busy kicking myself."
While Brown gave the bullpen a rest for most of the sunny afternoon following New York's 13-7, 13-inning loss Saturday, backups John Flaherty and Tony Clark drove in the runs. The Yankees, who have won 14 of 18 following an 8-11 start, moved back into the A.L. East lead, a half-game ahead of Boston.
Flaherty, getting his fourth straight start while Jorge Posada recovers from a broke nose, connected in the third inning off Joel Pineiro (1-5) for his first home run since Aug. 16. Clark, playing because back spasms sent Jason Giambi to a hospital for a massage, hit an RBI single in the fourth.
"That was my one lucky swing for the month," said Flaherty, who thought the drive to left would hook foul. "There's no admiration – more shock."
With Posada out, Flaherty played after catching 204 pitches during Saturday's 4-hour, 24-minute game.
"I was sore, but once you get going, you feel pretty good," he said.
Clark's single scored Bernie Williams, making it 2-0.
"Your No. 25 guy is just as important," said Clark, who has 30 at-bats this season. "It means simply that I need to work harder than I did when I played every day – got to get to the ballpark earlier, got to put that time in the weight room, got to do the extra running, got to do the extra swinging so if I get that one at-bat late in the ballgame or I come in defensively late in the ballgame, I am as sharp as I can possibly be."
Brown, much sharper than he admitted, became the first Yankees pitcher to open 5-0 since Roger Clemens in 1999.
With runners at first and second in the third inning, the 39-year-old right-hander retired Spiezio on a popup. With the bases loaded and one out in the fourth, Brown got Rich Aurilia on a foul pop to the catcher and Pat Borders on a routine forceout at third.
"With his ball moving all over the place, he's not really a fun guy to face," Aurilia said. "He's 5-0 for a reason."
Brown allowed eight hits, including the homer to Spiezio that went just over the right-field wall.
Tom Gordon threw a called third strike past Jolbert Cabrera to end the eighth, and Mariano Rivera finished for his 14th save in 15 chances. After John Olerud singled leading off the ninth and Seattle advanced the potential tying run to third, Randy Winn hit a game-ending grounder.
Pineiro lost his fourth consecutive decision.
Notes
While Posada still wakes up with headaches, they have lessened and he hopes to be back in the lineup Tuesday, the start of New York's season-long, 12-game trip to Anaheim, Texas, Baltimore and Tampa Bay… . Seattle 2B Bret Boone was out of the starting lineup for the fifth straight game with a hip flexor strain.
Local journalism is essential.
Give directly to The Spokesman-Review's Northwest Passages community forums series -- which helps to offset the costs of several reporter and editor positions at the newspaper -- by using the easy options below. Gifts processed in this system are not tax deductible, but are predominately used to help meet the local financial requirements needed to receive national matching-grant funds.
Subscribe to the sports newsletter
Get the day's top sports headlines and breaking news delivered to your inbox by subscribing here.
---