Sports
Sheets mows down 18 Braves
Mon., May 17, 2004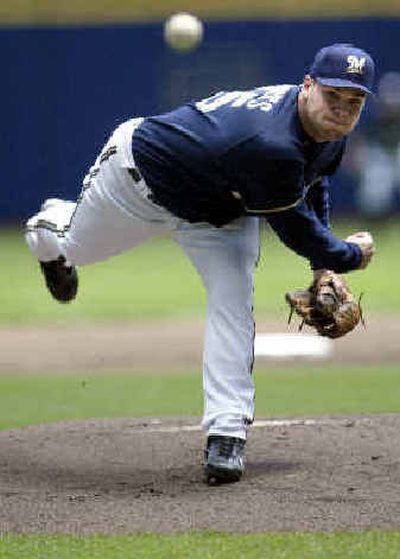 Everything was working for Ben Sheets on Sunday, even the shadows.
Sheets struck out a franchise-record 18 batters – the most in the majors in three years – leading the Milwaukee Brewers to a 4-1 victory over the visiting Atlanta Braves.
"This place, with day games, hitters can't see the ball," Milwaukee catcher Chad Moeller said. "I was proof of that, also."
Moeller struck out four times, but it was all the strike 3s that landed in his mitt that made this game so memorable.
"He woke up today with phenomenal stuff," Milwaukee manager Ned Yost said of Sheets.
It was the most strikeouts by a big leaguer since Arizona's Randy Johnson tied a major league record with 20 on May 8, 2001, against Cincinnati.
"I'm not a big strikeout guy, so this is all new to me. It's pretty cool, though," said Sheets, whose previous career high was 10 strikeouts against Houston on April 10 and May 5 against Cincinnati.
The previous franchise mark of 14 was set by Moose Haas on April 12, 1978, against the New York Yankees.
Sheets (4-2) threw a three-hitter in his fourth career complete game and struck out six of the last seven batters he faced – including all three in the ninth.
He was as efficient as he was effective, throwing just 116 pitches, 91 for strikes. He threw a first-pitch strike to 17 of the first 20 hitters he faced.
Sheets fanned every Braves starter except second baseman Nick Green, who made his first major league start in place of Marcus Giles, who broke his collarbone Saturday night.
Sosa hurts himself sneezing
Sammy Sosa felt a bit sheepish while explaining why he wasn't able to play Sunday against the San Diego Padres.
He sneezed twice shortly after arriving in the clubhouse before the game, which brought on back spasms. While his Chicago Cubs teammates were out beating the Padres, Sosa spent the afternoon in the trainer's room receiving treatment.
"It would have been better if I had hit off the wall or we have a fight or something, but this … you know what I mean?" Sosa said. "What can you do? Some things in life you cannot control. This is strange that it happened."
"I don't feel too good," Sosa said. "If I'm ready, I'm going to play (Tuesday). If I'm not ready, I'm not going to play. Whenever I feel 100 percent, I'll be back."
Arizona prospect investigated
Baseball is checking whether a Diamondbacks pitching prospect used his nephew's identity to sign with the team, making him appear three years younger, according to documents obtained by the Associated Press.
Birth records show that Adriano Rosario's real name is Ramon Antonio Pena Paulino, and that he was born Jan. 9, 1982, making him 22. The real Rosario, who is Pena's nephew, turned 19 Sunday, according to the documents.
Pena, a hard-throwing right-hander, allegedly used his nephew's birth certificate to gain a $400,000 signing bonus with Arizona in 2002, the documents show. He signed as a free agent in June 2002.
Clearing the bases
The Royals placed outfielder Aaron Guiel on the 15-day disabled list because of blurred vision in his left eye and called up infielder Wilton Guerrero from Triple-A Omaha… . The Rockies recalled right-hander Allan Simpson and sent infielder Aaron Miles to Triple-A Colorado Springs in an attempt to bolster their battered pitching staff… . Brewers reliever Ben Ford was placed on the 15-day disabled list because of tendinitis in his right shoulder… . Herk Robinson retired, ending a 35-year stay in the Royals' front office that included 10 years as general manager… . Tanyon Sturtze, a 33-year-old right-hander, was acquired by the Yankees from the Dodgers. He will start next weekend at Texas, replacing Donovan Osborne in the rotation.
Local journalism is essential.
Give directly to The Spokesman-Review's Northwest Passages community forums series -- which helps to offset the costs of several reporter and editor positions at the newspaper -- by using the easy options below. Gifts processed in this system are not tax deductible, but are predominately used to help meet the local financial requirements needed to receive national matching-grant funds.
Subscribe to the sports newsletter
Get the day's top sports headlines and breaking news delivered to your inbox by subscribing here.
---