News > Spokane
Some find fast food essential
Mon., May 17, 2004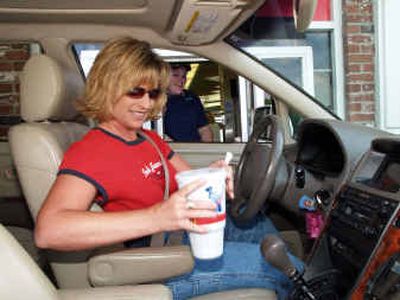 SPRINGFIELD, Mo. – Angela Muggenburg eats a Sausage McGriddle on her way to work, and then drives through McDonald's again for a grilled chicken sandwich – sans mayo and French fries – for lunch while running errands.
The busy mom is one among many Americans whose chaotic schedules have them picking up more than an occasional meal to eat by the glow of their dashboard lights.
The National Restaurant Association says a survey of more than 1,000 consumers showed 67 percent view convenience as critical.
Muggenburg, 34, realized just how often her Lexus RX300 was hitting the Golden Arches when a drive-through worker predicted her order before she could say a word.
"I just feel like I don't have a lot of time, so I look for things that are fast and easy," Muggenburg said.
McDonald's might want to consider making her its poster child. She is the counterpoint to Morgan Spurlock, the filmmaker who gained 25 pounds eating at McDonald's for a month.
Muggenburg has actually lost 25 pounds in the past five months by eating fast food. Her trick is avoiding the French fries and high-calorie condiments, paying attention to portions and being on the go with her kids.
The alarm rings at 6:15 a.m. on weekdays at the Muggenburg home in Ozark. The priority is getting 2-year-old Keaton and 6-year-old Bailey dressed and fed. She takes Bailey to school on her way to work, while husband Steve drops Keaton off at Grandma's house.
Bailey has gymnastics two nights a week. Steve Muggenburg co-owns a heating and cooling business and often works six-day weeks.
"There are nights when we will just pick up a salad or something on the way home, and we'll bake chicken strips," she said.
Terry Egan, nutrition specialist with University Outreach and Extension in Springfield, said those who eat on the go should remember the "five a day" rule for fruits and vegetables. She suggests packing cherry tomatoes, baby carrots or precut vegetables into small plastic bags. Apples, oranges, bananas and grapes also are easy choices.
"The key to healthy dashboard dining is to focus on foods that provide a big nutritional punch with few calories from sugar and fat," she said.
She also advises against super-sizing meals and sodas. "The trouble is that when we spend that extra quarter to super-size our meals, we also super-size ourselves."
Not everyone believes eating while driving is efficient, or that automakers put cup-holders in vehicles to make sure motorists have easy access to soft drinks.
A study released last June by AAA Foundation For Traffic Safety showed eating and drinking is the No. 1 distraction for motorists.
The average person spends about one hour and 15 minutes in a vehicle each day, and 4.6 percent of that time is used to eat or drink, the study showed.
"The trouble is that if you're eating a hamburger, you may glance down to unwrap it or even block part of your field of vision as you eat it," said Fairley Washington, foundation spokeswoman. "Drinks can spill."
New Jersey's legislature last year proposed a penalty for eating while driving as part of a bill outlawing handheld cellular phones. It was deleted, however, because lawmakers feared it would be impossible to enforce.
Mike McQuerter, a 32-year-old fire safety inspector who is on the Body For Life diet, said he couldn't get the diet's six suggested meals each day if he didn't nosh while driving across southwest Missouri to customers' businesses.
McQuerter's father died of a heart attack at age 43. He's so determined to maintain a healthy weight that he equipped his Atlas Security van with a George Foreman minigrill and a portable cooler.
Two meals consist of protein shakes. Lunch, however, is chicken or salmon. McQuerter cooks it in foil (to ease cleanup) while he's at a job site.
"You should see people's faces when they walk by my van and smell chicken cooking," McQuerter said.
Local journalism is essential.
Give directly to The Spokesman-Review's Northwest Passages community forums series -- which helps to offset the costs of several reporter and editor positions at the newspaper -- by using the easy options below. Gifts processed in this system are not tax deductible, but are predominately used to help meet the local financial requirements needed to receive national matching-grant funds.
Subscribe to the Coronavirus newsletter
Get the day's latest Coronavirus news delivered to your inbox by subscribing to our newsletter.
---