Sports
Webber's guarantee comes true
Mon., May 17, 2004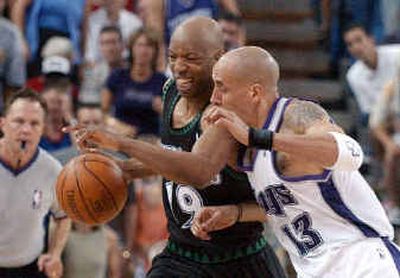 SACRAMENTO, Calif. – The second-round series between Sacramento and Minnesota is becoming as much about bad tempers as it is great basketball.
Chris Webber guaranteed a Game 7, and the Sacramento star got all kinds of help in making it happen – even teammate Anthony Peeler's ejection for throwing elbows at league MVP Kevin Garnett had the Kings feeling good.
Mike Bibby had 16 points, 10 assists, five rebounds and three steals despite foul trouble and the energetic Kings used an inspired effort on both ends of the floor to survive elimination, beating the Minnesota Timberwolves 104-87 in Game 6 Sunday.
The deciding Game 7 is Wednesday night in Minneapolis.
"Right now is the time we all dreamed about: Game 7," Webber said.
Peja Stojakovic finally found his shot, scoring 22 points and swishing a long 3-pointer at the halftime buzzer that gave Sacramento the momentum in another testy affair between these teams. Webber had 14 points, seven rebounds and three assists.
The Kings haven't won a Game 7 on the road since they were based in Kansas City and beat Phoenix in 1981.
"The good thing is, we've been in this situation before," Webber said. "So I feel comfortable."
Doug Christie had 16 points and sparked a strong defensive effort against Garnett and company, and Sacramento just plain outhustled the Wolves to loose balls and rebounds.
Latrell Sprewell scored 27 points and Garnett added 19, 10 rebounds and five assists for the
Timberwolves, who are trying to reach their first Western Conference finals. Sam Cassell scored 16 points before fouling out with 2:32 left, and he was hit with a technical afterward for arguing.
The Kings were fired up from the start, jumping out to a big lead early and calmly weathering a 17-0 run by Minnesota late in the first quarter. After losing to Minnesota at Arco Arena in three straight games this season – including 114-113 in OT in Game 3 – Sacramento has won its last two at home to stay in the series.
Peeler was ejected with 13.5 seconds left in the third after throwing an elbow at Garnett. Peeler, who claimed Garnett tried to hit him in the throat, had also elbowed Garnett on the previous possession, then Garnett stuck his elbow into Peeler's chest when the Kings came down on offense late in the third quarter.
Garnett was still grimacing from the previous hit when Peeler struck him again and immediately got thrown out.
Garnett also received a technical and went to the bench. The fans then started throwing glow sticks used for pregame festivities onto the court. Vlade Divac lightly shoved a Minnesota assistant coach during the scuffle but was quickly pushed away.
"This is not a class act," Garnett said. "I think you should have a little more respect for the game."
Bibby said the Kings supported Peeler.
"We ain't going to let anybody walk over us. We gave him a pat on the back," Bibby said.
Local journalism is essential.
Give directly to The Spokesman-Review's Northwest Passages community forums series -- which helps to offset the costs of several reporter and editor positions at the newspaper -- by using the easy options below. Gifts processed in this system are not tax deductible, but are predominately used to help meet the local financial requirements needed to receive national matching-grant funds.
Subscribe to the sports newsletter
Get the day's top sports headlines and breaking news delivered to your inbox by subscribing here.
---