Sports
Mora a nice fit for the Orioles
Tue., May 18, 2004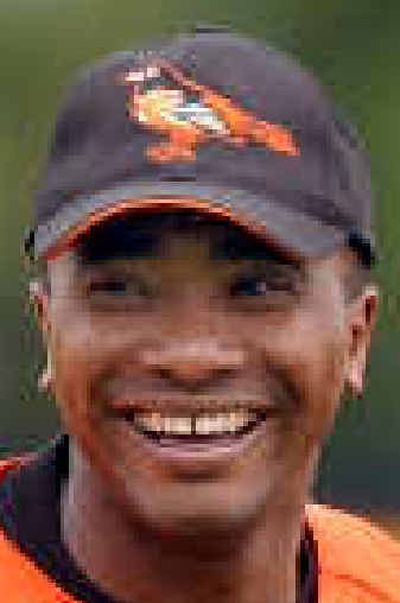 BALTIMORE – No one's complaining about Melvin Mora's home runs anymore.
When Mora hit 19 homers and batted .233 with the Baltimore Orioles two years ago, the operative theory was that he too often aimed for the fences instead of fulfilling his role at the top of the batting order by getting on base.
Mora lifted his average to .317 in 2003, and his performance this season has erased any doubt about his ability to both reach base and hit for power.
Playing on a team with sluggers Rafael Palmeiro, Javy Lopez and Miguel Tejada, Mora leads the surprising Baltimore Orioles with seven home runs and a .594 slugging percentage. His 26 RBIs are second on the team to Tejada's 30.
He also stands atop the A.L. leaderboard in batting average (.368) and on-base percentage, and ranks second in runs scored (34).
Seems like someone is owed an apology.
"When I hit .233, people think I tried to hit home runs. I've showed everyone that was wrong," Mora said. "I'm not a home run hitter, so when people say I try just to hit home runs, I don't like it. They don't know. It's not fair."
When Mora upped his average by nearly 100 points and made the All-Star team for the first time last season, former Orioles manager Mike Hargrove attributed the breakthrough to an improved attitude.
"I think he overswung, overswang and overswinged," Hargrove said. "During the second half of the (2002) season, his approach was to try to hit the ball out of the ballpark. The results were obvious to everybody, even Melvin."
Many shared Hargrove's assessment. Mora didn't. He insists his priorities – and swing – have never changed.
"I'm just trying to get on base. If I get on base, I know they're going to drive me in," Mora said. "When you make contact and have a little power, things happen. If I hit it out, I hit it out. But I'm just trying to make contact."
There's been much of that lately.
Mora has hit safely in 17 of his last 21 games, going 33 for 79 (.418), and leads the Orioles with 17 multi-hit games.
In spite of a young starting rotation that has proven to be a burden on the bullpen, the Orioles (18-16) are hanging with the New York Yankees and Boston Red Sox in the A.L. East. Mora is a big reason why.
"I think as every year that goes by he's more mature, more confident in his ability," Orioles rookie manager Lee Mazzilli said. "Knowing he's batting second and at third base every day also makes a big difference."
Mora played five different positions and hit at various spots in the lineup for Hargrove, but under Mazzilli he's No. 2 in the batting order and at third base in the field. Period.
Mora has clearly benefited from hitting between leadoff hitter Brian Roberts and the dangerous Tejada. He sees plenty of fastballs from pitchers eager to hold Roberts, a base-stealing threat, in check. Many of those pitches are over the plate, because it's not a good idea to put someone on base ahead of Tejada, who has a run of four straight 100-RBI seasons.
"A player's success sometimes depends on his supporting cast," Mazzilli said.
If only there was a way to lend Mora a hand at third base. In his first full season at the position, he's found the hot corner to often be too hot to handle: His 11 errors are high among A.L. third basemen.
"Melvin is getting better there," said Mazzilli. "Most of those errors came early in the season. He's come a long way in a short period of time."
Local journalism is essential.
Give directly to The Spokesman-Review's Northwest Passages community forums series -- which helps to offset the costs of several reporter and editor positions at the newspaper -- by using the easy options below. Gifts processed in this system are not tax deductible, but are predominately used to help meet the local financial requirements needed to receive national matching-grant funds.
Subscribe to the sports newsletter
Get the day's top sports headlines and breaking news delivered to your inbox by subscribing here.
---