News > Business
Nation marks landmark day
Tue., May 18, 2004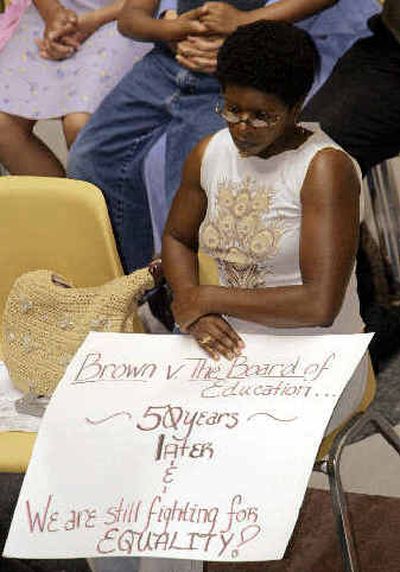 TOPEKA, Kan. – Half a century after the Supreme Court banned school segregation, President Bush and Democratic rival John Kerry found agreement Monday on the point that America still falls short of racial equality despite progress across many fronts.
"The habits of racism in America have not all been broken," Bush said. "The habits of respect must be taught to every generation." He spoke outside the once all-black Monroe Elementary School in Topeka, central to the unanimous ruling that outlawed a "separate but equal" doctrine.
Kerry, several hours earlier and several blocks away, stood on the steps of the state Capitol and said, "We have to defend the progress that has been made, but we also have to move the cause forward." He blamed many persistent problems on the Bush administration.
Bush hopes to make election-year inroads among black Americans skeptical of his commitment to equal opportunity. In 2000, blacks supported Democrat Al Gore by a 9-1 margin.
"Fifty years ago today, nine judges announced that they had looked at the Constitution and saw no justification for the segregation and humiliation of an entire race," Bush said.
"Here on the corner of 15th and Monroe, and in schools like it across America, that was a day of justice, and it was a long time coming." He said the ruling "changed America for the better – and forever."
With the two-story brick schoolhouse behind him, Bush spoke to adults who lived through the civil rights era and kids just learning about the Brown case.
Kerry, speaking to an audience that included civil rights leaders, said that half a century after the 1954 Brown v. Topeka Board of Education case, schools remain underfunded and divided by income. The health care system has too many disparities by race and one-third of black children live in poverty, Kerry said.
"We should not delude ourselves into thinking for an instant that because Brown represents the law we have achieved our goal, that the work of Brown is done when there are those who still seek, in different ways, to see it undone – to roll back affirmative action, to restrict equal rights, to undermine the promise of our Constitution," he said.
Local journalism is essential.
Give directly to The Spokesman-Review's Northwest Passages community forums series -- which helps to offset the costs of several reporter and editor positions at the newspaper -- by using the easy options below. Gifts processed in this system are not tax deductible, but are predominately used to help meet the local financial requirements needed to receive national matching-grant funds.
Subscribe to the Coronavirus newsletter
Get the day's latest Coronavirus news delivered to your inbox by subscribing to our newsletter.
---