Sports
Stojakovic reappears
Tue., May 18, 2004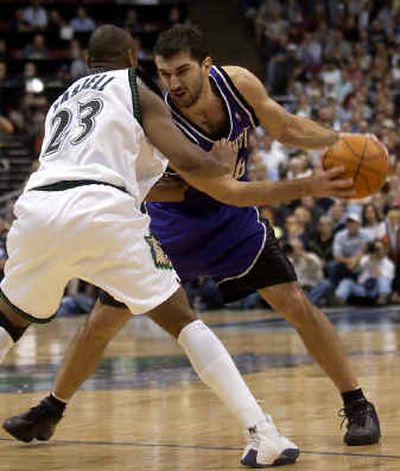 Peja Stojakovic's struggles have been a big topic during Sacramento's second-round playoff series against Minnesota.
Stojakovic, the NBA's second-leading scorer during the regular season at 24.2 points per game, is averaging just 18.4 points in the postseason and shooting 39.2 percent (73 for 186) from the field.
He isn't fazed.
Stojakovic seemed to return to regular-season form during Sunday's Game 6, a 104-87 victory by the Kings that forced Game 7 on Wednesday in Minneapolis.
He scored 22 points – though only made 8 of 19 shots – and swished a long 3-pointer at the halftime buzzer that gave the Kings a big lift heading into the break. He was active in the offense again, which is a key to the Kings' success.
Stojakovic also missed a wide-open layin, but still could find humor in it.
"I'm just being aggressive," Stojakovic said. "A couple of them I thought were good and they were playing around the rim. I guess I wasn't good to the rim during the season."
His sub-par postseason is a surprise considering he's coming off the best season of his six-year NBA career. The All-Star forward has appeared tired at times while dealing with Trenton Hassell constantly chasing him all over the floor and fighting through screens.
"Even if the shots aren't falling, we've got to do the other things," said Stojakovic.
The Kings vowed to be ready for another physical game in a series that has become quite testy. How Stojakovic performs will certainly be a key factor in the outcome.
"I'm not worried about Peja," guard Mike Bibby said. "He's a scorer. That's what he does."
Peeler suspended two games
Sacramento's Anthony Peeler was suspended for two games Monday for elbowing Minnesota's Kevin Garnett, meaning the Kings guard will miss Game 7 of the Western Conference semifinals.
Peeler was suspended without pay by the NBA.
Peeler hit Garnett in the midsection with 31.2 seconds left in the third quarter of Sunday's Game 6. Peeler elbowed the league MVP in the head with 13.5 seconds remaining in the period and was ejected.
The Kings beat the Timberwolves 104-87 and forced a deciding game on Wednesday.
Garnett was fined $7,500 for hitting Peeler in the chest with an elbow.
Local journalism is essential.
Give directly to The Spokesman-Review's Northwest Passages community forums series -- which helps to offset the costs of several reporter and editor positions at the newspaper -- by using the easy options below. Gifts processed in this system are not tax deductible, but are predominately used to help meet the local financial requirements needed to receive national matching-grant funds.
Subscribe to the sports newsletter
Get the day's top sports headlines and breaking news delivered to your inbox by subscribing here.
---