News > Features
festival
Sat., May 22, 2004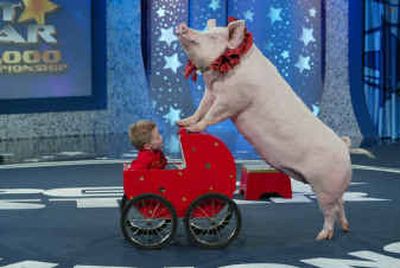 A 650-pound Yorkshire pig pushes a baby carriage. A team of nine dogs dance in a conga line. A duck gulps down cottage cheese.
These talented critters appeared last year on an Animal Planet cable TV show called "Pet Star." The show, an "American Idol" copycat for animals, will be at the Spokane Fair and Expo Center today to hold auditions for Inland Northwest pets.
It's just one attraction of Pet Fest, an animal trade show and pet adoption event now in its second year. The festival will feature animal demonstrations, pet rescue organizations, trainers, veterinarians and other vendors catering to pet enthusiasts, says organizer Rachael Berryman.
The festival also barks up funds for the Spokane Humane Society. Last year's inaugural event fetched $1,600 for the organization (and more than 30 pets were adopted).
This year's highlights include an appearance by actor Dick Van Patten of the hit TV sitcom "Eight is Enough" (pay a $5 donation and pose with the actor for a photograph); a sing-with-your-pet duet contest and an animal noise competition (the latter being humans howling out critter calls); magician Cecil Lewis performing with his pets; and wiener dog races.
Animal communicator Megan Ferney of Spokane will use her telepathic and empathic communication skills to listen to your critters. "That's been very popular," Berryman says. "We were full of people (last year) who wanted to get their pet readings."
Yes, you can bring your pet to the festival (for an extra $3 late registration at the door).
"Pet Star's" participation is new to Pet Fest this year.
The weekly hour-long show is heading into its third season. Actor Mario Lopez is the show's host, with the winning creatures selected by celebrity judges (including "Bionic Woman" Lindsay Wagner, Fred Willard and "Baywatch" star Gena Lee Nolin).
The production company will tape 15 episodes in August, and the show starts airing Friday nights either in September or later. The exact air dates have not been set yet.
Any creatures that make the cut today will be flown down to the studio in Burbank, Calif., for taping (Larry the duck must have used frequent-flier miles). Winners of the weekly shows bank a $2,500 prize. Those weekly winners later take a run at the $25,000 grand prize doled out in the season finale..
While today's auditions last from 1 to 2:30 p.m., segment producer Elisa Marchand and her camera crew will be taping Pet Fest activities until 4:30. "So there is time for last-minute auditioners to come down and get on tape," she says by phone from her Burbank office. "We want to give everyone the best possible opportunity."
Even if you miss today's try-outs — or if Spot freezes up with stage fright — you can still send in your own VHS tape (instructions above). "We always welcome anyone to send in a tape," Marchand says.
She hopes to snare one or two contestants here for the show. With luck, she'll find entertainers as memorable as last year's 650-pound Yorkshire pig or that troupe of dancing dogs.
In one trick, Kiara the amazing hog stood up on her hind legs and pushed a baby carriage. She also walked on her knees. The swine then sang "Old MacDonald's Farm" — "oinking in the right places," says the show's producer, Richard Crystal.
"It was a beautiful pig, just a great animal. Very, very smart," he says. "It won."
Kiara's $2,500 weekly victory last season pushed her and her owners, Les Kimes and his son Morgan of Branson, Mo., into the finals.
But the hog shriveled up into bacon when pitted against "an amazing act of nine dogs," Crystal says, "all rescued from a shelter."
In the big finale, all the Florida canines stood up on their hind legs and danced in a conga line. They won the big prize."It was really something how well trained they were," he says.
Now the question is: How well trained is your pet?
Local journalism is essential.
Give directly to The Spokesman-Review's Northwest Passages community forums series -- which helps to offset the costs of several reporter and editor positions at the newspaper -- by using the easy options below. Gifts processed in this system are not tax deductible, but are predominately used to help meet the local financial requirements needed to receive national matching-grant funds.
Subscribe now to get breaking news alerts in your email inbox
Get breaking news delivered to your inbox as it happens.
---