Sports
Garcia silences Tigers, M's avoid sweep
Mon., May 24, 2004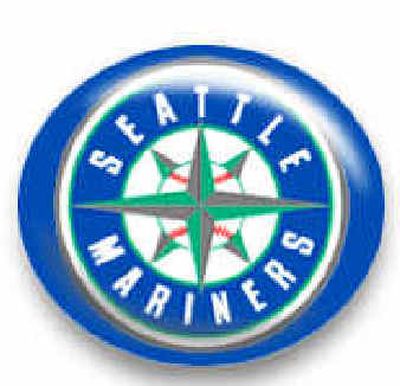 SEATTLE — Freddy Garcia is returning to All-Star form this season, and with a little run support, the wins should follow.
Garcia rode his fastball and changeup through seven strong innings and John Olerud hit a solo home run, leading the Seattle Mariners to a 3-1 victory over the Detroit Tigers on Sunday.
"I battled all day long," Garcia said. "I felt pretty good in the bullpen, but something happened in the game. I could not throw a good slider, so I went back to the fastball and changeup."
Olerud led off the seventh with a shot into the Detroit bullpen on a 1-0 pitch from Jeremy Bonderman (4-3). Raul Ibanez drove in two runs, and the Mariners won for only the third time in their last 14 games.
"It's been pretty miserable, going on two months here," Olerud said. "We've just got to forget about what's happened the last six or seven weeks and concentrate on playing good baseball from here on out."
Garcia (2-3) was steady, holding the Tigers to four hits with seven strikeouts and four walks. He became the third Seattle starter with two wins and lowered his ERA to 2.71, second-best in the American League.
"Sometimes you've got good stuff and you get hit," said Garcia, an All-Star in 2001 and 2002. "Sometimes, you go out there without your best stuff and go seven or eight innings."
Seattle avoided a sweep of the three-game series after the Tigers won the first two.
"I wanted more," Detroit manager Alan Trammell said.
Garcia has received only 14 runs of support in his nine starts. Three runs were plenty, though, considering that Seattle hitters had given Garcia only one or no runs in five of his starts.
"I was joking with him when we got the first run," manager Bob Melvin said. "There you go, Freddy. There's your run."
It was especially encouraging for the Mariners that Garcia worked through his four pitches, adapting to find something successful. In past years, he might have grown frustrated and lost his control.
"He's sticking with it, believing in himself, and we've seen that kind of focus since Day 1 of spring training," Melvin said.
For the second straight game, however, things got interesting when Melvin turned to the bullpen.
J.J. Putz, the loser Saturday night when Seattle blew a 2-1 lead in the eighth, walked Carlos Guillen to start the eighth and left after Ivan Rodriguez lined a shot off his right foot.
Eddie Guardado took over, retiring Bobby Higginson and Craig Monroe before walking pinch-hitter Rondell White to load the bases. Guardado then got Brandon Inge looking on a called third strike, a 91-mph fastball down the middle.
"He comes right after you," Inge said.
Guardado then pitched a perfect ninth, posting his sixth save in eight opportunities.
"It's always fun to get in there," Guardado said. "That's my job. It's always exciting. What makes it more fun is when you come in you know we're ahead and we're going to win the ballgame."
Seattle went ahead 2-1 in the sixth. Dave Hansen hit a sacrifice fly to score Ibanez, who hit a one-out double over first baseman Carlos Pena and went to third on Jolbert Cabrera's high-chopping infield single.
"Ibanez got a bad hop and Cabrera got a base hit off the plate, then a fly ball and they score a run," Bonderman said. "Once the ball leaves your hand, you have no control over it. That's tough, but it's going to happen."
The Mariners led 1-0 in the third after Ichiro Suzuki led off with a single, then reached third on Bret Boone's base hit. Ibanez singled to center on the next pitch to score Ichiro.
The Tigers tied it with one out in the fourth, when Higginson hit a ground-rule double over the wall in the right corner, and Monroe followed with an RBI single to left.
Notes
X-rays on Putz's foot were negative. … The Tigers ended a 24-game stretch against the A.L. West at 10-14. … Edgar Martinez got a rest, with Hansen filling in and going 1 for 3 with a sacrifice fly. … Cabrera's sixth-inning single initially was ruled an error against Tigers 2B Omar Infante. … Mariners CF Randy Winn made a running basket catch in the sixth to take a hit from Rodriguez.
Local journalism is essential.
Give directly to The Spokesman-Review's Northwest Passages community forums series -- which helps to offset the costs of several reporter and editor positions at the newspaper -- by using the easy options below. Gifts processed in this system are not tax deductible, but are predominately used to help meet the local financial requirements needed to receive national matching-grant funds.
Subscribe to the sports newsletter
Get the day's top sports headlines and breaking news delivered to your inbox by subscribing here.
---