News > Features
Kids don't make best tech support
Mon., May 24, 2004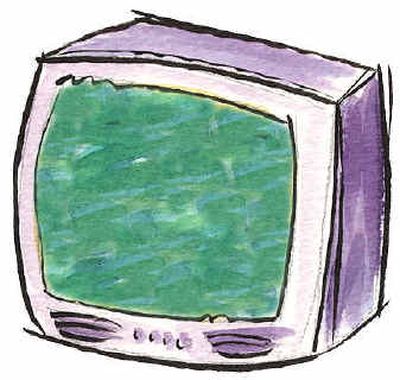 We lost all tech support services for our television set last Monday. That's what happens when you depend on family.
Thanks to our son, the one who knows how to rig the television to the VCR, a DVD player and sometimes the video camera, it takes two remote controls to navigate the system. To turn anything on, you have to grip a remote control in each hand like a six-shooter and fire. It's like Marshal Dillon facing off against a band of cattle rustlers at high noon in Dodge. And that's just to get to the Weather Channel.
I mentioned to the husband that the sound was coming through the VCR with all the definition of an air-raid siren. "Can you fix it?" I asked.
"I don't know how to fix it," he said.
"Well, where's that techno son of ours? He can fix it," I said.
"Not anymore, he can't," the husband said. "That son of ours said he wasn't answering any more questions about how the television works after Sunday and this is Monday."
"Tell me you're kidding," I said.
"Nope. We're on our own."
We looked at each other and swallowed hard.
As parents, deep down, we knew this day was coming. We knew the time would come when our kid would leave us to distinguish a USB port from a parallel port on the computer ourselves and to figure out text messaging on the cell phone all alone.
We knew there might even come a day when he would expect us to remember that to get to the VCR you have to push TV/ON on the little remote and then hit 00 and click the little button in the far left corner of the big remote. We knew this day was coming. We just never knew it would come so fast.
"He said he'd gone over the remote controls with us for the last time and that it was time for us to master the technology on our own," the husband said.
"Well, what's he done, outsourced himself to India?"
"Guess we'll know the answer to that when we get the next phone bill."
I pointed out that we didn't have these operational problems with the television until the kid began upgrading our technology with assorted equipment he acquired at college.
"True," the husband said, "but let's not be hasty and overlook the fact that we've made some fine upgrades as the result of the kid moving from dorm to dorm and apartment to apartment."
"You're right," I said. "I'd almost forgotten that we traded our microwave for a newer model he stored in the garage."
"Yes, and it was just the color you'd been wanting."
"I know," I said. "And don't forget the toaster. Can you believe we have our very own four-slice? Plus a brand-new, small-size George Foreman Grill. If they ever all leave home, it will be burgers for two!"
"Don't let on that anything is up," the husband said, "but this morning I saw a portable phone with caller ID built into the headset in a box in the garage. It's in our bedroom on your night stand as we speak."
"Great!" I said. "But that still doesn't fix the television."
"I'm making progress," he said. "I've muted the sound by activating closed captioning. The television is stuck on C-SPAN but we can access the DVD player."
"No VCR, no other television stations?"
"Nope," he said, "but look at it this way. We no longer have to ask what's on television."
Local journalism is essential.
Give directly to The Spokesman-Review's Northwest Passages community forums series -- which helps to offset the costs of several reporter and editor positions at the newspaper -- by using the easy options below. Gifts processed in this system are not tax deductible, but are predominately used to help meet the local financial requirements needed to receive national matching-grant funds.
Subscribe to the Coronavirus newsletter
Get the day's latest Coronavirus news delivered to your inbox by subscribing to our newsletter.
---