News > Business
Bookstore's new chapter
Tue., May 25, 2004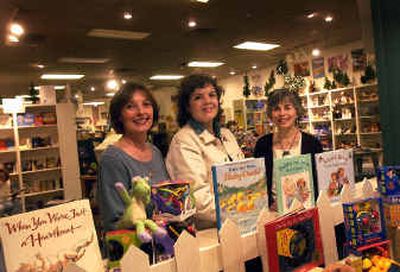 Last weekend, while visiting family in Seattle, Susan Durrie received a surprise cake, accompanied by her grandchildren singing this song:
"Grandma Susan had a store,
E-I-E-I-O,
And in that store she had some books,
E-I-E-I-O,
With a book, book here and a book, book there…"
Needless to say, Durrie burst into tears. Parting with the Children's Corner Bookshop, the store she and business partner Judy Hamel have poured their lives and love into for 31 years, has been tough.
But they have confidence the store is in good hands. After two years of searching for the perfect buyer, they sold the store on May 17 to Susan Peterson, a former librarian with the Spokane County Library District. Though she'll slightly change the name — to Children's Corner Books and Toys — Peterson said everything else will remain the same, from the location on the skywalk level of River Park Square, to the hand-selected collection of books and toys that consumers rely on.
"We really couldn't be more pleased unless we handed it over to one of our own children," Durrie said. "To close it would have been heartbreaking."
"This was meant to be," Hamel agreed.
Peterson, 34, was equally sure. She'd been dreaming of starting her own business since she was a teenager, and had just completed an 11-week class with the Small Business Development Center. When she first heard the store was for sale in January, she thought it would be an ideal blending of her undergraduate degree in retail merchandising and her master's degree in library science. Peterson called as soon as possible, only to learn that Hamel and Durrie were on vacation. Worried it would be sold to another buyer, she made her best sales pitch in her message.
"I left a message with the staff and just blathered on and on," Peterson said, laughing. "There were two weeks when I was just on pins and needles.
"I've been working for this career move for a long time."
Durrie and Hamel have promised to stick around and help as long as they're needed. They have too much vested not to.
The pair first launched the Children's Corner Bookshop on May 15, 1973 in the Second City business incubator. That building was torn down and replaced by the Metropolitan Financial Center. Durrie and Hamel, who are both married to Eastern Washington University professors, had come to Spokane from bigger cities but couldn't find the type of books they wanted for their children.
They moved to the old River Park Square in 1978 and went through two expansions. They eventually worked their way up to carrying 20,000 titles and added select toys along the way. In 1995, they moved one block east to the current location just across the skywalk from Bon-Macy's.
Hamel and Durrie, both 64, soon will find themselves with free time, something they haven't had much of in years. They talk of doing things like spending more time with aging parents and grandchildren, traveling, studying, reading, lying on the beach in Mexico. But Hamel also says she'll take a year and just "watch the clouds."
"I want to take a good year to assess who I am and what I want to do," Hamel said. "Life is so very full. There is so much. Running a small business has dominated in so many ways."
But when they miss the store, they know the new owner will always welcome them, their children and grandchildren, back.
Local journalism is essential.
Give directly to The Spokesman-Review's Northwest Passages community forums series -- which helps to offset the costs of several reporter and editor positions at the newspaper -- by using the easy options below. Gifts processed in this system are not tax deductible, but are predominately used to help meet the local financial requirements needed to receive national matching-grant funds.
Subscribe to the Coronavirus newsletter
Get the day's latest Coronavirus news delivered to your inbox by subscribing to our newsletter.
---