Sports
NC, Shadle fall short
Tue., May 25, 2004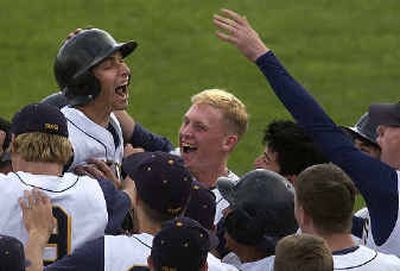 Shadle Park needed just five outs for a return trip to the State 4A baseball semifinals.
North Central needed just two strikes for its second state semifinal appearance in four years.
Neither Greater Spokane League team could finish the job during Monday's state play at Avista Stadium.
Kennewick scored twice in the sixth inning to edge Shadle 7-6 in the day's second game. As agonizing as the game felt to Shadle's fans, NC's fans took a more shocking blow when their team lost to Southridge 4-3 in eight innings in the day's first game.
Southridge sophomore pinch-hitter Chad Arnold blasted a two-out, two-run homer to left field in the seventh to force extra innings. The Suns won it on Jordan Reeder's sacrifice fly in the eighth.
"We felt pretty confident and pretty good that momentum was going our way," said NC coach Scott Harmon. "You have to compliment Southridge's coaches for making the move (summoning Arnold to pinch-hit)."
When it came to game-winning runs, Reeder wasn't finished for the day. Southridge, 0-3 against Kennewick this season, surprised the Lions (20-4) by winning the night's quarterfinal 4-3. Tim Young led off the top of the sixth with a double and scored on Reeder's single.
Matt Crowe, the winner in relief against NC, threw a complete-game eight-hitter with nine strikeouts. .
Southridge (17-9) will play Lake Washington (19-6) at 7 Friday night in a semifinal at Everett Memorial Stadium. The other semifinal will match Hudson's Bay (23-1) and Kentwood (15-9).
The desired semifinal spot was up for grabs, as the trio of one-run games proved.
NC (16-8), with three solid pitchers to call upon, appeared a strong challenger to reach the Final Four, as it did in 2001.
But NC ace Matt Oye (8-2) lost for the first time since March 20. Oye carried a 3-1 lead into the seventh, having sparked a three-run sixth with a leadoff homer.
Oye retired the first two batters of the seventh before issuing his first walk of the game, to Shawn O'Malley. Arnold pinch-hit for Jake Davis and ran the count to 1-1 before his long blast.
"He just happened to put a great swing on a pretty good fastball," Harmon said.
Oye had thrown just 80 pitches through seven innings, so Harmon handed him the reins again in the eighth. Young started the winning rally with a one-out walk. Crowe followed with a single to left that sent courtesy runner Ryan Lechelt to third base.
Reeder's sacrifice fly to right came on a 2-2 count. Oye ended up throwing 23 pitches in the eighth.
"I thought Matt still had his confidence and still had his posture," Harmon said. "Even in that last inning, we just let it slip away a little bit."
Nate Farr walked to open NC's eighth, but Crowe struck out two of the final three batters.
Shadle coach Ron Brooks started senior Aaron Bilesky (1-2), whose lone win of the year came last Tuesday and sent the Highlanders (15-10) to state.
The Highlanders staked Bilesky to a 4-0 first-inning lead on Darin Holcomb's two-run double to right-center and Shawn Powell's two-run single on a two-strike, two-out pitch.
Bilesky surrendered three runs in the first, including Steve Marquardt's 385-foot homer to left-center. But the Highlanders gave the 150-pound pitcher another two runs in the second, on Josh Powell's double to left-center.
The hit chased starter Wes Carman, the starting pitcher Shadle faced during last year's state play.
C.J. McClure, the loser in last year's Highlanders win, spelled Carman and froze Shadle's offense. The Highlanders were limited to two singles the rest of the way.
Bilesky worked in and out of jams and entered the bottom of the sixth with a 6-5 lead. Brooks was limited in relief pitching because Holcomb couldn't throw, so he stayed with Bilesky.Keith Allen began Kenewick's sixth-inning comeback with a slicing, one-out double to left-center. Brandon Blank followed with a liner to center that Ryan Kiter couldn't glove, putting Allen on third.
Marquardt, Kennewick's ace pitcher, sizzled a 0-2 pitch to left for a tie game. The go-ahead run crossed on a wild pitch, although many thought Bilesky tagged Blank before he hit the plate.
"I thought we had him," Brooks said. "It was a bang-banger, but we were in position for that and the tag was down."
Shadle stranded Brad Thompson at second base in the seventh.
Local journalism is essential.
Give directly to The Spokesman-Review's Northwest Passages community forums series -- which helps to offset the costs of several reporter and editor positions at the newspaper -- by using the easy options below. Gifts processed in this system are not tax deductible, but are predominately used to help meet the local financial requirements needed to receive national matching-grant funds.
Subscribe to the sports newsletter
Get the day's top sports headlines and breaking news delivered to your inbox by subscribing here.
---