Sports
Playing catch-up with Bart Connor
Tue., May 25, 2004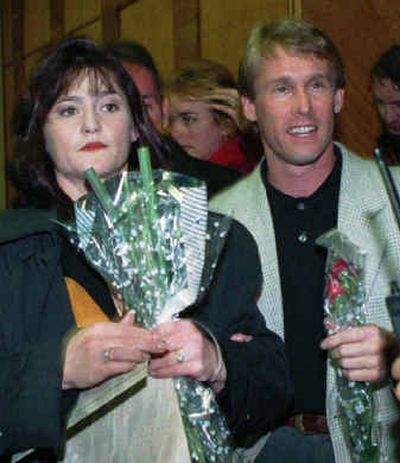 He's America's most decorated male gymnast. She scored the first perfect 10 in Summer Games history. And eight years after tying the knot, Bart Conner and Nadia Comaneci still do flips over one another.
Conner, a member of the 1976, 1980 and 1984 U.S. Olympics gymnastics teams, talks about his famous wife, who to watch in Athens this year and what's up with his gold medal-winning '84 teammates.
Question: You're the son of an Illinois engineer. Nadia's the daughter of a Romanian auto mechanic. Is this a case of opposites attracting?
Answer: I think so. We're very different — and not only where we come from and our cultures and the way we grow up. I was Joe Midwest. Middle-income family, three boys, we all played sports. You grow up with this idea you're probably going to marry some girl you go to high school with. That's kind of how it goes, you know? Then to meet this mysterious, exotic princess from Romania, it's not normally on your radar screen as a junior in high school.
Q: Love at first sight?
A: No, it's funny: We met at (Madison Square) Garden (in 1976) and we both won the competition. … We were standing there together for a winner's photo and a photographer from The New York Times said, "She's cute. Why don't you lean over and give her a kiss on the cheek? That'd make a nice picture."
Q: How old was she at the time?
A: She was 14 and I was 18. Then, three months later, of course she went on to dominate the '76 Olympics and I didn't. So the world remembered her, but she didn't remember me.
Q: Do you still keep in touch with your '84 Olympic teammates?
A: I do. I keep in touch with Peter Vidmar quite a bit. He lives in southern California, has five kids. One of his sons is in college. … Mitch Gaylord has three children. He and his wife live up in Park City, Utah, but he works down in L.A. selling insurance so he kinda commutes to Los Angeles during the week. Tim Daggett has a very successful gymnastics club in Massachusetts. … He'll be the commentator at the Olympics this summer. Jim Hartung and his wife have four children and live in Nebraska. He's coaching and judging and is involved in gymnastics that way. Scott Johnson lives in Orlando. I think he has his own gymnastics club.
Q: Are you going to Athens?
A: Yeah.
Q: What will you be up to?
A: A number of things. We have contracts with Coke, John Hancock, Xerox. We'll be doing some corporate stuff. And we'll also be special guest commentators on Televisa for the Mexican television — me, Nadia and Carl Lewis.
Q: Who's the best up-and-coming male gymnast we should watch?
A: There's a tremendous excitement surrounding the American Paul Hamm. …. Paul just this last fall became the first world all-around champ from the United States.
Q: You run a big gymnastics academy in Oklahoma. Are you angling to become the next Bela Karolyi?
A: No. I don't see myself in day-to-day coaching. Maybe somewhere down the line. We have a big program — about 1,100 kids and 35 coaches. But I think I'm a little more useful doing the stuff I'm doing — staying on the road promoting our sport.
Q: You've had a number of acting appearances through the years. What's your favorite?
A: You know what's funny and turned out to be sort of a cult following was this movie I made called "Rad," like radical. It was about BMX bike racing. I meet a lot of kids that are in the 25-28-year-old range who, when this movie was made and they were 9, 10, 11, were totally into BMX bike racing. I was the bad guy. I played this bike racer called Bart Taylor.
Q: What's in your CD player these days?
A: To the bane of my wife, I'm a big Bob Dylan fan. … In my wife's car, there's a six-CD changer and every CD's a Celine Dion CD.
Local journalism is essential.
Give directly to The Spokesman-Review's Northwest Passages community forums series -- which helps to offset the costs of several reporter and editor positions at the newspaper -- by using the easy options below. Gifts processed in this system are not tax deductible, but are predominately used to help meet the local financial requirements needed to receive national matching-grant funds.
Subscribe to the sports newsletter
Get the day's top sports headlines and breaking news delivered to your inbox by subscribing here.
---