More health care happening outside the doctor's office
Health care teams are increasingly a call, click or email away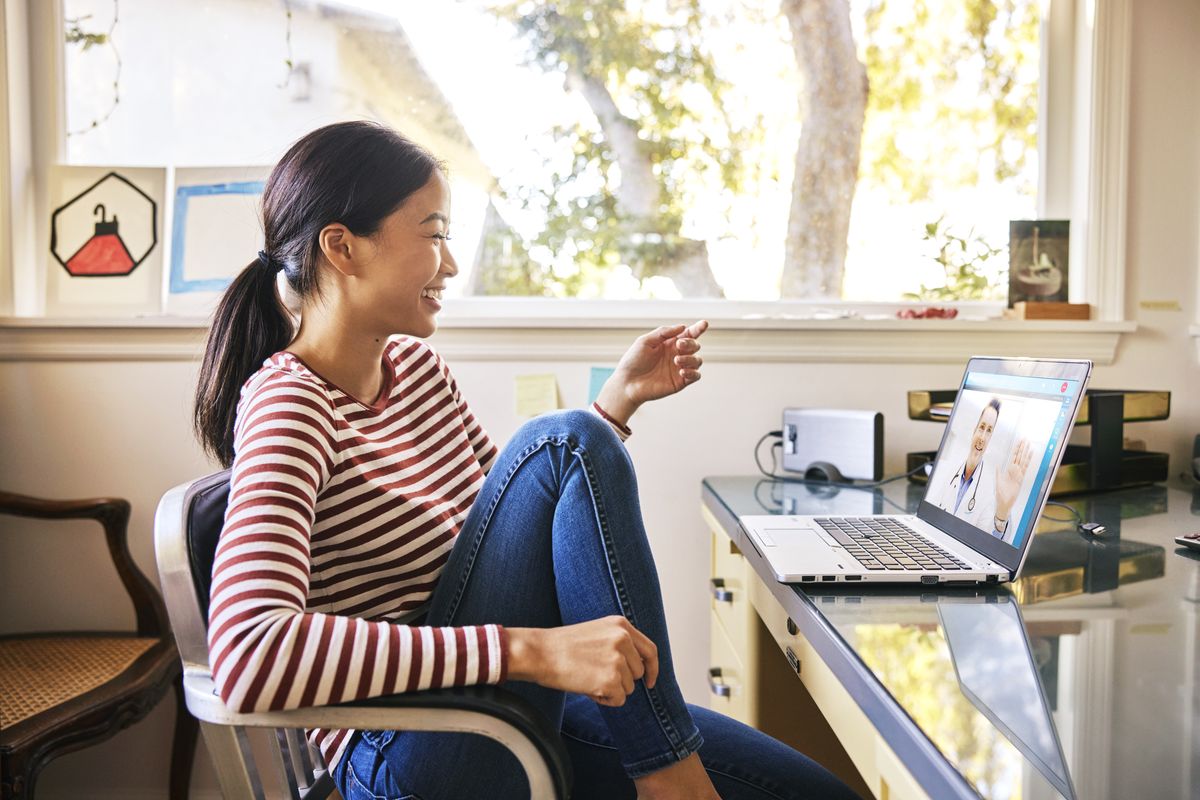 Technology is redefining health care and it's not only cutting-edge surgical treatments and advances in important routine screenings like mammograms. Increasingly, health care is happening outside of the doctor's office through virtual care: confidential, personalized care through the phone, email, chat or video visits.
Visits that would have meant a trip to your provider or pharmacy can now often be done from home, such as regular video checkup visits for an ongoing condition, follow-up care after a procedure, or getting a medication refilled online and mailed right to your home. For patients where making a trip to the provider might be more challenging—older adults, rural and some underserved communities, and people who can't take time away from work during business hours—virtual care can increase access to health care overall.
What exactly is virtual care?
"Telehealth" options include a video or phone visit where you meet with a doctor or nurse face-to-face or talk on the phone — just like an in-person visit. Some health care plans or providers like Kaiser Permanente of Washington also offer services such as online chats with health care teams, access to your medical record through a secure portal, re-ordering medications, reviewing test results online, and sending messages to your health care team.
For video visits and some other services, you'll need access to a computer, iPad or mobile device, but most platforms have simple, easy to use instructions that only require you to click a link.
What is virtual care used for?
Preventative care and routine care: Scheduled routine care like preventive screenings and annual checkups can take care of expected needs and catch problems before you get sick. Virtual care can help you get many scheduled routine care services throughout your care journey.
Specialty care services: Whether you're seeing a specialist for the first time (with a referral if needed), following up on a past diagnosis or managing an ongoing condition, many specialists like pediatrics, dermatology and physical therapy are often also available virtually.
Sudden health issues: When health issue arise that can't wait for a routine visit, virtual care can help you access care for the unexpected. You can often get answers directly from your care team via email within a day or so, have a video or phone visit with a provider, or talk to an advice line day or night.
Refill a prescription: To skip a trip to the pharmacy, you can request a refill and have it mailed directly to you. Or, depending on your plan, you can have your prescription filled at a community pharmacy, or Kaiser Permanente location. If doctor approval is needed, the pharmacist can connect with your provider.
Don't use telehealth for urgent or emergency care: If you're having a medical or mental health emergency, call 911 or go to the nearest emergency room. For urgent issues, check with your plan or provider for urgent care options.
Many virtual care options are covered at no extra cost by health care plans, but the level of access might vary. Integrated health care plans like at Kaiser Permanente may have access to your primary provider and their care team, specialists and 24/7 virtual care team where you can get in-the-moment care without an appointment from a clinician who has access to your health record.
Technology is another tool you can take advantage of to support your health goals and collaborate with your provider team. To learn more about integrating technology into your health care, go to https://healthy.kaiserpermanente.org/washington 
Founded in 1945, Kaiser Permanente has a mission to provide high-quality, affordable health care services and to improve the health of our members and the communities we serve.
Kaiser Permanente
509-838-9100 or 1-800-497-2210
5615 W. Sunset Highway
Spokane, WA 99210-0204
---