Amazon sticking with low prices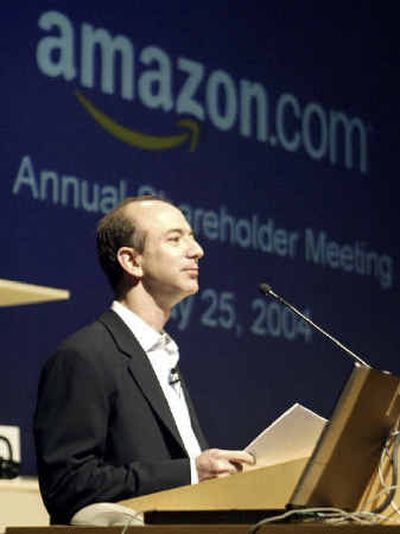 SEATTLE – Amazon.com remains committed to pushing prices lower and offering free shipping on many items, because the company believes it is the best long-term strategy, founder Jeff Bezos told shareholders Tuesday.
The Seattle-based Internet retailer has seen its share price fall sharply from its 52-week high amid concerns that such aggressive discounting – a tool for attracting more customers – is going too far and could hurt short-term earnings.
"It's not an easy strategy," Bezos conceded, noting that it can leave little room to make money on a sale.
For example, he said, Amazon may sell a $500 piece of jewelry for $575, while a jeweler may sell that same item for $1,000.
"Lowering prices is easy. Being able to afford to do so is difficult," Bezos told Amazon's annual shareholders meeting, attended by about 100 stock owners and employees at the Bell Harbor International Conference Center.
But, he said, the company's competitive pricing has brought more customers to its virtual store, driving sales growth.
One unlikely example he cited: Amazon, best known for books and music sales, has become a popular destination for Similac Advance Infant Formula because it has been able to undercut other retailers on price.
Bezos often uses the annual meeting as a platform to talk about quirky products available on the site.
This year, in addition to baby formula, he touted a $175 titanium hammer and Aunt Lizzie's Zero Carb Cheese Straws, which Bezos – an apparent devotee of the low-carb diet craze – said he had enjoyed so much he posted a customer review on Amazon's site.
Speaking to reporters after the meeting, Bezos signaled that the company isn't too concerned that its business will be hurt if Internet sales taxes become more widespread.
"That's not the reason customers are shopping at Amazon," Bezos said, adding that the company has a healthy business in Washington state even though it collects taxes here.
Bezos declined to comment on a lawsuit filed by toysrus.com, an Amazon partner and subsidiary of toy retailer Toys "R" Us Inc.
The lawsuit, filed Friday in Superior Court in New Jersey, accuses Amazon of violating exclusivity terms of the companies' agreement. Amazon spokeswoman Patty Smith had previously said that the allegations were without merit.
Shares in Amazon were up $1.99 to $43.62 in trading Tuesday on the Nasdaq Stock Market, well off a 52-week high of $61.15.
---