News > Features
idol AMERICAN
Mon., Nov. 1, 2004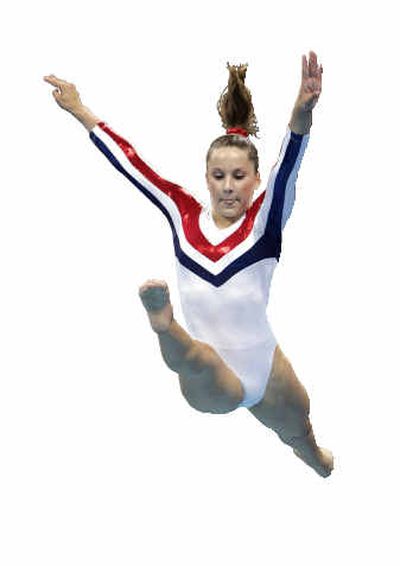 HILARY DUFF, WATCH OUT. Ashlee Simpson (backup tracks and all), move over. Carly Patterson has set her sights on a new goal: pop star. Yes, the 2004 Olympic gold medal-winning gymnast will be hitting the studio next month in New York to see how she sounds on some tracks. Patterson, who has risen from beginning tumbler to best in the world in 10 years, should not be counted out from achieving anything. So, it wouldn't surprise many to soon read that she is earning gold records instead of gold medals. In the meantime, Patterson is already spending her days and nights on a "rock star" tour bus and seeing the nation. Patterson, 16, was in town last week to publicize Friday's stop in the Spokane Arena for the 42-city TJ Maxx Tour of Gymnastics Champions. The event showcases the USA's top male and female gymnasts in an exhibition format. On Tuesday, she arrived from a morning media
stop in Boise and flew to Spokane, where she closed her day with a similar event. On Wednesday, she did more media events and fielded questions from students at St. John Vianney School in the Spokane Valley before getting on a plane to San Jose.
It's a typical day for Patterson lately. Her preparation for the tour began right after this summer's Athens Olympics, where she became the first American since Mary Lou Retton in 1984 to capture the individual all-around gold. Patterson also earned silver medals in the balance beam and as a member of the U.S. women's team.
Then, while her teammates celebrated their medals by cruising in the Greek Isles, Patterson began a whirlwind publicity tour on which she was featured on a Wheaties box and was a guest on countless national TV shows. It has been a busy schedule, but this tour is nothing compared to the pressures of competition.
"Having to start rehearsing two days after the Olympics, that was kind of hard," said Patterson, a native of Baton Rouge, La., who now lives and trains in Allen, Tex. "But it was fun for all of us to learn the new music and choreography, because tour is just fun. So it was easy to just try and get right into that. It's been really busy, though."
Patterson and her fellow athletes have already visited 24 cities in a little over a month and have 18 dates remaining in the next few weeks. She has adapted well to living on the bus, which features luxury railcar-like bunks and two big TVs for watching DVDs. How well do that many kids get along together for that long?
"We get a long for the most part of it," says Patterson diplomatically. "We were together a lot, way before the Olympics even. Then, at the Olympics we were living in really close quarters together for more than a month. Then we're on the tour together, but it's a lot less pressure for everyone than the Olympics. We're not all stressed or anything, so it's a lot easier to deal with each other now."
Pressure is something top gymnasts face while moving up the ranks from compulsory levels to elite competition. There is no greater stage than that of the Olympics, which makes it fortunate for Patterson that her signature trait is being calm and collected.
"When I was little … I used to never get nervous," said Patterson. "I kind of think that helped me carry on a little bit into the higher levels and bigger competitions, even though I got nervous for the bigger ones as I got older. It's kind of always been my thing to kind of stay calm, I guess. I don't know why."
She admits her life isn't normal but says she does "normal teenager stuff" like going to the mall and movies when she's home in Texas. On the road, her typical day is: sleep as late as possible; warm up at the local venue; do publicity; perform that night; then get on the bus and sleep as the group moves on to the next city. It's a break-neck pace that makes it hard on certain aspects of her life.
"I did homework in the airport yesterday," says Patterson. "It's really hard to get it in, because I'm really tired. Normally, if I have time, I like to take a nap and rest before the show. But when I have time, and I feel like doing it (homework), I'll do it."
Academically, she's a junior at Spring Creek Academy in Texas. In reality, she's on a self-study program and is "far behind" her classmates and has missed "a ton of school." She says she's not worried about it, though, because her parents have promised to get her caught up however is necessary.
It's the type of support they have offered her for every step along the path from two years of Level 10 competition and onto Elite competition, where in her first national qualifier she earned the 14th and final spot.
"That was actually pretty exciting for me," said Patterson. "Then I got better and better. I think it's kind of a big leap, from level 10 to national level; it definitely is. It's a lot harder skills, harder training, more training, more hours, higher difficulty; everything is harder."
It has meant 30-60 hour weeks at the gym and giving up some things. But Patterson doesn't feel cheated out of her childhood nor does she think her fun times are over.
"I have all the rest of my life to do that stuff," says Patterson. "I could go to prom or dances or stuff like that; next year, this year, or whatever. (Winning the gold) was worth it for me. It might not be worth it to some people."
The memory that made it all worth it was when she came off the floor routine as apparent Olympic all-around champion and jumped into the arms of her coach, Evgeny Marchenko to the cheers of the Greek fans.
"It was definitely one of the best moments of my life," says Patterson. "Just for all my 10 years of hard work to pay off; for my dream to come true, really. … Definitely, the best reward I could ask for."
Now the girl who looked up to athletes such as Retton and Dominique Dawes inspires others, such as the admiring children at St. John Vianney. In this day of athletes being reluctant or inappropriate role models, Patterson is neither. In fact, she embraces it.
"I know I am and I really like it," she says. "I like coming to schools to share my experiences with little kids – just inspire them and give them something to have a dream for. … It's cool, because hopefully I inspire them to get into a sport and have a goal someday."
Local journalism is essential.
Give directly to The Spokesman-Review's Northwest Passages community forums series -- which helps to offset the costs of several reporter and editor positions at the newspaper -- by using the easy options below. Gifts processed in this system are not tax deductible, but are predominately used to help meet the local financial requirements needed to receive national matching-grant funds.
Subscribe to the Coronavirus newsletter
Get the day's latest Coronavirus news delivered to your inbox by subscribing to our newsletter.
---