Sports
Mariners needed a compass
Mon., Oct. 4, 2004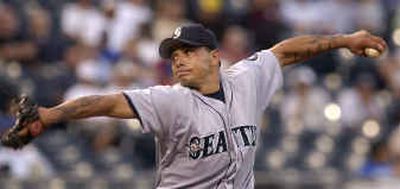 Looking back, the 2004 season was about introductions and farewells for the Seattle Mariners, and few of either went smoothly. Along the path to the worst finish in more than a decade, players came and went, and fans were happier to see some leave – or arrive – than others.
The goodbyes will continue beyond the end of the season today. In the beginning, there was Kevin Jarvis and Rich Aurilia, Quinton McCracken and Dave Hansen, Freddy Garcia and Ben Davis, Mike Myers and John Olerud … Today, they've been replaced by Scott Atchison and Bobby Madritsch, Jeremy Reed and Greg Dobbs, Matt Thornton and Jose Lopez, George Sherrill and Miguel Olivo.
By the end of the week, the Mariners likely will be looking for a new manager and much of a coaching staff.
Such is the fallout when a team wins 93 games one season and, for whatever reason, loses nearly 100 the next.
That was not Bob Melvin's fault, any more than it was Pat Gillick's or Bill Bavasi's or Howard Lincoln's.
The blame lies with the Seattle Mariners, top to bottom, from an ownership that couldn't part with old favorites soon enough to players who showed up to play roles and failed at them.
When Lou Piniella said the Mariners were getting old after the 2002 season, no one in the organization believed him. For one thing, Lou cried wolf at the beginning and end of every season.
When Pat Gillick resigned as general manager after the 2003 season, few in the organization understood the significance. Gillick still wanted to be a GM – he nearly got the Dodgers job last spring – he just didn't want to be at the helm in Seattle when the crash came.
Well, it came.
Bavasi inherited a team that had held on too long to veteran players, overrated its farm system and was still dealing with the disaster that was Jeff Cirillo.
It has gotten worse.
The Mariners need a staff ace and a shortstop – Lopez is a solid young infielder better suited to second or third base. They need a heart-of-the-lineup hitter.
And unless they get incredibly lucky with Eddie Guardado's attempt to work through a torn rotator cuff without surgery, the Mariners will need a closer.
It is too easy to point at disappointing seasons from players such as Scott Spiezio, Bret Boone, Jamie Moyer and Shigetoshi Hasegawa. It's too simple to blame Melvin or Bavasi.
As the Mariners got old at the big-league level, the talent coming up behind them – can't-miss pitchers like Travis Blackley, Clint Nageotte, Jeff Heaverlo and Rett Johnson – weren't ready.
Last spring there wasn't one position player in the farm system ready to fill a major role with the team.
What the Mariners had were pieces, and Bavasi tried to put them together by adding others. Jolbert Cabrera, Hiram Bocachica, Pat Borders, Ramon Santiago, Ron Villone – none was a frontline player, but each contributed.
The decision to move Carlos Guillen was a disaster. But so were the decisions to keep Edgar Martinez, Olerud, Moyer, Boone, Dan Wilson and Randy Winn.
No, what happened this season wasn't the fault of Seattle's favorite players. But keeping them all without a transplant of young, athletic players?
Among the newcomers this spring, Spiezio had the worst season of his career. Guardado got hurt. Raul Ibañez got hurt, and when he returned, he had to bat cleanup.
Ibañez is a solid big-league player on a good team. He is not a No. 4 hitter, even on a bad one.
By April, the season was slipping away. Not because of bad managing or poor offseason moves but more because reality was catching up.
Davis really wasn't a good major league player. Olerud's poor 2003 season really wasn't just an off year. The Edgar's eyes and legs really were failing quickly.
And that was just the start.
Gil Meche hadn't yet conquered his demons. Boone's eyes went bad. Hasegawa couldn't get outs. Rafael Soriano went down and never got up. No one could drive in a run with an out. Joel Piñeiro was hurt. Julio Mateo was hurt. Miguel Olivo nearly led the league in passed balls.
When they began promoting players, the Mariners learned Blackley and Nageotte weren't ready. Justin Leone had power – and holes in his swing. Bucky Jacobsen had power and a bad knee. Cha Seung Baek had a tender elbow.
Hello hard times. Farewell contention.
For Mariners fans, it all happened too quickly. The reality is, it was coming when Piniella fled and even closer when Gillick resigned.
Ownership didn't see it coming. Even now, there are those who believe if Boone had produced a Boone-like season, if Spiezio had hit .270 instead of .210, if Guardado had stayed healthy, if Olerud had played to his ability …
None of that happened, and to finish in the thick of the American League West this season, all of it had to happen – and then some.
Sunday, Mariners fans bid farewell to The Edgar and celebrate Ichiro Suzuki's remarkable season.
Today, they can begin saying hello to the future – and goodbye to a manager and players who couldn't stop what happened in 2004.
Local journalism is essential.
Give directly to The Spokesman-Review's Northwest Passages community forums series -- which helps to offset the costs of several reporter and editor positions at the newspaper -- by using the easy options below. Gifts processed in this system are not tax deductible, but are predominately used to help meet the local financial requirements needed to receive national matching-grant funds.
Subscribe to the sports newsletter
Get the day's top sports headlines and breaking news delivered to your inbox by subscribing here.
---