News > Features
Final declaration
Mon., Oct. 25, 2004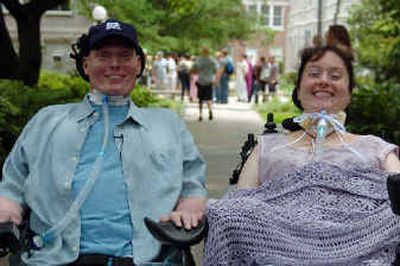 What Christopher Reeve created as a mission statement now commemorates him.
In "The Brooke Ellison Story," Reeve set out to dramatize the real-life triumph over adversity of its subject who, at age 11, was struck by a car and paralyzed from the neck down, yet a few years later graduated with honors from Harvard University.
Meanwhile, Reeve, himself a quadriplegic, clearly amplified the film's message – that anything is possible – just by making it. In the film, Brooke is portrayed as a girl by Vanessa Marano, then as a young woman by Lacey Chabert. But always evident just off-screen are two extraordinary heroes: the real Brooke Ellison and Reeve, the film's director.
"After my injury and when I made the switch from acting into directing," Reeve said in an interview included with the film's production notes, "I thought it would be a good thing for me to tell one really good story about a family – an ordinary, American family dealing with a devastating event, such as the spinal cord injury of a young child."
Then, laughing, he added: "The next thing I should do should be a comedy."
That was his plan. But with cruel suddenness, Reeve died Oct. 10 at 52. Now "The Brooke Ellison Story" – which airs 8 p.m. tonight on A&E – becomes a fitting final declaration of what Reeve represented.
"He possessed more strength than any man I've ever met," says Chabert. "I've never seen someone with such passion for what he was doing, and as driven as he was – but who at the same time had a sense of humor about everything, which is priceless."
Chabert spent a month on the film, shot last summer around New Orleans (which doubles for both the Ellison family's Long Island neighborhood and the Harvard campus).
The 22-year-old actress, who was in the recent screen hit "Mean Girls" and as a youngster starred in the Fox series "Party of Five," cops to initial nervousness at playing a paralyzed character in a film being made by a paralyzed director.
But although Reeve couldn't be on-set, the actors were linked with him a room away by a sound-and-video hookup.
"We could see each other and he would give us directions in the mike," says Chabert, "and if it was a little more intense and private I would hop out of the chair and speak with him, face to face. It felt like he was there. And he really oversaw every little detail."
He also kept things light.
"In the chair, every now and then I would get kind of anxious," Chabert confides. "But before every take, Chris would say, 'OK, Lacey, be paralyzed!" '
The role, she adds, "was a little daunting for me at first. As an actress, you use body language as a form of expression. When that was taken away, I felt very exposed. But it was a great exercise for me, to get down to the basics and realize that, when you do something, the audience should read it in your eyes. That's what my performance became about."
Without meaning to, Chabert had echoed Reeve from years ago. In a 1998 interview with The Associated Press, he voiced concerns about starring in a TV remake of the Hitchcock thriller "Rear Window," whose protagonist is a man in a wheelchair.
"I was worried that only acting with my voice and my face, I might not be able to communicate effectively enough to tell the story," Reeve acknowledged then. "But I was surprised to find that if I really concentrated, and just let the thoughts happen, that they would read on my face."
After his horseback riding accident in 1995, Reeve also directed the HBO film "In the Gloaming," wrote two autobiographies, and, of course, lobbied extensively for stem-cell research while establishing the Christopher Reeve Paralysis Foundation.
"He created this incredible life for himself with all his accomplishments," says Chabert, sharing one key bit of direction he gave her: "Either you give up, or you make the most of what you have. You have the choice to go on, and with more strength than you had before."
A couple of weeks ago, Reeve left a phone message saying he had just screened a finished version of the film.
"He was so excited about it," she recalls. "I called him back and he called me back, but I was never able to speak to him."
She found out he had died while she was watching TV: an item on a news crawl. "I just fell to my knees. I was heartbroken."
For her and for its audience, then, "The Brooke Ellison Story" comes with an unbidden postscript.
"But Chris wanted the film to end with hope," Chabert says. "I hope the film can be a part of paying tribute to his life and to his memory."
Local journalism is essential.
Give directly to The Spokesman-Review's Northwest Passages community forums series -- which helps to offset the costs of several reporter and editor positions at the newspaper -- by using the easy options below. Gifts processed in this system are not tax deductible, but are predominately used to help meet the local financial requirements needed to receive national matching-grant funds.
Subscribe to the Coronavirus newsletter
Get the day's latest Coronavirus news delivered to your inbox by subscribing to our newsletter.
---