News > Idaho
Change for the better
Sat., Sept. 4, 2004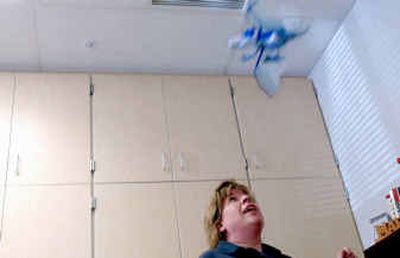 After a year of living in a construction zone, shifting back and forth in the building to accommodate workers, using portable buildings, all the while conducting classes, students at the alternative high school Project CDA are finally seeing the finished product, new and state-of-the-art.
"This was quite a process," said Principal Julie Green. "What absolutely surfaced, particularly from the kids, was that the commons — the kid area — would be at the heart of the school. Of course, the kids are the heart of the school."
The remodeled school is laid out like a big "H" with the commons in the center. There is no faculty lounge. The staff chose to eat with the students, creating the sense of community that they build at Project CDA. Green's office looks out on the commons, as do the other administrative offices. The new kitchen, day-care center, library and faculty work area all look out on the commons.
The student population at Project CDA, 725 Hazel Ave. in Coeur d'Alene, is about 280. The students, faculty and neighbors all had input into the changes.
The students attend school in two shifts. The morning shift is from 8 a.m. to 1:30 p.m. and the evening shift is from 2:30 to 7:30 p.m. An alternative school requires the students to be in class five hours a day as opposed to six. This allows them to have jobs either before or after school. The majority have jobs, and do get a work experience credit.
"The major part of our mission is to become a professional-technical high school," Green said. "We want not only to have an alternative high school, but to have an alternative high school with a very strong central theme of professional-technical preparation." What was the old gymnasium is now a state-of-the-art shop.
Ben Higgs is in charge of the professional technical education area, once called shop, a term no longer used. No wonder – this "shop" features all new equipment, massive ventilation and dust collection systems and separate rooms for welding and painting. The floor is an easy to clean epoxy-resin surfact.
"The cleaner you keep it, the safer it is, and it looks good. There's more pride," Higgs said.
Higgs worked seven years in the private sector as a machinist before getting his teaching degree. Higgs is at Project CDA to make a difference, like so many of the staff. A core of six teachers makes up the professional-technical team.
"We have always prided ourselves in being able to give kids a fresh start, a new run at a high school diploma," Green said. "We don't bill ourselves as a college prep high school; we have two wonderful high schools in our district that do that, so we are billing ourselves as the alternative school for the professional-technical student."
The new stainless steel kitchen sparkles. Some of the old equipment was reclaimed, but most fixtures are new. The students will help out in the kitchen as part of Pro-Start, the culinary arts program that Green feels will be a stepping stone to North Idaho College's culinary arts program. Angie Beck, who teaches family and consumer science, formerly know as home economics, will oversee Pro-Start. Beck's new classroom has three kitchen work stations, each with a new oven/stove and microwave oven. There are two convection ovens, two mixers, two refrigerators, a gaggle of cooking utensils and plenty of storage.
Project students have done catering for school functions, such as administrative meetings, and they will also run an espresso business each Friday. They are in charge of ordering all of the ingredients and figuring out how much they have to charge to make money. The students will then deliver the drinks.
This is the first time Project has had a dedicated library. There are still many bookshelves to be filled, which will take time. One of the staff has a library endorsement, but for now there will not be a full-time librarian. Computers will be set up for the kids to sign out books or do research.
Green is in the process of applying for Project's own accreditation. One of the requirements is that they have a full library.
"For years, we as an alternative school have flown under the wing of Coeur d'Alene High School," Green said. "We were more or less an addendum program."
With accreditation they will be completely stand-alone, which they have been in practice for many years, but they will be recognized as a Northwest accredited school.
One feature of Project that sets it apart from the two main high schools in Coeur d'Alene is the bright, spacious, cheerful onsite day-care center. Donna Schwandt is the director of the center. She was a charter member of Project and has worn many hats in her 23 years at Project. She is a tireless supporter of the students with kids, and teaches early childhood professions, which serve as a precursor to jobs such as teaching kindergarten, counseling, day care, child psychology and more. She will be starting the school year with nine babies in the day care center, ranging in age from birth to 2. Five of her young charges are 1-year-olds.
The maximum capacity in the day care is 15, and there is always a 3-1 ratio of children to provider. Schwandt has two paid aides to assist her. The moms bring their own diapers and formula if they're not breast-feeding.
"We use students also, so we have a lot of adults here," Schwandt said. The students who are taking early childhood professions serve as the student aides.
A tour of the fully licensed facility reveals two comfy glider rockers, a room with three cribs for napping that can also be a private place for moms to nurse, two play areas, a bathroom with a toddler potty, a washer/dryer and a full kitchen with a little low table for the young ones to eat at. Schwandt is clearly pleased with the two new changing tables with a sink in between, and the washer/dryer.
Moms or dads can come in anytime except when they are in class, to see their children, and they come to the day care to have lunch with them. There are windows everywhere so they can peek in between classes. There is a small outdoor play area, which is fenced in for safety. It will be covered in soft tile, which will be paid for with a grant. Schwandt had extra thick padding put under the carpeted areas in the day care so the little walkers and crawlers are safe.
"This allows the teen parents to go ahead and continue on with their education," Green said. "It's a great laboratory for us, teaching people about children, and how to work with children."
The new gymnasium is spectacular with retractable bleachers, and a separate fully stocked weight room complete with thick rubber floors. Modern Glass provided a huge mirror for the weight room at a very minimal cost. Most of the equipment is gently used. A large image of the school's mascot, the Tasmanian devil, graces the center of the main gymnasium floor.
The Title I room is an oversized classroom filled with books. Reading is a primary focus in Project's Title I program, which also accommodates their small population of seventh- and eighth-graders. Trudi Thackston, another longtime employee at Project started as a secretary in 1980, and went back to school in her mid-30s so she could teach at Project. She has read nearly every one of the 6,000 books in the Title I program and instructs the same. Her expertise allows her to discuss almost any book with a student.
The room has several easy chairs. Green said students have to prove themselves to be great readers before they get an easy chair.
"It's an earned privilege," Green said. "Because reading is a lifelong pleasure activity and that when we as adults read, we read in a comfortable spot; that's what we're teaching the kids to do. That it's not just a skill; it's something we desire to do."
The experimental science lab has got to be a dream for Heinz Schiemann. He has been teaching at Project for nine years after retiring from the service at age 52. He retired one-star away from being a general, to satisfy his passion to become a teacher.
"Heinz worked in the portables and did his experiments last year in a little portable sink that drained into a bucket," Green said. He had to haul the water in gallon jugs from the main building.
Now Schiemann has a beautiful new lab with several sinks and one wheelchair-accessible lab station. The biology/physical science lab is equally impressive and will be shared by Russ Hersrud and Phyllis Tuttle. The computer application/computer networking lab is truly state-of-the-art and is under the tutelage of John Hassell who is a 14-year Project veteran.
Everything is established at Project to build relationships. It is evident in the camaraderie that is so evident between all the staff from Green to Al Machado the lead custodian, Kevin "from Heaven" Jennings, the maintenance man, to Jo Wilkinson and Valerie Hays who hold the fort down at the front office. They have good reason to be very, very proud of their new school. It matches their enthusiasm.
Local journalism is essential.
Give directly to The Spokesman-Review's Northwest Passages community forums series -- which helps to offset the costs of several reporter and editor positions at the newspaper -- by using the easy options below. Gifts processed in this system are not tax deductible, but are predominately used to help meet the local financial requirements needed to receive national matching-grant funds.
Subscribe now to get breaking news alerts in your email inbox
Get breaking news delivered to your inbox as it happens.
---